International Tourism Extends to Shooting Ranges
Dr. John Woods 04.14.17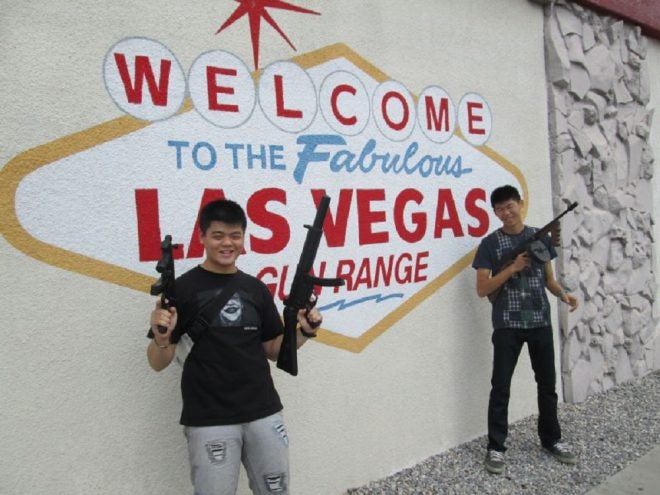 The ranges are hot and the brass is flying. Tourists are coming in from all around the world to the United States to shoot fully automatic firearms at ranges all across the country. From Florida to Las Vegas, foreign tourists are flocking to machine gun ranges for the experience of shooting brass eating weapons.
In many foreign countries especially Asian locations, gun restrictions are so limited that citizens there cannot own firearms of any kind, including even air guns. However, there are plenty of gun enthusiasts in these countries very interested in guns. From news reports these firearms fanatics are heavy into reading all the information they can acquire about guns and share information, chat talk, and photos on web sites and other electronic communication outlets.
Now, these wannabe shooters are coming to America to shoot the guns of their dreams. There are already Chinese entrepreneurs setting up shop in the United States with completely legal shooting ranges offering tourists the once-in-a-lifetime joy of shooting machine guns, and other firearms of all kinds, including rifles and handguns.
Some of these venues are partnering with hotels and other overnight accommodations to house these tourists on their shooting vacations. Some of the shooting ranges are adding full service and upscale restaurants advertising deluxe dining and other amenities.
These shooting opportunities with fully automatic arms have been available in Las Vegas for years. Right now there are at least six full service shooting ranges in Vegas offering a wide variety of shooting packages. Some of them include outdoor adventures adding shooting, riding ATVs in the desert, and even shooting from helicopters.
Currently in Las Vegas machine gun shooting venues include the Las Vegas Gun Range, Machine Gun Vegas, Battlefield Vegas, Strip Gun Club, The Gun Store, and Bullets and Burgers. If you are arriving in gambling central via the airport, you can hardly get off the airplane without getting hit with advertising for some of these ranges, including flashing signs, billboards, and flyers. Shooting fully auto weapons is big business for tourists in Vegas.
What can tourists foreign or national expect to shoot? Just a quick review of some of the shooting venue web sites indicates weapons like M4s, MP5s, M60 machine guns, and a wide variety of military machine guns. Rip off a few links of M60 rounds, then go sit at the counter and have a double cheeseburger. And don't be surprised if the guy sitting next to you is from China or Japan or elsewhere.