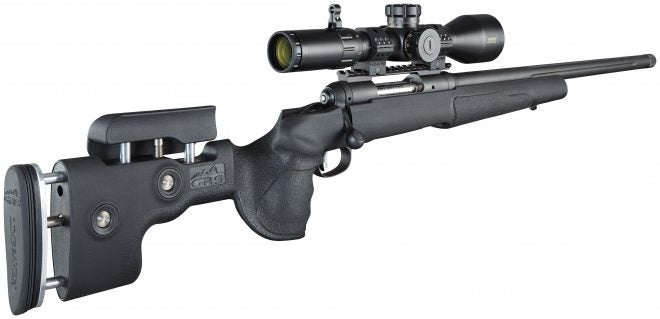 Momentum continues to grow in the world of long range rifle shooting. For many, this is played out at shooting ranges where solo shooters bang away at steel gongs out to 500 yards and beyond just for the sport of it. Then there are highly-organized long range shooting competitions in which participants shoot at fixed long ranges to vie for the winning target for the match. All of this is great for the shooting sports.
Then there are the long-range "sniper hunters" harvesting game animals of all species from ground hogs and prairie dogs to antelope, deer, and even elk. Their hunting ranges are ever-increasing out to 500 yards and beyond.
Accordingly, firearms manufacturers are stepping up their offerings of long-range rifles to address these interest.
Savage Arms has made great strides in the past few years, bringing out new rifles with features and specifications that many shooters and hunters want. Their latest is the Model 10 GRS, which is designed to deliver long range accuracy, particularly for competition shooting from the bench.
You may be wondering what the "GRS" stands for since it does not appear to have an obvious meaning in the shooting field. GRS is the name of a Norwegian company in Hornindal, Norway that produces the stock on this Savage Model 10 rifle. This unique and fully adjustable rifle stock has adjustments for check weld as well as stock length, both of which are desirable features for a long range rifle.
The Savage M-10GRS comes chambered in 6.5 Creedmoor with a 24-inch barrel, or 308 Winchester with a 20-inch tube. Both are heavy fluted barrels. Both rifles use a 10-round AICS-compatible magazine. Both models come with the Savage AccuTrigger. The slim grip and forend are textured with rubber grip surfaces, and they are equipped with flush cup sling loops and a forend sling mount for bipod use.
Initially such a rifle might not seem well-suited to hunting, but it is. The stock can be adjusted to fit any shooter, and the entire platform is geared toward accurate shooting at long ranges. The 6.5 Creedmoor and 308 are both worthy hunting rounds. Check out this new Savage at www.savagearms.com.