Hunter's First Buck is a Massive "Freak of Nature"
Russ Chastain 05.09.17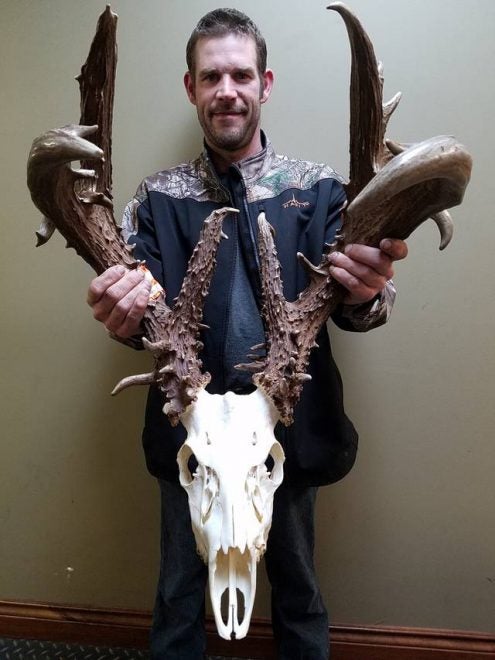 This Oklahoma hunter's first whitetail buck reportedly turned out to be an amazing creature, the likes of which is rarely seen by ANY deer hunter. And there's not much chance that he will ever kill a bigger trophy.
The buck was killed in Oklahoma County, OK by 36-year-old Brad Julian Jr. And after being measured a couple different times, the final Boone & Crockett score is 223 gross, 216-1/8 net.
While that's not a record–not even a state record–it is astounding that such massive antlers were formed on a 3×3 frame. Heck, just the skull and antlers, in the form of a European mount, weigh 12.5 pounds!
Julian, 36, a heating and air technician, shot the buck off a few acres of family land near Jones during the second weekend of the gun season.

Julian said he had photos of the buck for the past five years from his trail cameras, but wondered if he would ever get a chance to harvest it because it was so nocturnal.

'I knew he was special from the moment I saw him,' Julian said. 'He's my dream.'

Hunting out of a pop-up blind on top of a camouflaged travel-trailer, Julian shot a buck that had been trailing a doe that morning.

He wasn't aware when he pulled the trigger on his 6.5 Creedmoor rifle that the buck was the same monster deer that had been eating his corn and food plots for the past five years.

'I shed a tear when I walked up on him and saw how massive he was,' Julian said. 'He's a freak of nature.'
After starting out with a buck like this, he probably won't ever get a bigger one… but that doesn't mean he should stop trying. As my father used to say, "I'm a trophy hunter… but I'm not all that particular about my trophies."