How to Repair a Gun With a Twig and Pocket Knife
Russ Chastain 05.12.17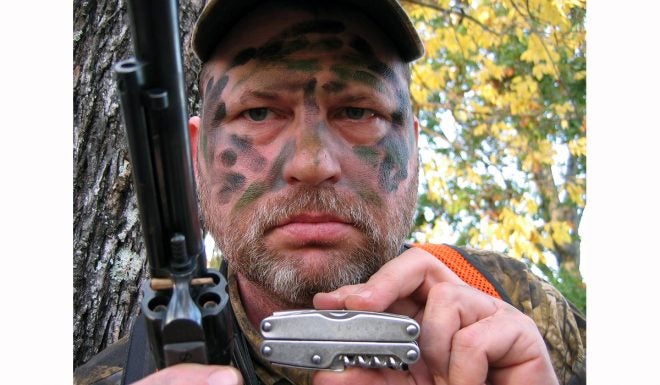 Don't you just hate it when you go hunting and a hunk of your gun falls off? Well, it happened to me a few years back. I managed to work out a solution that involved a Leatherman and a hickory twig. I used the gun to take my first handgun deer a little while later. Sweet!
A Ruger Falls Apart
I'd taken a notion to kill a deer with my Dad's old Flat Top Ruger Blackhawk 44 revolver, so I'd headed to a good stand with plenty of acorns. Dad had owned the old wheel gun since long before I was born, and had named it Brün Hilda, Brüny for short.
Dad had passed away, so I liked to carry his guns in the woods to help me feel connected to my best friend. So anyhow, there I was sitting in a ladder stand fondling the old revolver and waiting for a deer.
Perhaps I fondled her a bit too much, because at one point when I turned her over in my hands, I heard something metallic hit the expanded-steel grate of the ladder stand, and then hit leaves and branches as it made its way to the ground. A disbelieving look at my gun revealed that the entire base pin latch was missing!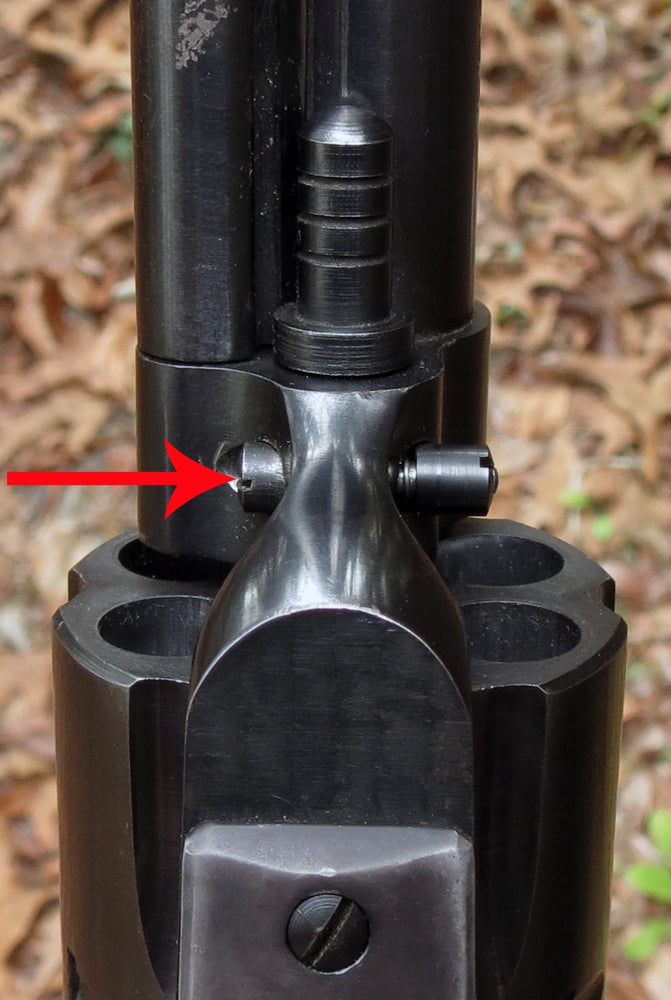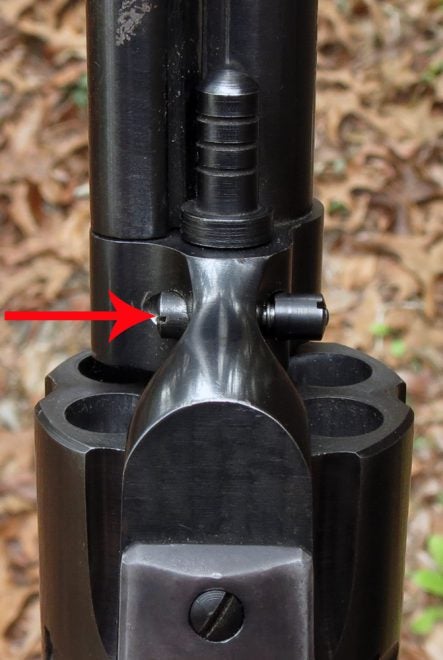 This part is pretty important, since it keeps the cylinder pin in place. Apparently, the nut and spring had come loose and fallen off, and then the largest part of it had fallen out when I turned the gun over.
Drat.
Whittling a New Gun Part
The first thing I did was climb down the ladder to search for the missing part. Fat chance! The ground was covered with dark leaves, and that left little chance of finding a small blued steel part without a magnet. So I thought about the problem and how I could fix it.
The cylinder pin has a rounded groove in it; the base pin latch simply engages with that groove to keep the cylinder pin in the gun. So it stands to reason that any ol' pin would do, at least temporarily.
Before climbing back into the stand, I broke a small hickory limb from my tree and took it with me. Then I pulled out my old Leatherman Juice and went to work.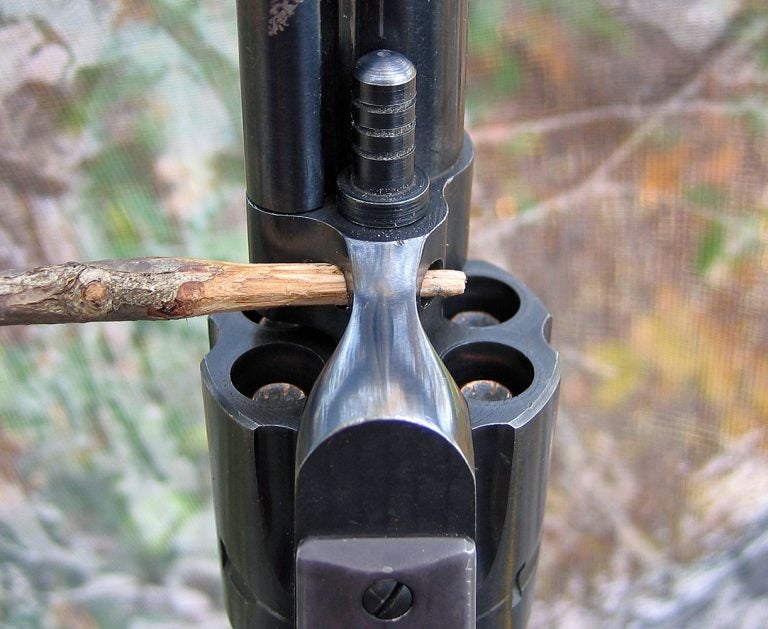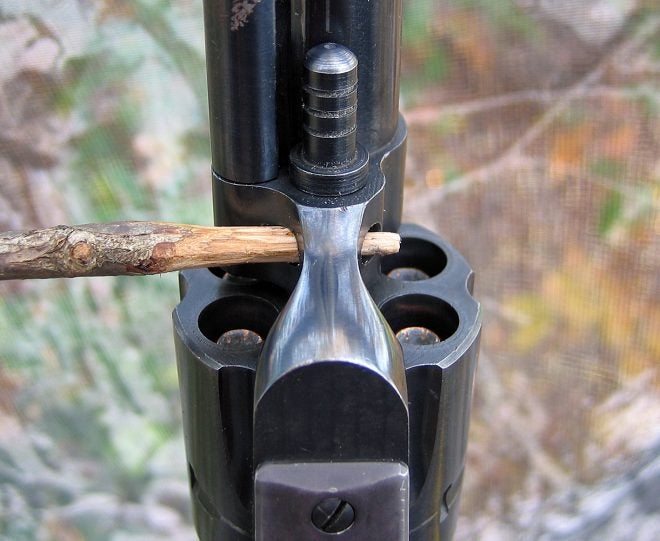 In the end, I created a small wooden dowel pin with two different diameters. The smaller portion engages that groove in the cylinder pin and the larger portion just fits the hole in the frame. After carving it down to size using the knife blade, I cut the ends fairly square using the Leatherman's saw. This wasn't strictly necessary, and this part could have been made with just a knife.


I left it a little bit long, just because. My father used to say, "You can always cut some off later, but you can't cut some on."
Sure, it's hickory, but it's not all that strong. Happily, it doesn't need to be very strong. All it has to do is interfere with the cylinder pin to prevent the pin from moving forward when the gun is fired. I figured this would serve just fine for a shot or two.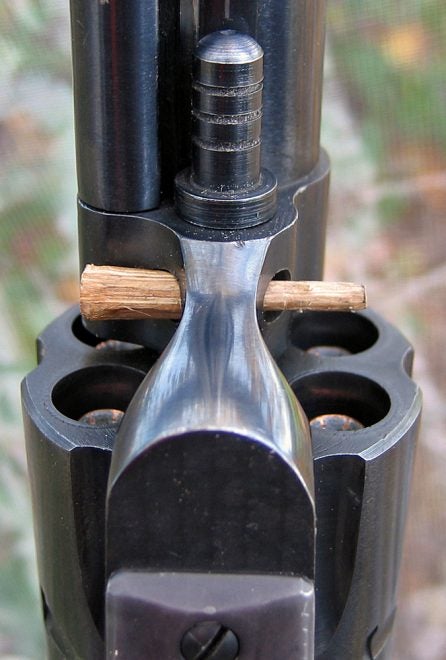 I have to admit, I was pleased with myself. My gun had fallen apart, but 45 minutes later I was done building a replacement part and had even taken some photos.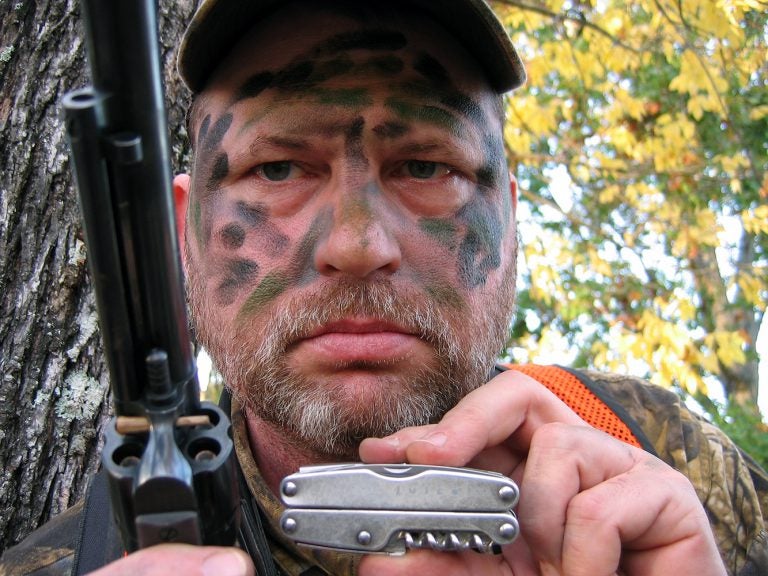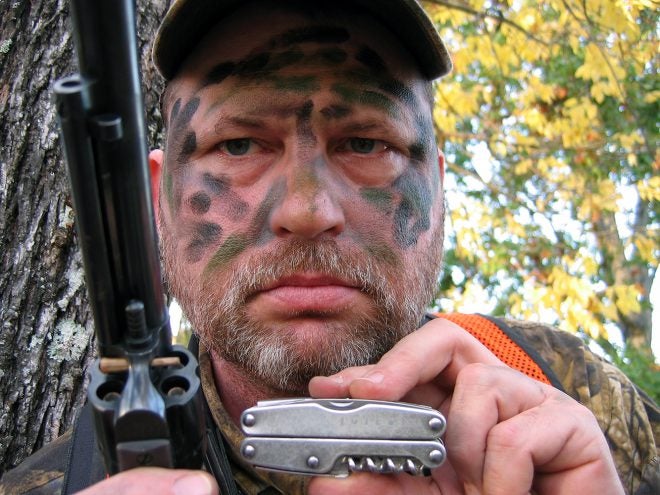 An hour after I took this photo, I used that revolver to take my first handgun deer. My hand-whittled wooden part did just fine.
I went back the next day with a magnet, and found the part that fell out of Brün Hilda. Later, I got a new spring and nut from a friend and used them to make my revolver whole again.
I kept the wooden part to remind me of that day and to make me smile. It dried out and shrank long ago, making it a tad smaller than it ought to be. But it did the job I asked of it, and that's what matters.
So, the next time your gun or something else falls apart in the field, try to figure out what you can do to make it work again.