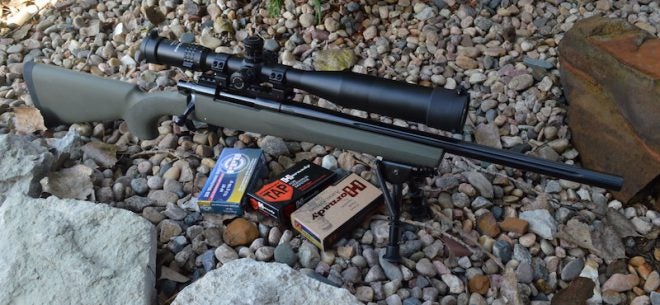 I have long been a fan of the 308 Winchester cartridge. To me, it represents the best do-it-all caliber everyone should own. If you want to hunt North American game, the 308 round is deadly efficient and while having legendary precision accuracy performance at longer ranges.

About Howa
Howa Machinery Company Limited is a Japanese firm which makes many products and has a long history in the firearms business. In the 1970s they manufactured AR18/AR180s under a licensing agreement with Armalite and currently they manufacturer "1500" and Vanguard receivers for Weatherby, S&W, Mossberg and others. With this history of innovation and firearms manufacturing, it should be no surprise that they make good firearms. Here in the US, their Howa precision rifles are marketed by Legacy Sports.
Fit, Finish, Feel, Features, and Functions
Howa rifles are well-made with a fit and finish that is steal for the price. In fact the finish and overall fit of this Howa 1500 Targetmaster is notably better than my Remington 700 actions. The bolt runs smoother, the receiver is beefier, and the barrel is actually finished with a crisp recessed 90 degree crown which looks a bit more well-defined than the muzzle of my Remington 700.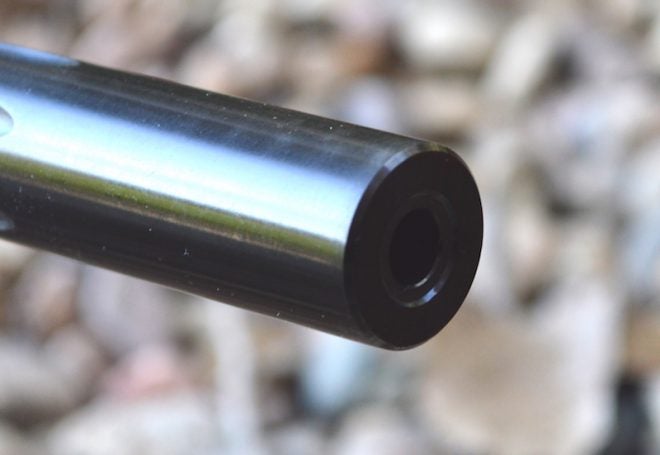 With the exception of the fluting which is a little rough, the entire surface finish has a nice lustrous deep blued finish. Considering the $699-$750 street price of this Howa Targetmaster rifle and scope package, the quality, fit, finish, and excellent accuracy should make the Howa an easy choice on the showroom floor.
Howas are seldom sold without the scope kit, but those models without the rings, base, and scope are less expensive and comparable to the Remington 700 SPS. Howa doesn't offer a threaded muzzle like the Remington, but the out-of-the-box accuracy is also nearly identical between the rifles with the edge going to the Howa.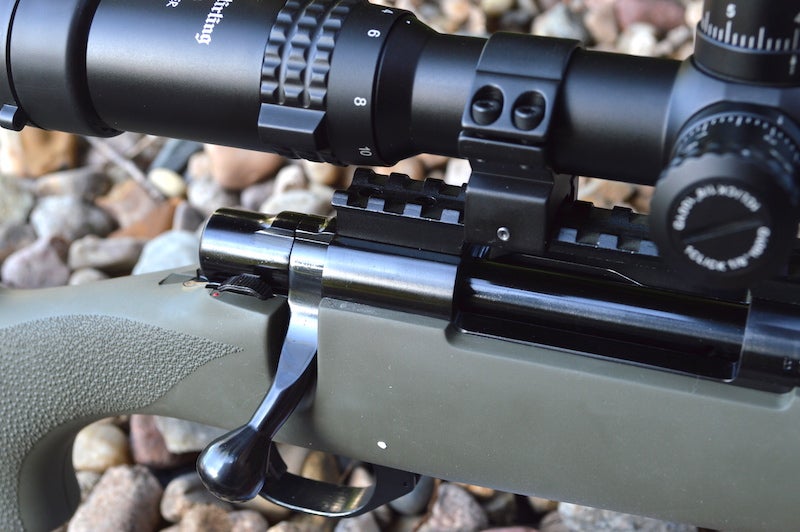 I will reiterate the same compliment and complaint about the Hogue stock that I have made in my Remington 700 reviews: it's probably one of the best budget-conscious durable light factory gun stocks available, but the non-rigid flexi stock design of the Hogue does not allow the shooter to get the best from the rifle. This rifle deserves better than the factory Hogue stock just as my Remington 700 did. I saw first hand what an upgraded Howa 1500 could do when I saw the shooter next to me snapping off easy sub-MOA hits all the way out to 300 yards with a better stock, optic, and trigger while using just a bipod. Howa's capabilities can definitely take advantage of the upgrades.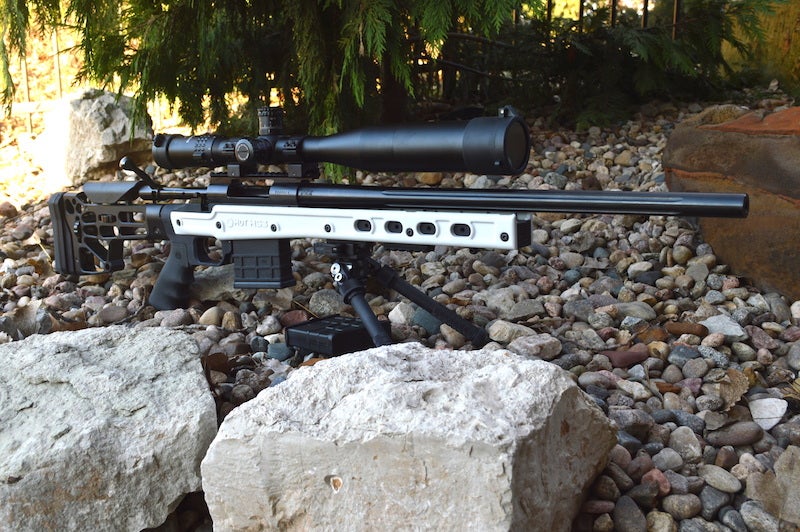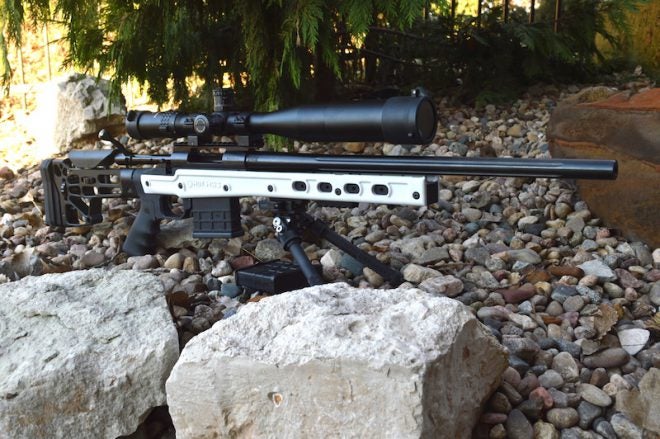 Just to prove how great this Howa could be, I swapped the Hogue stock for a $499 MDT HS3 precision billet magazine fed chassis plus $289 MDT Skeleton Stock and upgraded the trigger to a $116 2lb Timney. The results easily matched the consistent sub-MOA capabilities I had seen demonstrated at the range. As expected, the upgrade improved my groups by 30% which meant sloppy 1" groups moved into the .7" range and my best groups shrank to the .4" range.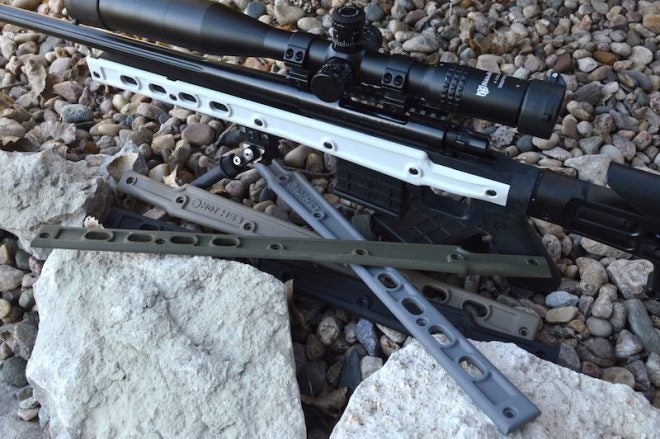 For $900 in upgrades, this Howa can play with the custom guns even with the included Nikko Stirling optic, but you might also want to spring for a higher end scope if you are willing to go that far with upgrades.
My experience is that the same money invested in a Remington 700 will not get you a gun that shoots this well.
This Howa is an excellent precision rifle at a reasonable price, but as noted, there is still room for upgrading. Howa's new HACT (Howa Actuator Controlled Trigger) 2-stage trigger is really good for a factory trigger and has a decently crisp creep-free pull in the 2-3 pound range with a consistent letoff. The vast majority of shooters who use a Howa rifle will just leave the trigger as is, but having shot side-by-side with the Timney trigger, the aftermarket $120 Timney match trigger is well worth the price if precision shooting is you game.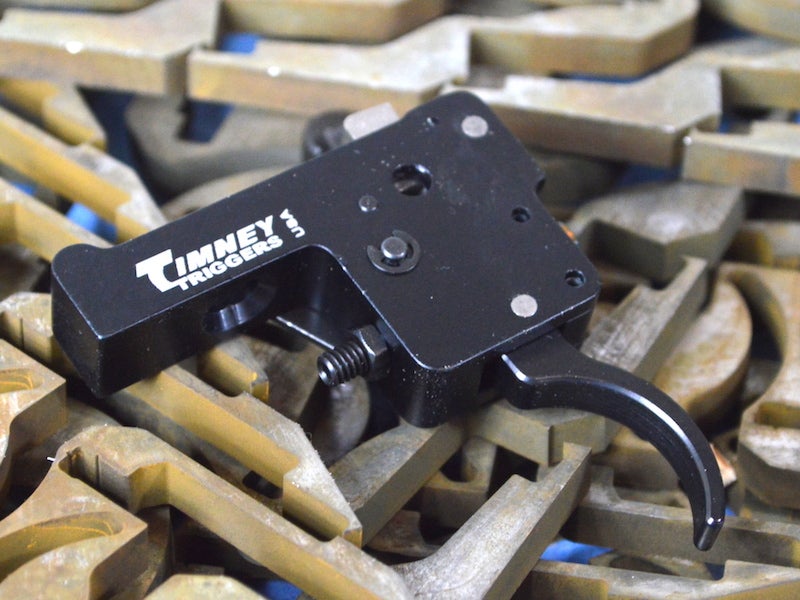 The Targetmaster package includes a 4-14 Nikko Stirling scope, rings, and base. The Nikko Stirling optics take a lot of heat and are often noted as being low quality, so I was surprised with the quality of the Targetmaster scope included with this kit. The 4x-14x Targetmaster scope basically looks like a Nightforce knockoff with most of the features at a reasonable price.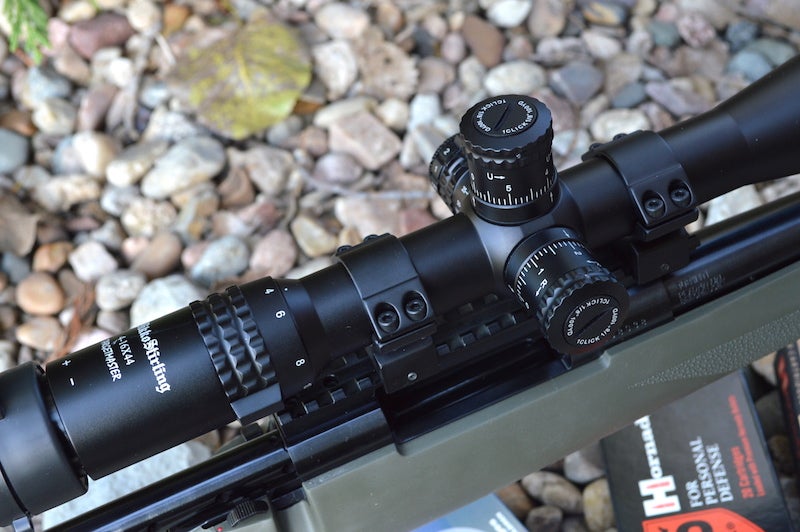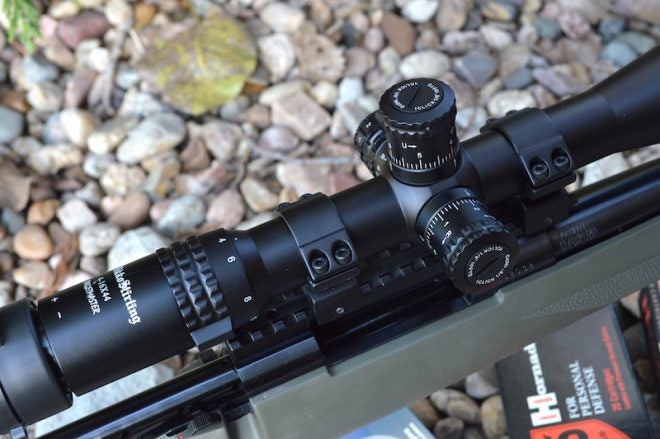 Granted this is not a $1000 Leupold, Bushnell, Vortex or Nikon, but it is a fine scope for the estimated $200 MSRP. It is also better than many "marketing package" scopes that are added onto rifles by bigger gun dealers. This Nikko Stirling 4x-14x adjustable Mildot scope includes side parallax adjustment, MilDot calibrated reticle, re-zeroable Mil-based turret adjustments, and an illuminated reticle, which actually delivered a usable illumination setting when it is pitch black out.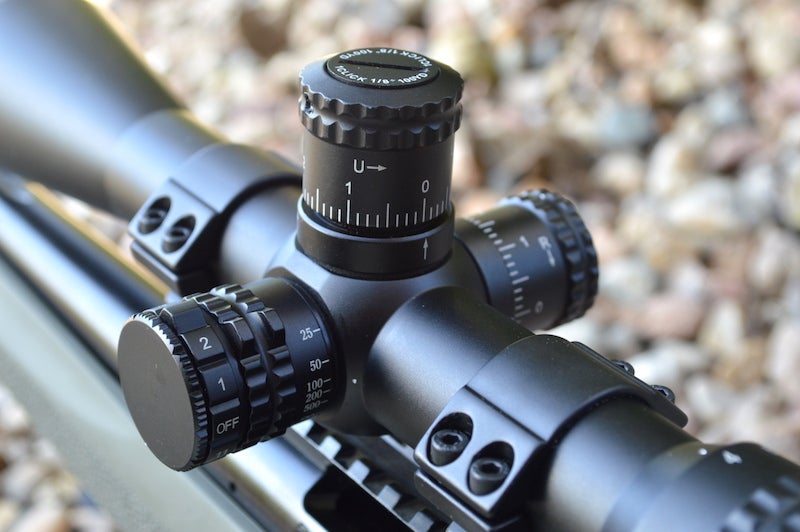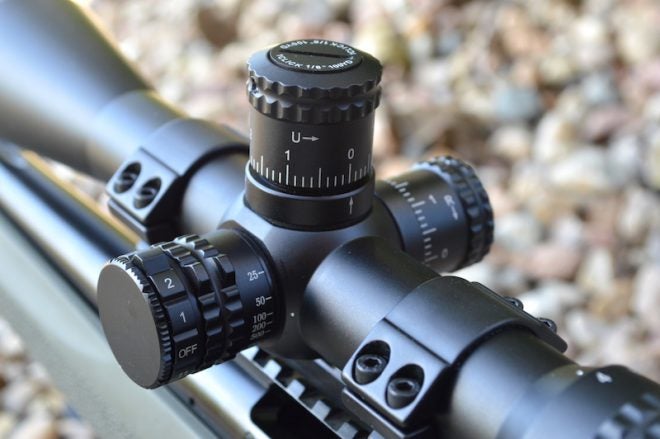 During my testing I found the scope easy to use, pretty darn clear, and it held perfect zero throughout my testing of well over 1000 rounds. So I really cannot complain. I will note that the scope does have a rather short eye relief which made the scope kiss my safety glasses lightly during recoil, but I never had an issue with an actual incident of scope bite. From my perspective, the short eye relief is the major shortcoming of scope, but the optical clarity and features are in line with the price.
It should be noted that assembly is required. The buyer will need to install the base and rings and mount and zero the scope. The advantage of doing it yourself is knowing that some minimum-wage tool at a FFL dealer did not just screw everything together with gun oil.
During my first zeroing at the range, a fellow shooter had a nicely upgraded and suppressed 308 Howa 1500 complete with a McMillan stock and Timney trigger, which he was using to casually paint a nice 2" lead splatter on the 300-yard gong. He noted that the rifle regularly delivers ½" 100-yard groups.
Once everything was set up and I was dialed at the range with a 100-yard zero, I was easily able to use all my usual hold-overs to connect easily with 4" steel plates at 200-400 yards. Yes, the Howa Targetmaster is easily a 1-MOA gun. In fact, based on my testing I saw a few .6"ish 100-yard groups. One rather impressive 5-shot group was a 2" lead-painted set of hits on my steel silhouette head at 300 yards with Hornady 168gr Z-Max 308 Ammo shot off sandbags.
Hitting clays at 300 yards should not be an issue, and hitting most standard steel targets out to 500 yards should be simple after you figure out your ballistic drops. The barrel has a 1:10 twist, which offers good accuracy with a wide range of bullet weights. (I found the this rifle to prefer heavier 168+ grain bullets.) The standard MilDot reticle offers the shooter a simple option for calculating impact when paired with most ballistic apps.
After firing the first 50 rounds, I could see why the Howa rifles have such a strong fan base.
The Howa Targetmaster is a pretty fun rifle to shoot and is totally usable right out of the box. It is one of those rifles which I would feel completely comfortable picking up at a FFL dealer to save a hunt while the airline attempts to find the rifle they lost in transit.
Final Thoughts
Out of the box, the Howa Targetmaster is impressive and unless you are a jaded writer who has the luxury of opting for a custom rifle any time he wants, the Targetmaster will probably do what you need it to do and more. If you do want custom, the aftermarket options are available to improve performance further. Beyond the previously-noted smooth action, the 20" barrel is hammer forged for durability and long lived accuracy.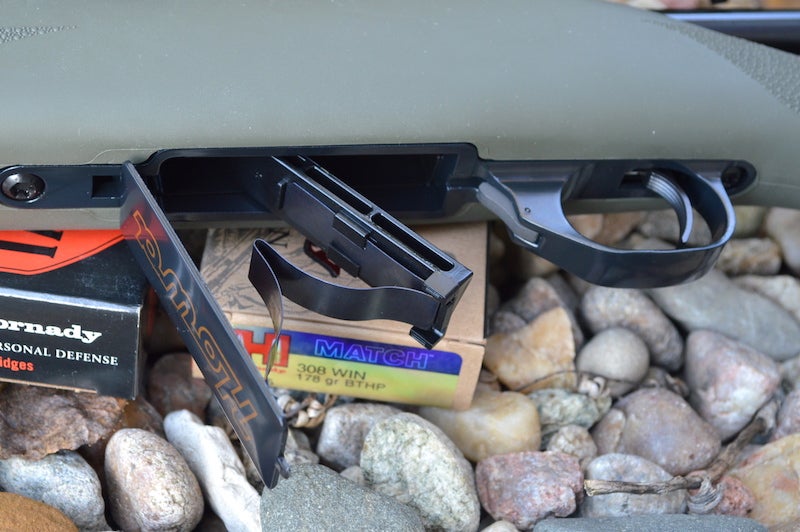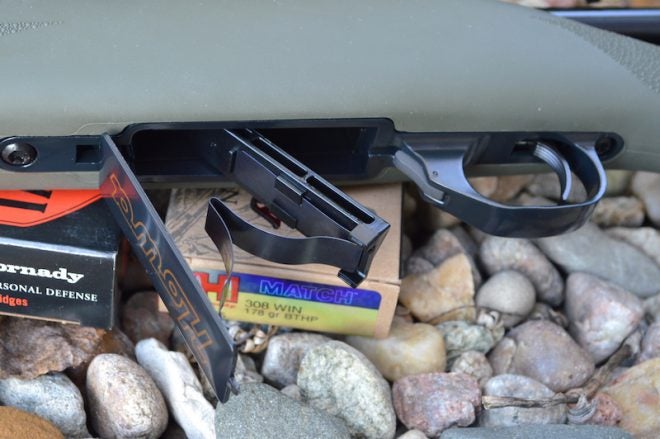 Howa even offers an "Ammo Boost" add-on which allows the 1500 to become magazine-fed, but why stop there? I have a MDT HS3 Chassis on order for this rifle as well as a higher-tier scope. This is a solid sub-MOA gun which is begging to have just a few tweaks added to it to take it from really good to great.
Manufacturer Specs
HGT83128

Chambered for 308 Winchester


Hogue Green Stock

Barrel Length 20″

Profile #6 Heavy Fluted

Twist 1:10

Length of Pull 13.87″

Length 40.25″

Weight 9.8lbs

MSRP $913

Street Price $699-$750 (depending on Rebate Offers)