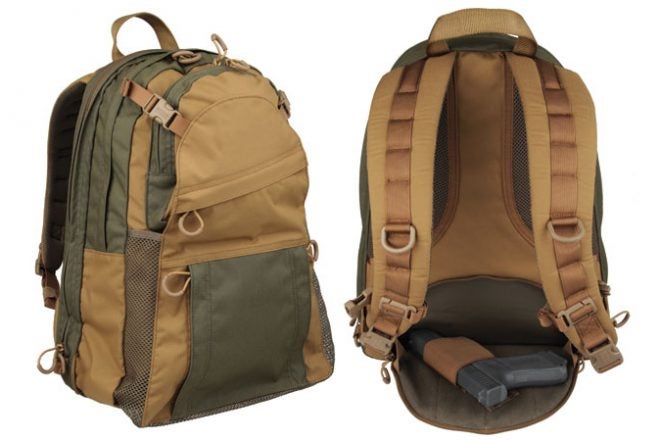 I've yet to find a better option than the Blackhawk Diversion Carry Backpack for carrying a concealed handgun that's not actually on your body. It's well-made and (mostly) well-designed–and it works well as a "normal" backpack.
Pros
Made well out of tough stuff.
Doesn't "advertise" that it's a "gun brand."
Good zipper pulls and contoured shoulder straps.
Efficient design with plenty of pockets, plus loops and D-rings.
It's a good backpack on its own, AND provides a good handgun carry option.
Cons
Made overseas (Vietnam).
With jostling etc, your gun may not stay in the retention loop.
The Review
This backpack is pretty nice overall, with plenty of useful compartments that are arranged well. The padded, contoured shoulder straps have a front buckle as well as D-rings and loops for attaching extras. The hang loop/handle at the top of the pack is sized generously, so you can get your entire hand inside instead of just a finger or two.
The zipper pulls are made of paracord-like material, with plastic stiffeners that make them easy to grab. Top front zipper pocket contains an organizer and key lanyard with clip.
There's a mesh-sided front pocket that's semi-secured by the flap that buckles in front of the pocket mentioned above. The stuff you put in here will be easy to grab. There are three pockets in front of the mesh pocket: One that goes all the way down with slash zipper and two smaller ones with vertical zippers.
The gun compartment has ambi zippers and can be accessed from either side, or you can use the zippered half-moon access panel at the small of your back. It's similar to a laptop area of a typical backpack, and its side zippers go all the way down. You could conceivably lock the gun compartment, but you'd have to use three locks (one for the half-moon zipper, and one each to lock the side zippers to a plastic D-ring.
To secure your gun, you can use the simple loop that's included, or attach Velcro-backed holsters or other accessories to the two panels inside the gun compartment (one of those panels is the inside of the half-moon door).
I like how the tag with the Blackhawk name is hidden most of the time; this prevents crooks from recognizing it as a carry pack. The color seen here is Ranger Green/Coyote Tan, and it's made of 500 denier Nylon. Other colors (Black/Red, Gray/Black, and Grey/Blue) are constructed of 420 denier Velocity Nylon.
I like the layout of this bag. I've found that backpacks can have too many pockets and your stuff can easily become lost in a maze, but these are mostly logical and easy to get into. The one bummer on this one is the top front pocket with the organizer inside; if you want to fully access that pocket, you first have to unbuckle the top flap of the mesh-side pocket. It's not difficult to do that, so even this is easy to overcome.
Where's the Gun?
The spot for your gun is in a large, flat, vertical area in the portion of the pack that lies closest to your back. This is where you'd expect to carry a laptop in most bags. There's one continuous zipper with two pulls, which can open the sides and top of this area. And because the pulls travel opposite one another, there's always a pull at the bottom of each side when it's closed; this makes them easy to access so you can quickly yank one open and slip your hand inside.
There are two "soft velcro" areas inside this area; one is 7″ x 8″ and is sewn against your back up high. You could use hook-back accessories here to retain a spare gun, extra mags, or whatever.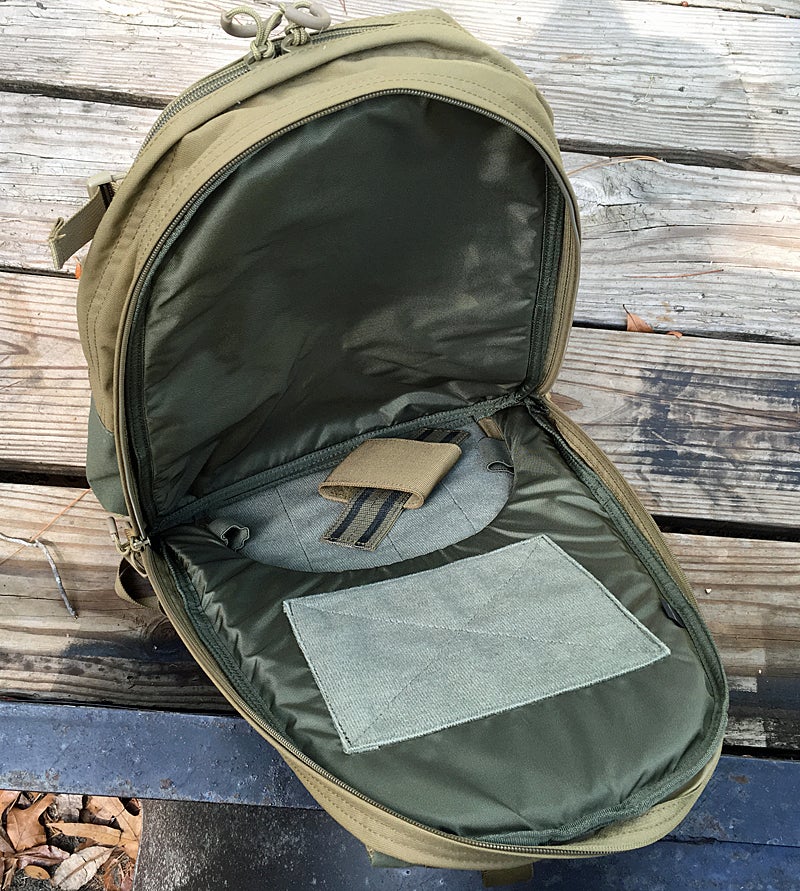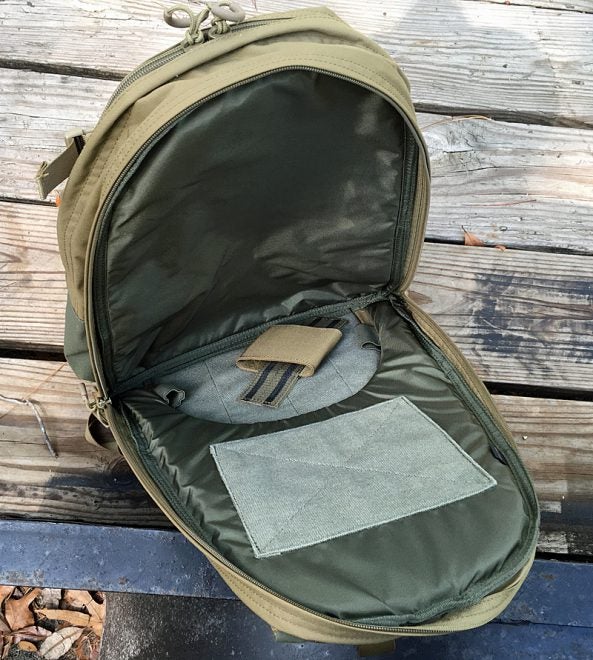 The other area is the inside of the half-moon door, and that's where you want your handgun. This door has twin zipper pulls and elastic straps to prevent the door from opening more than 90 degrees or so. A tough strap and loop are provided, and do a reasonable job of retaining a handgun as long as the bag remains upright and isn't jostled much.
Thing is, there's nothing to keep your gun in place other than gravity. So even though it can keep even a full size pistol secure during normal use, the gun can slip out of the loop and move around inside the large compartment if the pack doesn't remain upright.
Blackhawk does offer a nice-looking holster with a thumb-break strap, which can be stuck onto the loop panel.
This is not an average pack; it's well-made and tough and should stand up to years of everyday use. And on those occasions when clothing choice and/or gun size mean you can't carry on your person, this offers a good way to tote your gun securely, while keeping it secure and easy to access.
Conclusion
This is a good bag, and I can recommend it. But I would like to see some more info included with it. Mine didn't come with anything about how to conceal/secure the firearm, where to place holsters (and what kind to use), mag pouches, etc. For the money (currently about $111 shipped on Amazon for this version), I'd expect more, but I still like it.

SHOP NOW