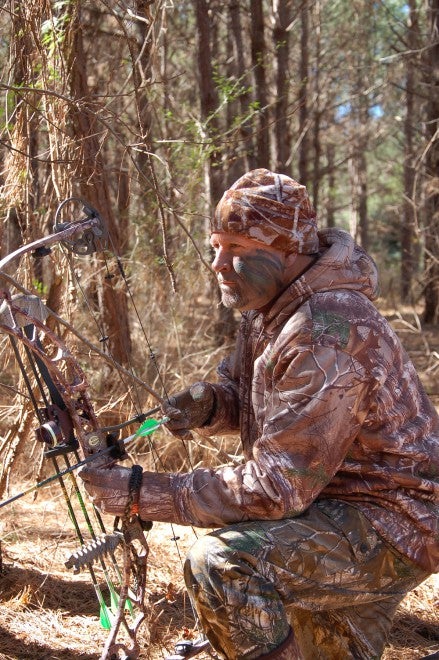 Though it is a takeoff from the Walking Dead, archery gear should be considered for survival defense.
Many modern bows and crossbows can achieve a 350 FPS arrow speed. That is fast. Not only that, they are fairly quiet. Of course, their biggest restriction is range. Though I am not a fan of long distance bow hunting, for a defensive weapon it probably is good to know that a stringed implement can do this if necessary.
Another hindrances for a bow or crossbow as a defensive weapon is the space needed to draw/cock and shoot one. Unlike a traditional firearm, a bow or crossbow has to have ample working space to function correctly. For a bow this means kneeling or standing with an opening large enough to sight and shoot. Crossbows of course require a wider space to prevent the limbs from hitting the sides of the window or doorway.
Stringed tools like bows and crossbows do demand a respectable degree of practice to develop the proper shooting skills for accuracy. And it does take time to nock a fresh arrow–or especially to cock a crossbow–for a second shot. Even so, there are enough positive aspects to the bow or crossbow to consider them for certain kinds of defensive work.
In a survival situation, it will be nice to gather food resources while maintaining a quiet and stealth mode. If you are hiding out in the woods, you certainly want to be careful when shooting guns. Firing a round or two at a deer can attract unwanted attention, whereas a bow or crossbow can accomplish this virtually unnoticed. That is a good thing.
If you are new to archery, I recommend a visit to a well-stocked archery shop that has a salesperson willing to spend the time to set you up properly. These tools often require some fitting to the user in terms of draw length and other user issues.
What do you think? Would you consider a bow and/or crossbow as a primary or backup tool for prep and survival work?