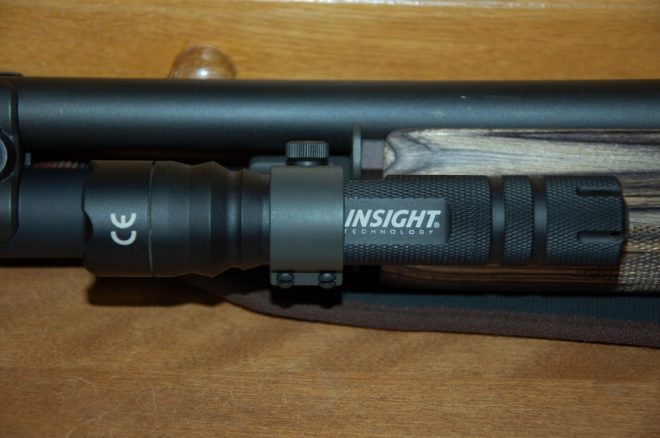 A San Diego Union Tribune newspaper article recently hypothesized that some of the "accidental" police shootings that have occurred could be linked to pistol mounted flashlights. The implied connection is that in the heat of a confrontational situation that it could be possible that police patrol officers have mistakenly pulled pistol triggers in the process of trying to turn on their under barrel rail mounted flashlights.
The newspaper article referred to five such incidents that have been reported nationwide over the past year. However, a search of data bases did not reveal any specific evidence linking police or others confusing the function of their pistol mounted flashlights with their handgun triggers. Could there be a connection?
Any time an accessory item is mounted on any firearm the user has the responsibility first to make certain the device is mounted correctly, and that it is used safely. Obviously this might demand additional training specifically if the utilization of such devices is deployed by police, security or even military. However, private gun owning citizens are also held responsible for proper use of such accessories as well. This includes rifles, shotguns and handguns.
Certainly one could argue that in the heat of a hostile situation that anybody could mistakenly misfire their weapon due to a host of factors. The least of these is just the pure adrenalin rush of the situation. This is why firearms use training is so critical. Shooter training teaches gun handlers to keep their fingers out of the trigger loop until there is a necessity to pull the trigger. This is a most basic shooter safety procedure. It has to be engrained in the shooting mindset.
Pistol mounted flashlights are very popular now. This is why most all handgun manufacturers are now designing pistol models with frame housings that offer the Picatinny type rail mounting grooves under the slide/barrel for the attachment of flashlights and or laser devices. The need for a gun mounted flashlight should be obvious especially for law enforcement applications.
The pistol mounted flashlights I have examined have ON/OFF switches of different types, but the most common is either a push button or slide switch. This activation switch is most often designed to be manipulated by the offhand finger, not the trigger finger. Could there be use confusion in practice? It seems hard to imagine such, but then anything is possible. If you mount such a flashlight on any weapon, make certain you train how to use it correctly.