Flint River Armory's New CSA45: an AR-pattern Rifle in .45 ACP
Dr. John Woods 05.22.17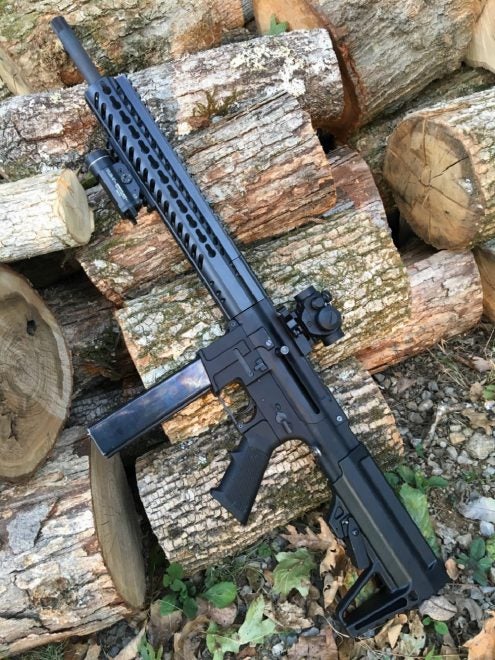 In Huntsville, Alabama there is a rather obscure small arms manufacturer named Flint River Armory. They manufacture a very unique firearm they call their CSA45. At first glance it looks like just another AR-type rifle, but it is anything but that. It begs for further investigation.
The CSA45 is not just a long gun platform redesigned to handle a handgun cartridge. The CSA45 is a completely new PCC platform that was created specifically to handle the popular and powerful .45 ACP cartridge. The rifle design is gas piston operated with a rotating bolt. If you look around, you will not find anything else on the market like it.
The CSA45 was created to be a personal defense weapon. So, the designer(s) worked to build a rifle that is completely reliable, strong, and accurate. And it is 100% built in the USA, mostly in Alabama. The company is not shy in bragging about this firearm being made by American workers.
Features include a high strength, one piece buffer and lower receiver. The bolt carrier is one piece. The forearm is set up with the KeyMod attachment as standard issue. The rifle's takedown can be accomplished without tools. The rifle comes complete with two magazines, each holding 25 rounds. The firepower of the CSA45 is immense.
The rifle operation consists of a short-stroke gas piston that functions with a locking bolt that rotates. The fire controls are built just like an AR so shooters will be familiar with how the rifle works basically when they first pick it up for orientation prior to shooting it at the range. The barrel is 16-inches in length and the rifle only weighs 6.1 pounds.
Talk about built in strength, the receiver is a billet machined 6061-T6 aluminum. The barrel is 4140 Chrome molly. The bolt is made from 17-4 stainless. Even the magazines are constructed of stainless for durability and element resistance. The stock is polymer. The entire rifle is finished in a black matte.
The top of the receiver is equipped with a full Picatinny rail for adding open back up sights like Magpuls or other options. Any red dot, electronic, or holographic sight can easily be added as could a more conventional scope. A good close quarter defensive optic would be an excellent choice for this rifle. The KeyMod can allow all types of accessories to be quickly mounted.
More details and photos can be seen at their web site.