Benefits of Cooking After a Disaster
Kevin Felts 05.23.17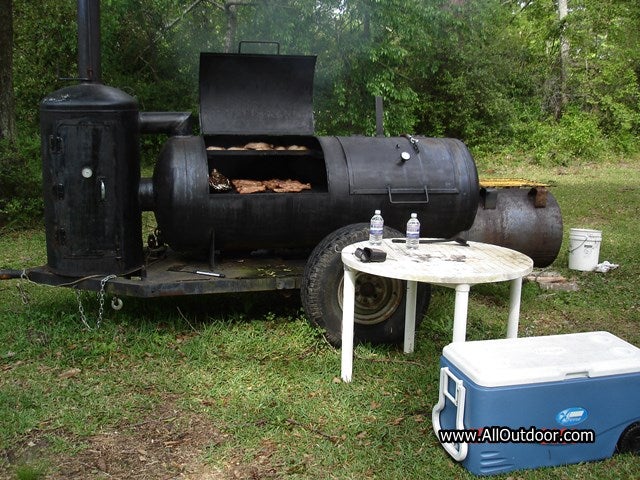 After Hurricane Rita and Hurricane Ike were running on generator back-up. Since we had a limited supply of fuel, we were cooking all the meat. Everyone who bugged out to my house brought meat from their freezers. For the first week after the hurricane we ate steaks, brisket, pork chops, pork ribs, sausage–just whatever was in the freezer or ice chest.
The pit was made from of an old 250 gallon butane tank. The cooking surface is six feet three inches long and something like thirty two inches across. It helps if someone has experience with using the pit, so I cooked most of the meat.
Everyone talked about what we like to have tomorrow. We would talk about the which cuts of meats we should cook first and which ones we could lose if we ran out of fuel. It came down to, would you rather lose ribs and brisket, or sandwich meat?
There were times when the pit was fired up in the morning and did not go out until late in the evening.
A couple of times the neighbors brought something over and used the pit to cook. I made it a point to invite them over to cook and visit.
We would cook sausage, pork chops, and steaks for lunch. While the smaller pieces of meat were cooking, towards the back of the pit would be a brisket, roast or ham.
The smell of cooking meat provided everyone with a sense of calm, maybe even a sense of community.
Late in the evening we would gorge ourselves on ribs, brisket or roast. On the side would be served beans, slice of bread, corn, or whatever else we had on hand.
Just before dark we would wash the dishes and get ready for the next day.
Before bedtime we would play board games, talk or read.
Having a full belly made the situation not so bad. Having a full plate of food, the smells and sense of community that goes with all of it is a morale booster.