Watch: Fagnus-Spirlet Revolver "Gun Yoga Fail"
Russ Chastain 05.26.17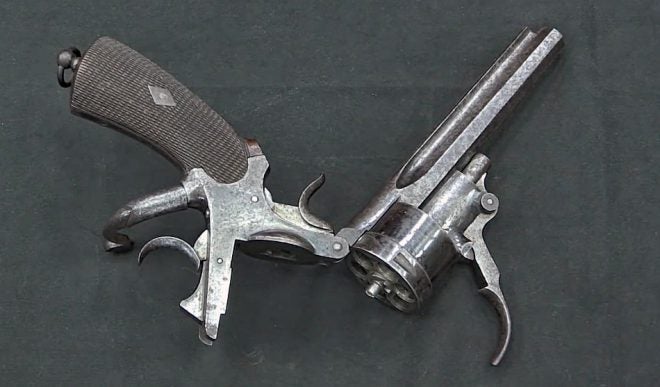 This is a weird take on a revolver, and might be best compared with a top break design. I guess you could call this a "frame break" or "bottom break," since the latch is at the bottom front of the frame, and it hinges about a pin located at the top rear of the frame (at the rear sight). The locations of the hinge & latch are pretty much the opposite of a top break revolver.
Something tells me the Rock Island Auction Company missed the boat when they failed to include photos of the way this weird gun operates; the two views below are the only ones I found on their website.


This design seems like it may be stronger than a top break, and it does have an interesting sort of double-latching system that requires manipulation of two different levers which double as the trigger guard.
Produced by Alexandre Fagnus of Liege, this is a military style, six-shot, .45 caliber revolver with a particularly interesting and unusual unloading mechanism. The rear half of the trigger guard is a lever which can be rotated 90 degrees out from the frame, unlocking the barrel and cylinder. The front half of the trigger guard then acts as a second lever to pivot the action open around the rear sight and operate the spring-loaded ejector.
Ian adds that the gun was probably made between 1876-1893, but that's about all he thinks he knows about its production, other than it was proofed in Belgium (and probably made there as well).
Aside from proof marks on the cylinder, the only marking to be found on the gun is "CAST STEEL."
It sold in early May, 2017 for $920.