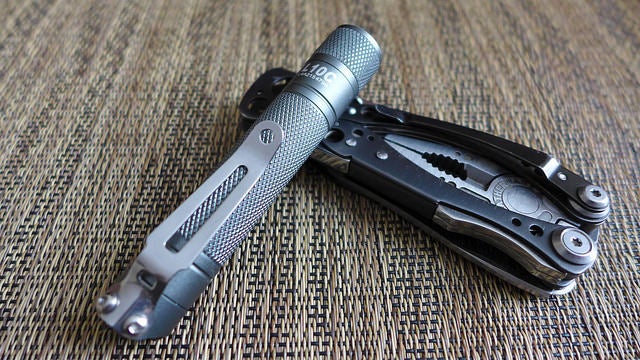 He taught you how to spit, how to whittle, how to change a tire, and why you should always hold the door open for a lady. He was the guy that pushed you off from a running start on your bike and he was there when that running start ended in a knee-scrapping crash. He was also there when, despite your best efforts at age 16 and half, you crashed into the back of a snow plow and damaged the front end of your car (which was hand-me-down from him). After all that, Dad deserves better than a gift card to Amazon. Here are 15 awesome outdoor and gear gifts that he will actually use.
Finding a small to medium sized non-technical (interframe) backpack that works on day hikes, is built to last, and doesn't make you look like Dora the Explorer is very hard to do. In the past few years hipster brands have infected the gear world like syphilis infected Nietzsche. The end result is a wave of "clean" "unisex" backs that are just big enough to hold your hipster mustache wax and nothing else. The PFII, on the other hand, has organization, MOLLE, a good strap system, a decently padded and shape back, and is built as if it were one of those sleeves used in training police dogs. I have had one for years and it looks and performs as good as it did the day I bought it.
Maybe your Dad had a Case Trapper with its "surgical steel." It was decent, but he complained to you that he didn't like sharpening it so much. Well, drop this gem on him on Father's Day and there is a very good chance it will still be shaving sharp the next time you buy him a present in June. This knife's size makes it fit in just about anyone's pocket, even if they are on Dad jeans that sit just over the belly button. One of the very best blades on the market and it is well under $100.
Some of the multitools out there are roughly the size, weight and shape of an anvil. That's ideal if you want to do on-the-spot blacksmithing, but for the rest of us, the Skeletool has all of the tools you need and none you don't. The Wave is another option, but it adds a lot of weight and lacks the ergos of the Skeletool. For something that is the size and weight of a folder, you get pliers, drivers, a cap lifter, and a blade. Fix it Dad will love this. It will probably replace that PST you got him 22 years ago.
This is a tool that every person on planet Earth could use. Like the Skeletool, the Cadet has all of the tools you need and none you don't, unless you need pliers. Smaller than a pack of gum and clad in a checkered pattern of Alox, this is a minimalist multitool that looks cool enough to have been designed in Cupertino. I once found them mispriced, to my benefit, and I both six and gave them as gifts for a year. No one was disappointed and when I see them they all say the same thing–"That knife really comes in handy."
SHOP NOW
SHOP NOW
SHOP NOW
Don't get your Dad a lame coin-cell keychain light. They often get stuck in the on position, they are only slightly brighter than a match, and the batteries cost more than the light. Get him this torch if he absolutely has to carry a light with his keys. Unlike the other lights on
this light
, this one takes a normal cell–one AAA battery. It comes with a rechargeable one that allows it to max out at 300 lumens, but it is a respectable 100 lumens with an alkaline inside.
AG Russell Small Skorpion, $65
You can't buy your Dad a fidget spinner. He'd kill you. But if your Pop has active fingers or is a bit ADHD, the Small Skorpion is a great knife. It runs 8Cr13MoV (don't tell him it is made in China, you will have to endure another rant…) and has skeletonized steel handles.  But it is the elegant AG Russell blade shape and superb flipping action that make this knife just a joy to own and use. It's thoroughly modern, lightyears from a jig boned handle cover knife, but it is also a great performer. The thin size also means it lives in your pocket quite well. Dad will like it. And who knows, you just might catch him flipping it open and closed as he is driving around town.
Get Pops something good. He earned it. After all, he gave you your first sip of beer. That is totally worth something, right?