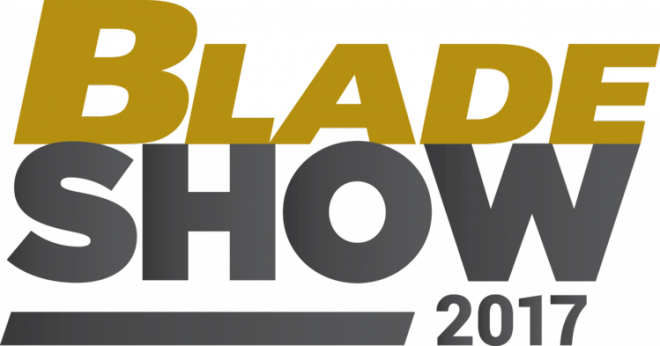 I do not envy the awards folks this year. The knife world has exploded since 2016's show with a bevy of amazing stuff. I couldn't even begin to make a list of potential winners. Instead, I am going to go through and do some trend spotting.
Trend 1: Underdog Production Companies Stretches Their Legs
For so long Cold Steel and CRKT were "B Team" players in the modern production knife world, McDowells to other company's McDonalds (CRKT Edgie anyone?). But in the past five years they have both hit their stride and found a brand identity that results in real and excellent products coming our way.
Cold Steel's evolution started with the Tri-Ad lock. Then they upgraded all of their steels. And now they have an exclusive deployment method, the HTR (hollow thumb ramp) that works very well. Furthermore, they aren't chasing trends. You won't find fifteen different framelock flippers in their line up. They make their own thing, their own designs, and they are distinctive and excellent. The tall, thin blades like the Golden Eye and Code 4 have been exceptionally good, hiding huge blades in very pocketable packages. This sort of insistence on a design language that stands apart from trends is how Spyderco became a force in the knife business. I am not saying Cold Steel is quite there yet with their designs, but the fact that it is a comparison that can be fairly drawn shows how far they have come.
CRKT's strike has been different. Instead of focusing on a core design approach, they have honed in on great collaborations. Time and again, we have been treated to amazing collabs. At this point its surprising when CRKT swings and misses. From Ken Onion designs to Liong Mah blades and Jesper Voxnaes stuff, CRKT's eye for custom designs that will translate well in the entry level and mid priced market has been flawless over the past two or three years.
Trend 2: Small Batch Goes Big
There are bunch of companies that have a dedicated small cadre of employees, a few talented machinsts, a couple of high end CNC machines, and they make amazing stuff. Millitt has been killing things for a while, but now is taking center stage as a production company of its own. Similarly, Three Rivers Manufacturing is making insane blades, having been a high precision parts OEM for a while. Seeing both companies, and a few others, really hammer the gas pedal design-wise has been exciting and it looks like Blade 2017 will be the coming out party for a few more companies. The fact that these companies are all USA Made really makes me smile–innovation, high quality stuff, not crazy prices, and support the little guy in your backyard. Not much to complain about. And in my case, TRM is in my backyard, just under an hour away in an old mill town. Instead of letting blight creep in they have revitalized a town that could have been dead or dying. And other companies have done the same–Meridian, Idaho has a few more real manufacturing jobs thanks to Millitt. Now if only the New York Times or Washington Post could pick up on this win-win story.
Trend 3: China's Luxe
I am a flag-waving, baseball loving, apple pie-eating 'Murican as anyone, but man, setting aside the politics for a second, the stuff coming out of China right now is scorching hot. The Steelcraft Mini Bodega was so good in terms of its flair and execution that I really think I have to re-evaluate my entire approach to production knives. If something could be that good and be made in the hundreds or low thousands, everyone else needs to raise their game. Reate's integrals and inlay handles are equally mindblowing and a few brands are including stuff like Mokuti, which has, heretofore, been reserved strictly for the custom market.
But it is not just in the over-$500 market that the Chinese stuff have been exceptional. The Schrade SCH36 cost less than its model number in dollars and it hangs quite well with some of the Ka-Bar stuff that is three times the price. It feels like a $90 blade and costs $30. And then there is the Kizer Vanguard line. Other than VG-10, which I really don't love, there is nothing that subtracts from these knives' performance compared to the full price line. I was worried that Kizer was going to populate this line of knives with a bunch of weird, halfbaked designs, but instead we are treated to epic stuff like the Gemini, but 50% off.
It's been all good stuff and the value and performance has certainly there but now the flourishes are as well.


Trend 4: Blurring the Lines
Is the Benchmade Proper a traditional knife or a modern knife? It has modern steel and is made in one of the most advanced knife factories in the world, but it has micarta handles and some really traditional lines. It also has a nail nick. And what about Jared Oeser's stuff, traditional or modern? Sure he has some classic patterns, a Gunstock here and a Barlow there, but one of his signature patterns is the Tengu, a modified tanto blade. I don't remember Case making any of those. Traditionals have been hugely popular over the past three years, but now I am not sure what to call some of these blades. In the end taxonomy is not crucial, performance and feel are and, in my opinion, these blades feel great. I love my Spyderco Roadie (which, on the spectrum, lies closer to the modern end) and the Northwoods Indian River Jack is incredible, as a modern wolf in traditional sheep clothing. I have no idea where this is headed, but I am thrilled to grab a seat on the roller coaster as it pulls out of the station. And the Oeser Maglock–an Oeser blade with a variant on the Barry Wood split handled lock that uses a magnet instead of a detent ball–freaking blew my mind.
Blade 2017 will be amazing. All of the things that are happening in the knife world right now are so exciting. I just don't want to be the guy that makes the call on the awards. Though hopefully we see an Oeser Maglock for the win, just sayin'.

SHOP NOW