Near-Record Turkeys Fall in Virginia This Spring
Bob McNally 06.05.17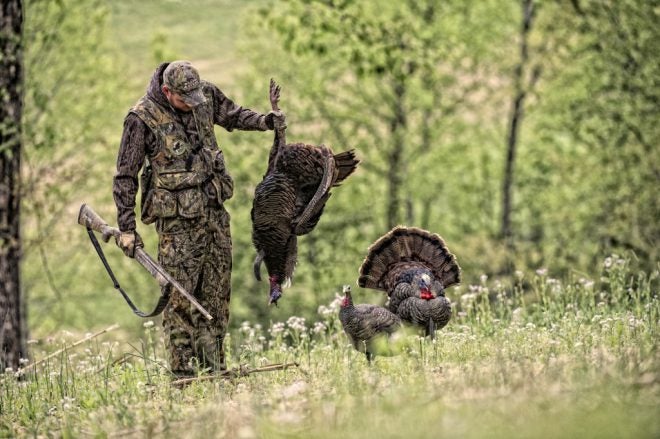 Virginians killed 18,860 wild turkeys this spring, a 9 percent increase from 2016.
The state record was set in 2015, at 20,580. Department of Game and Inland Fisheries forest game bird project leader Gary Norman said Virginia's wild turkey population is at record highs, with a population estimated to be as high as 195,000.
The second highest total was in 2013 with 19,265 turkeys reported.
The numbers suggest Virginia's wild turkey populations may be at record levels for modern times. Numbers have been consistently good for nearly two decades. State turkey biologists believe wild turkeys have experienced "moderate" reproduction success over the past five years, with population estimates placing Virginia's turkey population between 185,000–195,000 birds.
Weather plays a huge factor in hunter success. Temperate days with a rising barometer get a gobbler's blood flowing, making him easier to dupe. Extremely hot days can shut things down and cold, wet weather is often a deal breaker.
This past season saw largely good hunting weather, except for some cooler, rainy weather toward the end. Hunters in some western highlands encountered the worst scenario, cold and snow near the end of the season.
Thirty percent of the total birds taken died on Saturdays. Sunday hunters took 12 percent of the total. With good weather, probably the optimal season top hunt is the youth and apprentice weekend opener. Birds haven't seen decoys or heard calls for many months and success levels can be high, as they were this year with young and novice gunners taking 627 birds.
The 2017 spring gobbler harvest increased 26 percent on the George Washington National Forest acreage and 56 percent on the Jefferson National Forest. At 837 total birds, the numbers still aren't great considering the available forested habitat, but it is marked improvement. The Northern Neck remains turkey hunter heaven. Westmoreland County is Virginia's turkey capital with 2.6 gobblers harvested per square mile of forested habitat. Second is Northumberland County with 2.1 birds harvested per square mile of forest range. The lowest percentage is in the state's North Mountain region with 0.49 gobblers per square mile of forest range).
Bedford County led the Old Dominion turkey take with 532 birds.