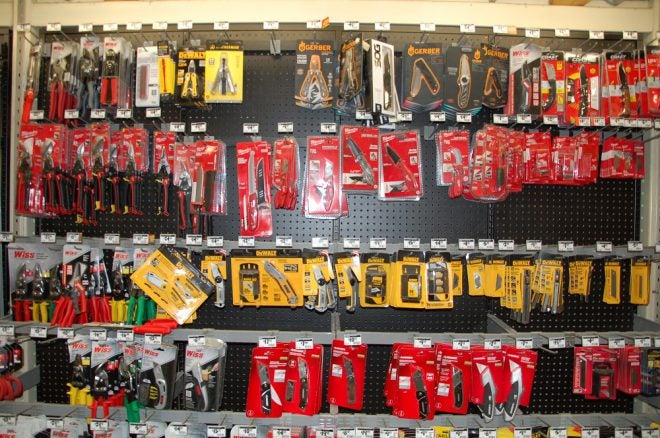 The most universal cutting tool in the shop is a box cutter. Of course, these cutting implements were originally, one supposes, created to cut open the taped tops of cardboard boxes. Naturally, it did not take long to figure out all the other practical uses for such a cutter. To address those needs there have been a myriad of types, sizes and task oriented box type cutters introduced.
The basic box cutter is a metal tool that contains one cutting blade held locked in place inside the tool handle. Most often there is a locking slide that allows the blade to be retracted into the handle for safety reasons when not in use. The blade edge once dulled can usually be switched around to the other end or replaced altogether with a new blade to continue work.
As time progressed then, some smart marketing-tool engineer came up with the super cheap adjustable blade tool. These have one long blade inside a handle slot that can be extended out with the sliding of a button then locked in place for use. As the edge wears, the tip can be broken off at the serrated point to expose a fresh edge. You can often buy these cutters for a dollar or less.
These razor sharp cutting devices then have endless uses for all types of general cutting jobs from cutting lengths of rope, string, tape, cord, or such. They are used to cut rubber hoses and tubing, rubber gas lines, and the like. For precise work they can be used very carefully to trim out patterns, gasket materials for precision fitting, cloth, leatherworking, slicing paper or cardboard or poster board and such applications.
Fine edged box cutters are useful for trimming off excess materials such as glue, paint, wood, and other stuff. Around the shop, garage, or craft room their uses never end. I keep at least two cutters in every tool bag, several on the peg board in the garage, and at least one within reach on the workbench. Like scissors, I use one nearly every day for some purpose.
Box cutters are of course very sharp. Safety procedures have to be followed to avoid nasty cuts including wearing heavy duty work gloves is advised. Cutters are very handy to have around, so get a selection from a good retractable model to several of the cheap craft type cutters.