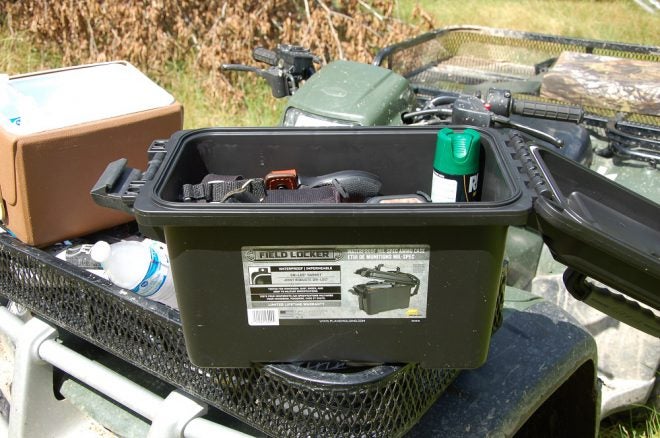 There is a really good reason this equipment carry box is called a field locker. It is definitely not like any other polymer latch lid military type ammo box. This one is built Army tough, because hey, it was built to military specifications and the field duty they require. It serves with honor.
On a recent ATV trip across hunting property to assess post-tornado damage to timber and wildlife landscape, the Plano Field Locker was stretcher corded in the front carry basket already loaded with tools. It banged, it rocked, it rolled over, it was rubbed by tree limbs, and brush. It came away with nary a scratch and no signs of abuse. Everything inside was A-OK including a firearm, ammo, water bottles, and a 35mm camera with no other protection than this box. The gear weathered the storm as well.
The Plano Field Locker is a heavy duty, well-constructed carry case with a flip latch lid lock that snaps to lock position with authority. There will be no accidental unlocking with this latch. It can also be secured with a padlock or two if needed that would take a heavy hammer to bust the metal reinforced padlock gates.


Designed for hard outdoor use, the locker's lid comes with a full waterproof Dri-Loc® gasket to keep out water and dust, so sensitive gear items can be carried without worry, hence the pistol, ammo, and camera. The latch lock and lid hinge are super heavy duty, almost over engineered. The hinge has a full metal rod through the locking fingers for extra strength. The latch lock has rubberized inserts for a sure and firm grab even with awkward work gloves.
The swivel carry handle on top also has the rubberized insert for a fitted grab to carry. The handle has a snap over center feature so the handle folds flat in the top recess and will not fly up or bounce around. There are heavy metal pins through the top handle attachment points that also have metal connection loops to attach the shoulder carry strap. The strap itself is an adjustable heavy duty affair, tough padded nylon with metal snap closure attachments.
Other features include a pressure release valve on top in case of high temperatures or working in high altitudes. The box bottom is molded with stackable ridges. Everything about this Field Locker is heavy duty and reinforced. You won't find a better dry box for critical field gear or sensitive items. Dimensions are 17x11x8.5 inches and retails for around $69.99. Check it out at www.planomolding.com.

SHOP NOW