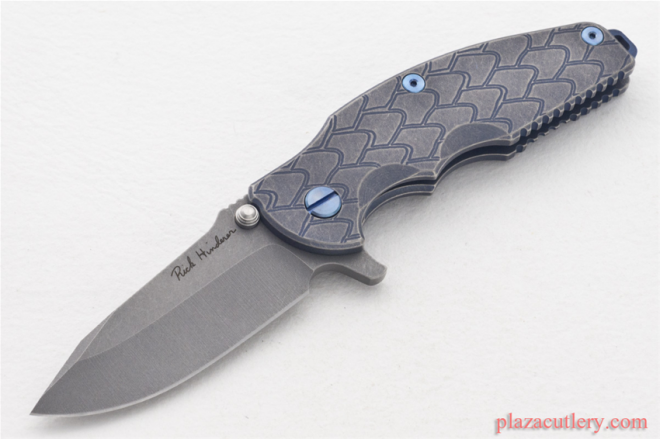 It used to be that the only folding knife in the Hinderer line up was the much-vaunted XM-18 in various sizes. Then he added the Eklipse. Then a slipjoint (!). Then the Half-Track. Then the modular MP-1. And now he has released the Jurassic, a smallish drop point flipper. The reality is that over the past two years, Hinderer has gone from being the XM-18 company to a full fledged production knife corporation. And all of this is in addition to the collaborations Hinderer has with a wide variety of production companies. Suffice to say, it is a busy time at the Hinderer factory. I guess this is what all of the upgrading and expansion was for a few years ago.
The theme with the Jurassic, is, unsurprisingly, is animalistic. The scales are cut to look like the heavily armored and layered scutes of an ankylosaur (certified Dino-nerd here…and that obligates me to point out the Ankylosaurus was a Cretaceous dinosaur). The handle also has a bit more of an organic look to it than other Hinderer offerings. Instead of a Humvee aesthetic, we are treated to something wth more curves.
The Jurassic's blade shape is something quite nice–at 3.25 inches its big enough for chores but not so big that it frightens women and children. I have found that this blade length is very good outdoors and in food prep, giving you enough edge to whittle and make firesticks and at the same time enough span to quarter an apple. It is also a blade length that Hinderer doesn't have in his current line up (the 3 inch XM-18 is not regularly in production for some reason).
Specs-wise we are treated to a lot of what we have come to expect out of this full-production version of Hinderer–the excellent 35VN steel, robust overbuilt design, titanium framelock, flipper deployment, and G10 on the show side. There will, undoubtedly, be a ton of variations coming, but as a starting point, this is pretty promising. There is also the Hinderer modular backspacer, one of the innovations introduced in the MP-1, meaning that this is definitely part of the new wave.
Overall, the knife looks quite nice, not quite as big and heavy as other offering at 5.4 ounces. It also looks like it will fill in the blade size hole in the Hinderer line up. In many ways this is aimed at a lot of the other good framelock flippers on the market–the ZT0450 and the Kizer Gemini both have the same blade length. The world of production TFFs (titanium framelock flippers) is getting ever more competitive, which is, of course, good for all of us knife knuts.
The Jurassic should be out soon with an expect launch at Blade Show 2017. They are also starting to leak out to dealers now. If any knife would be suited to a really hard, scuffed up finish, it would be the Jurassic. I wouldn't even protest if there were some "claw marks" in a Cerakote finish.

SHOP NOW