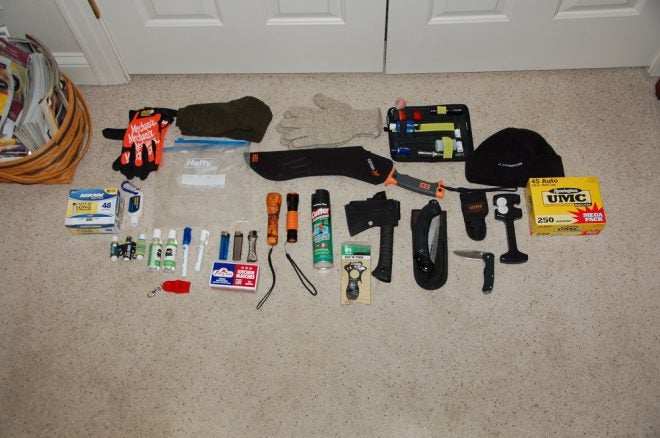 Preppers are for the most part "stuff" people. We have in the process of planning for a bug in or a bug out, or any scenario along the way, geared up to survive, whatever it takes. What it takes is the stuff part. For many of us that is also the fun part, if we pace ourselves and don't go crazy spending ourselves into the poor house along the way.
And a word of caution here to the gearrific types: you don't have to have every single survival gadget you see in the magazines or on a YouTube video. Being prudent in your prepping buying is an essential trait. There is a lot of useless junk out there being marketed to preppers just to pry hard earned bucks right out of your purse and billfold. Shop wisely, carefully, and always with an eye out for smart consumer comparisons.
If your concerns were laid aside, what really good and neat gear items might you buy and where would you go get them? For me, I wish we had a military surplus store in town with the real stuff. There is a great one in Seattle right off the main drag. We had one in college in Columbia, Mo. These stores have really practical gear that is actually field tested under military conditions. Just make sure it is real military surplus. For on line buying, check out Sportsman's Guide. They have all kinds of military surplus items.
Military surplus is prime for gear bags, backpacks, hiking packs, sleeping bags, gear belts, and clothing of all kinds, including some high quality boots, camping gear, tools, and all sorts of gadgets to make survivability a bit easier.
The same goes for high quality sporting goods stores stocked for hunting, fishing, hiking, and camping. I could spend hours in a good Cabela's, Bass Pro Shops, or Scheels store. Others like REI and similar outdoor gear shops, and of course a ton of related specialty shops.
In such stores, look closely for the little gear items, the neat little stuff. It might be something simple like a waterproof match container, the screw top type in orange. Always look for strike anywhere matches. Look at the gear hanging carabiners in all sizes or a small compass, pocketknife or flashlight. Gearing up is fun and can be a good hobby as you carry out your prepping plans.