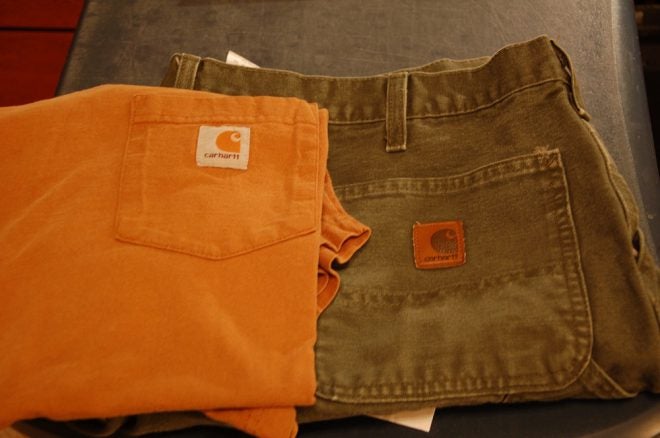 Here's the deal. You're at work, downtown in a high rise office building. Down the hall, on the elevator, and on the streets you're surrounded by suits. Then the jamming' music you have on your work desk radio is interrupted by an alarming message. The S has made contact with the F. You're smart and you planned ahead. You have an EDC kit right at your feet and a BOB in the car. But, you're going to walk out of the building in a suit and tie?
When you walk out of that office building onto a busy city street, the whole world is likely to be in a panic. So, you may blend in with the suit, but how comfortable are you going to be in an escape mode dressed that way and in dress shoes? And once you get onto a back street or into the parking garage, you might be wishing for something more practical and durable for a bust out escape.
So, you don't have to go full out SWAT either. And please, save yourself the hassle by not wearing that blue blotch camouflage that is supposed to be a form of "hide me in the city" look. That blue camo is actually the Navy's Working Uniform that the sailors call their "blueberry camo." Secretary of the Navy, Ray Mabus is trying to get it phased out. You see, it doesn't work, especially if you fall into the sea from a Navy ship.
Your best bet then is to wear SHTF Bug Out clothing that is muted, earth tones, or a casual look, but really durable and comfortable that you can change into at the office or once you get to the vehicle. Even blue jeans will do, but they offer little insulation especially if wet, and they can break down in a short span of time. Don't forget hiking, hunting, or work boots, too.
To throw out some brand names as examples of illustrations, then look at Carhart, or Duluth Trading both for pants and shirts. Again, the lumberjack look may not work, but go for something that blends in with the surroundings, especially if you are just as likely to be out in a more rural area.
As seasons change, too, alter your SHTF wardrobe accordingly. If cold, have a coat, hat, and gloves ready to go. The coat should double as a rain or snow cover. Monitor the elements and be prepared no matter what crisis unfolds.