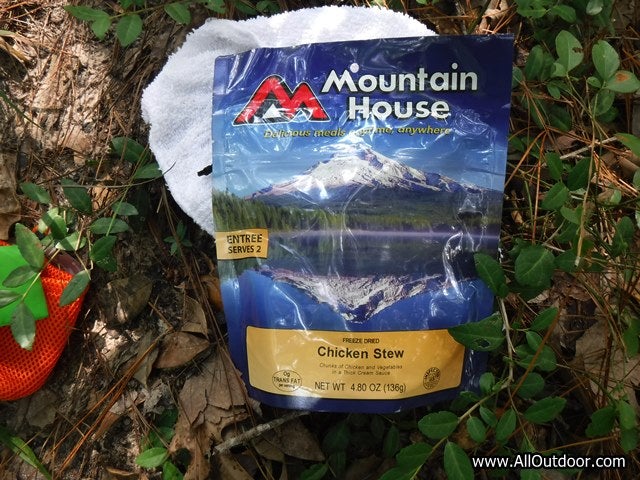 Overall, I found the Mountain House chicken stew rather bland. The sodium content left my throat dry and I had sodium induced thirst for a couple of hours after eating the meal.
Now for the rest of the story.
The gear was rounded up and packed the night before.  Everything was laid out–backpack, jeans, socks, and shirt. The next morning at 8:00 am I was dropped off several miles from home.
Just after 11:00, I came across a stream and figured it would be a good time for lunch. The stove was set up and 16 ounces of water was put on to heat.
Nutrition Information
Servings per container – 2
Amount per serving:
Calories 310
Sodium 940 mg
Total carbs 31g
Protein 15g
Vitamin A 80%
Vitamin C 35%
Calcium 10%
Iron 10%
The list above was taken directly from the Mountain House chicken stew that I taste tested.
Ingredients
Potatoes
Cooked chicken
Carrots
Peas
Corn oil
Non fat dry milk
Modified corn starch
Dehydrated onions
Sea Salt
Chicken fat
Sugar
Spices
and a few other things.


Instructions
Instructions call for 16 ounces boiling water to be added to the pouch. Using my BRS stove and a Toaks 550 ml pot, a tad over 16 ounces was brought to a rolling boil and then poured into the pouch. As with other Mountain House pouches, there is a zip lock to seal the pouch after the water has been added.
Estimated wait time is around 10 minutes, but these two serving pouches take closer to 20 minutes before they are cool enough to eat.
Open the pouch from time to time and stir the contents.
Taste
As mentioned before, the chicken stew was bland. There was almost no seasoning to it at all. The potatoes, peas and chicken had good flavor, although bland.
The chunks of chicken were some of the largest I have seen in a Mountain house meal. Most of the meat you see in these Mountain House pouches are around the size of a pencil eraser. The chicken in the chicken stew was around 1/4 inch square and around 1/2 inch long. It was also dark meat, which added some flavor.
I plan on adding chicken stew to my preps, but will add black pepper and hot sauce to it.
The sodium content had a kick to it. Eating the whole pouch equals 1,880 mg of sodium. That is a lot of sodium for a single meal. I was hiking in temperatures that ranged in the upper 80 to the low 90s. Even though I was sweating, the chicken stew felt like it was too much sodium at one time.