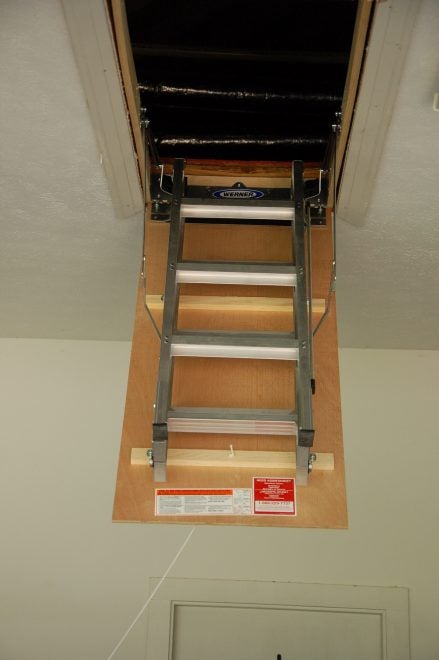 Luck. The chance happening of fortunate or adverse events. "If I didn't have bad luck, I wouldn't have no luck at all" as they say. Luck is by all measures an elusive factor in life. We all hope for good luck and we each at times have our share of it. Unfortunately we also have those adverse events as well. It comes with the territory.
Some factors of luck are simply impossible to either predict or accept. Climbing down from the attic last week with a box of Christmas decorations as I have done for some twenty odd years in this house, the fold out ladder decided to end its functional service. I was promptly dumped from a height of about two feet onto the concrete garage floor. I was stunned of course, but "lucky" nothing was broken, save the box of decorations. Just a scratch or two and a pulled back muscle.
Upon inspection, a bolt head sheared off causing the lower section of the ladder break. Now, this is a device that I have inspected often and tightened the bolts on a fairly regular basis. Was it (bad) luck that it broke? You tell me.
For preppers is there a luck factor, too? Well, of course there is. It is as inevitable as the sun coming up tomorrow, and if the blazing beam does not rise, we have much worse problems to deal with. Even so, can we control luck or manage it even to some extent? That is a good question worthy of thought.
As some say, "You make your own luck." Maybe so. I take that steps further by suggesting that planning, preparation, practice, and attention to detail might assuage Lady Luck to look elsewhere. At least some of the time anyway.
Had I inspected that attic ladder even more closely, I might have found the bolt in question that failed needed to have been replaced. Extrapolate this out to anything we deal with when it comes to prepping. First, are we paying attention to all the details of our prep plan and as importantly all the gear, equipment, support supplies, and such as we should. Are we honing new skills to equip us to manage all this in top notch condition including ourselves?
Lady Luck may indeed be fickle, but there are steps we can take to deter her influences on our prepping work. Make sure that is part of your prep plan, too.