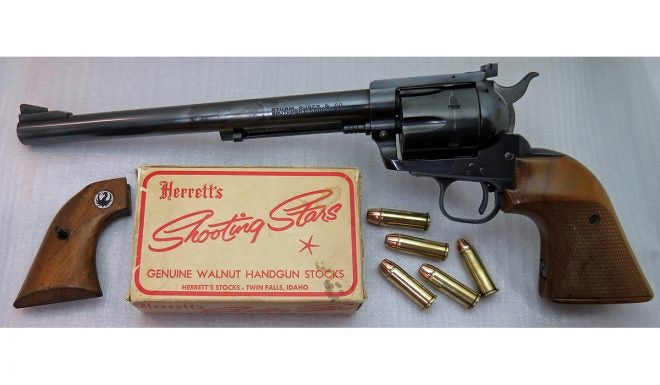 It's always the right time to talk about handguns, especially older revolvers that you can't buy these days. Here are five of my faves.
Colt Frontier Scout 62 22 Magnum SA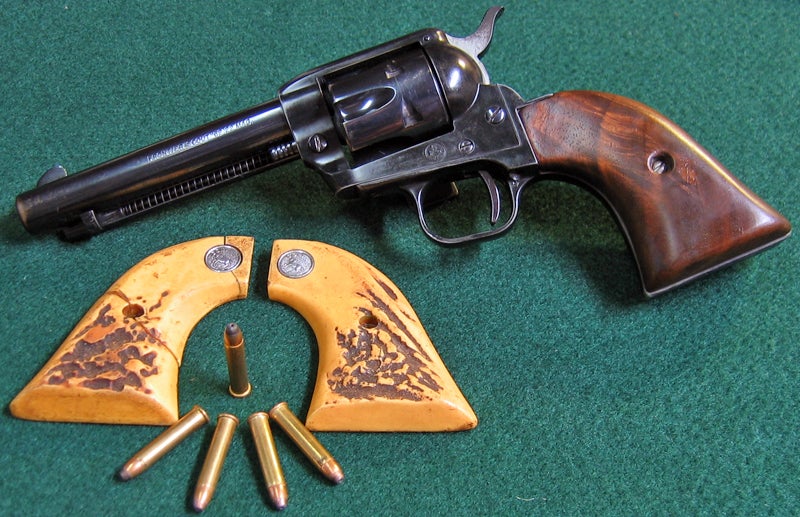 Back in 1957, the old west was all the rage, so it's only natural that Colt would bring out the Scout, a single-action rimfire wheel gun to compete with the Ruger Single Six, which had been popular since its 1953 debut. For purists who wanted a Colt SA, the Scout was it. With a gen-u-ine Colt action that spelled out its maker's name in the four clicks it made when cocked, the Scout was a quality revolver.
The Frontier Scout '62 came out in 1962 (naturally), and this particular one had "Staglite" (plastic fake antler) grips when it left the factory. They were cracked and ruined when I got the popper, and at age 18 I made this set of walnut grips and refinished the alloy frame, whose black paint was blistered and peeled.
This is a solid and reliable revolver, and in 22 magnum, I believe it's louder than a 357 Mag.
Dan Wesson Model 44 DA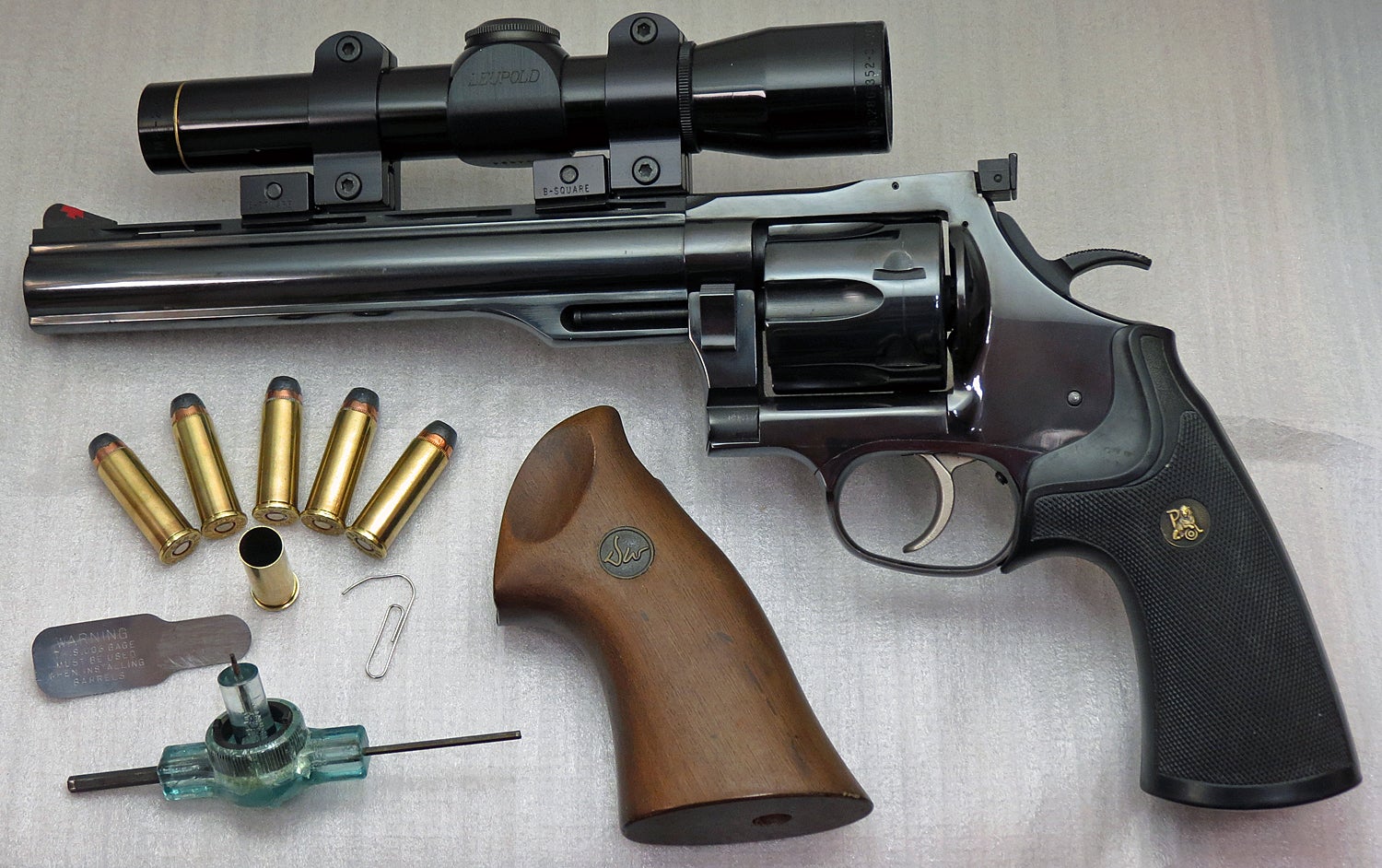 This Dan Wesson interchangeable-barrel revolver is an impressive piece of machinery. Designed by Karl R. Lewis (who also designed the Colt MK III and Browning BLR), it's well-made, unique, and capable of great accuracy.
The Dan Wesson involved was the great-grandson of Daniel B. Wesson, co-founder of Smith & Wesson, but the company has changed hands numerous times over the years. At its best, they made a fine revolver with a unique frame and barrel design that allowed for "stretch" tension to help stabilize the barrel, which could be easily removed and swapped out at will. The 8″ barrel and shroud seen in this photo can be changed out for any other length; so a scoped hunting revolver can become a shorter-barreled bear-defense piece pretty easily.
This one is accurate, and I've hunted with it a fair bit. The trigger is superb, and it has the best double action I've tried (including a Colt Python).
Ruger Blackhawk Flat Top 44 Magnum Old Model SA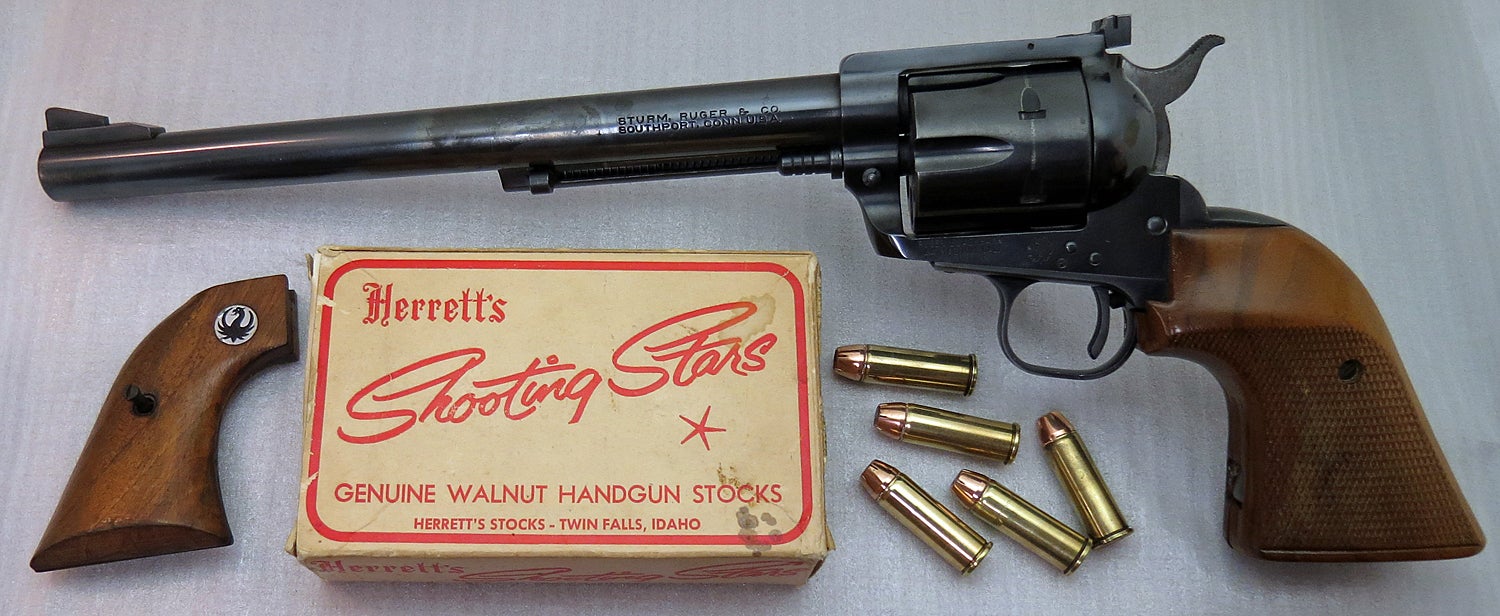 Back when the 44 Remington Magnum came out, Bill Ruger was still making simple, rugged, affordable guns, and he wanted to chamber a Blackhawk single-action for the powerful new round. He soon learned that the existing Blackhawk's frame was a tad small, so in 1956 he created a beefed-up version that was simply known as the Blackhawk 44. (It would be a few years before Ruger made some changes to the frame and hung the name "Super" onto the new version.) In Blackhawk lingo, the one shown above is a Blackhawk 44 Type 4 Flat Top with a 10″ barrel.
This was Dad's favorite revolver of all time, and he named her Brün Hilda. She's an accurate beast, and has taken a number of deer and hogs over the years. The trigger pull is great, which can't usually be said of Ruger firearms — and definitely not of the New Model single actions which Ruger brought forth in 1973.
The discoloration on the barrel resulted from Dad re-soldering the ejector lug to the barrel after it came loose. It broke his heart that the bluing was harmed, but he refused to have the gun refinished.
This sweet, well-balanced old iron has traveled many miles with us in the woods, and with a solid rest I can shoot a 100-yard group within "minute of whitetail" using the open sights.
Smith & Wesson Model 66 357 Magnum DA
Basically a stainless-steel version of the venerable Model 19, the 66 showed up around 1970 and was discontinued in 2004. This one was made in the early 1980s.
Even with the short-ish 4″ barrel, this Smith & Wesson Model 66 will accurately fire 38 Special or 357 Magnum groceries, and feel good doing it. The Pachmayr grips help a lot with that. Even the double action is smooth, though not as smooth as the Dan Wesson above.
The orange plastic insert in the front sight is an excellent touch, and more manufacturers should do it. It's far more durable than paint and provides good contrast with the rear sight to help you when aiming.
Perhaps my favorite thing about this gun is that it prevented at least one crime without ever having to be brandished or pointed at the bad guy. Just a glimpse of it caused the would-be assailant to turn and walk away, leaving my aged father to go about his business unmolested.
Nothing like an armed citizen to discourage crime.
Colt Model 1917 Army New Service Model DA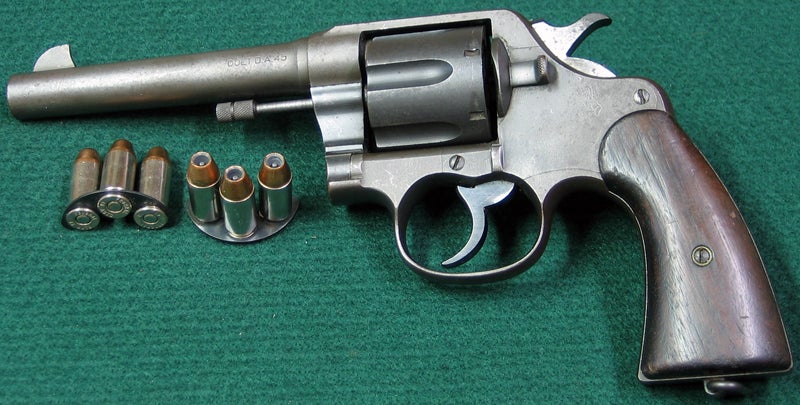 I'll wrap this up with a model that's turning 100 this year. M1917 is a military designation given to large-frame double-action revolvers built under government contract to the USA by both Smith & Wesson and Colt. Facing a shortage of 1911 pistols and limited production of same, it was decided to capitalize on the fact that it didn't take much tooling change for the USA's largest handgun manufacturers to crank out wheel guns chambered for the same ammo as the 1911.
This they did, and some M1917 revolvers were in service as late as World War 2.
This particular Colt was made around 1920. The grip angle isn't great, the gun is heavy, the sights are crude and fixed, the double action pull is quite heavy (though smooth), the hammer spur is wimpy and slick, and the use of half- or full-moon clips (required by the rimless 45 ACP cartridge) is a hassle, but it's highly reliable and is still a great revolver to me.
The single action trigger pull is crisp and sweet at an even 5 pounds.
Accuracy isn't terribly consistent with these guns, and you may need to experiment with various jacketed or cast bullets to discover what ammo yours likes the best.