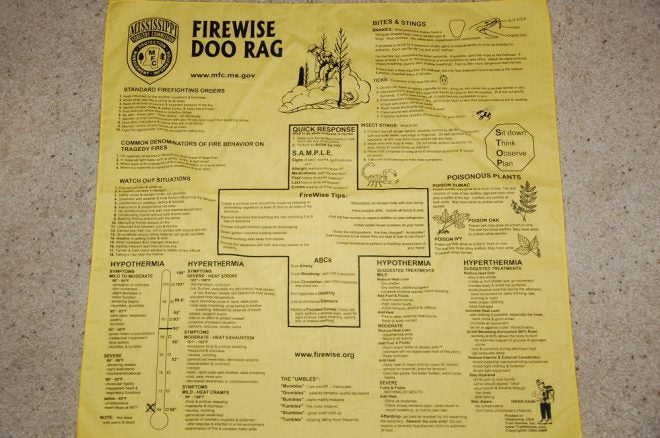 Outdoors enthusiast, prepper and survivalist information certainly comes from a wide variety of sources these days. With all outdoors safety and survival information welcomed, what better format to have with you in the wilds than a fabric doo rag printed with an abundance of information, safety tips, and emergency procedures? These doo rags are now available from Trail Hankie', Inc. in Oklahoma.
I came across one of these doo rags at an outdoors adventure day held by the state's Department of Wildlife, Fisheries, and Parks here in Mississippi. They were actually being handed out at a display booth by the Mississippi Forestry Commission. What a great way to share critical outdoors safety information of all kinds.
After studying the content of information printed on this 21 x 21 inch square piece of cotton fabric, it is clearly a fabric document that any outdoors person, prepper or survivalist either needs to wear around their neck bandana-style, or in their pocket.
Included on this doo rag is information on how to handle bites and stings including from snakes, ticks, and insect stings. There are emergency management tips like STOP or Sit Down, Think, Observe, and Plan. Firefighting procedures are on the rag including FireWise tips and a whole middle section on Quick Response tips in case of an injury.
There are detailed instructions for dealing with hyperthermia as well as complete information outlining the symptoms from mild to severe. There is a thermometer graphic showing the body temperature ranges that a human might experience under these conditions.
Another section on the doo rag outlines explanations on poisonous plants such as poison sumac, poison oak and poison ivy. Drawings illustrate what the plants and leaves look like so they can be easily identified in the field. By all means this information alone would be highly valuable to hikers, campers, and anybody spending time in the woods or outdoors.
Also included is a section entitled Watch Out Situations for those posted to watch for forest fires or for anybody that might encounter a random fire in the outdoors. Firefighting personnel will understand these directions. Others will just have to study this more.
This Firewise Doo Rag could be a lifesaver. If you acquire one, get several, one for each family member, hunters in camp, or others on your prep team. The rag can be worn or stuffed in a pocket or backpack. Just make sure you pack it.