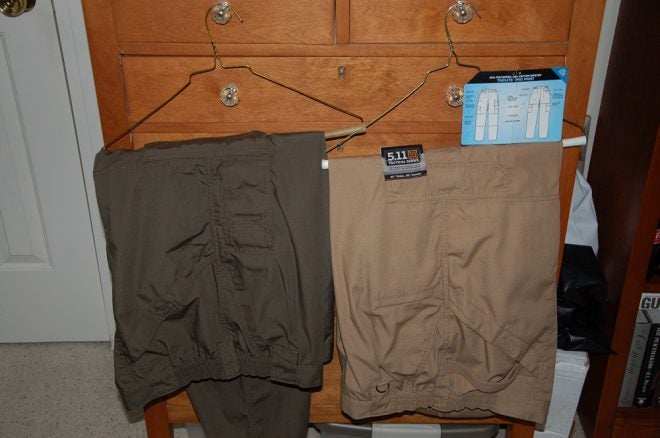 You don't have to be a special agent, a law enforcement officer, or a secret military recon undercover specialist to wear the best tactical style pants made. Though these pants sales are targeted toward federal, state, and local law enforcement personnel, they are widely available at everyday retail outlets for anyone to wear. Why would you want to?
The 5.11 Taclite Pro Pants are comfortable, durable, and stylish at the same time. What a perfect mix for the active person, outdoors person, shooter, hunter, or just everyday wear. These pants are constructed of a poly-cotton ripstop material that is a classic 65-35 mix.
This makes for a durable fabric that has some movement stretch and is cool to wear with a bit of water repellency. The fabric is fade resistant. Also the fabric is treated with DuPont Teflon Shield + a fabric protector that repels water, oil, and stains. This treatment also increases the durability of the pants. The Taclites are available in several colors including dark green, coyote tan, and khaki. Indeed, these pants are loaded with features.


Built into the 5.11 Taclite series is a PRYM snap at the waist, a solid brass D-ring for keys or micro-light, or I.D. badge hangs just below the waistline. The front closure is a super tough YKK zipper. There is a magazine/cell phone pocket, a double knee with available knee pads. Another pocket is secured to hold a magazine or a phone. Thigh- leg pockets have a bellows design for extra capacity.
The waist has an action stretch waistband for stretch and comfort. A utility strap is sewn on the side in the back along with the rear slash pockets that are reinforced to prevent fraying due to a knife clip kept in these pockets. The seat is double lined for extra durability and long wear capability. All total there are eight pockets, and several belt loops to support use of a heavy duty tactical belt.
So, how to they wear. I am a sort-of big guy. Ok, I'm a big guy. When I stoop, move or negotiate a shooting course, I need ease of movement without binding. If I climb high into a ladder deer hunting tree stand, then I need knee stretch with tough seams that won't tear out or rip. In every way so far, the Taclite Pants are holding up to my abuse. Plus, even I look tacticool in these pants. Check out the whole line of 5.11 clothing at their website.

SHOP NOW