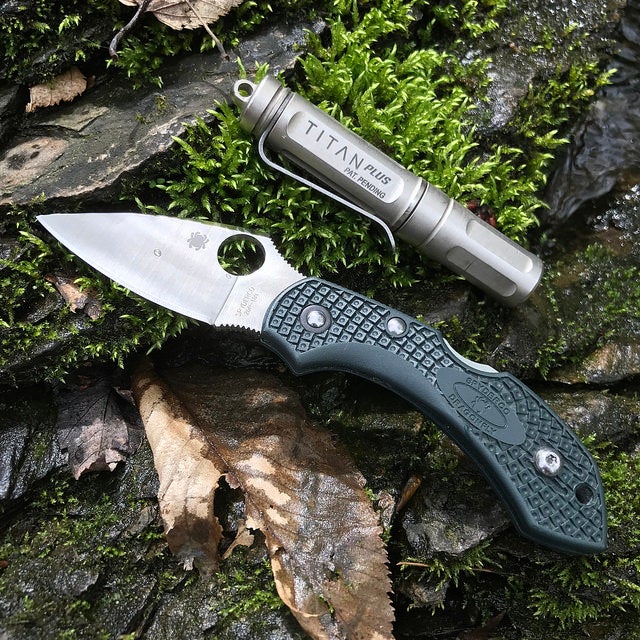 I used to have an Under $100 article, but two things have happened that make that price range kind of irrelevant.
First, the bottom end, with stuff like the Skeletool KB and Eagletac D25AAA, are so good that it makes little sense to "jump" up to $40 and $50 knives and lights.
Second, a lot of the stuff that used to squarely fall in to the $40-$50 price range has edged into a higher price bracket over the years. The always-great Kershaw Skyline is now probably beyond the $50 price range. As is the Delica. Similarly the S1R is more than $50. With so many "flagship" products out of the $50 range, the $100 pair makes little sense.
But with $200 to spend on a knife and a light, you can get an really amazing EDC kit. In a $100 pair you still have some compromises in terms of performance. In a $200 kit, if you spend wisely, you can get high end performance. The gear won't have the nice touches or blingy material that stuff in higher price brackets do, but in terms of pure performance, this is the value sweetspot. Dollar for dollar you will not find more for your money anywhere in the gear world than here.
Knife: Spyderco Dragonfly II in ZDP-189
You could replace the steel choice with a number of different steels used on the Dragonfly platform. If you need corrosion resistant steel there is an H1 version. If you love high carbon steel you can track down a Super Blue version. If you want a high wear resistant version there is a HAP40 Dragonfly. For me, I really prefer the good all-around performance ZDP-189. It holds an edge forever.
But beyond the steel, you get a knife with truly superb ergonomics. This is a full four finger knife that is still incredibly compact. Its a very light knife, coming in at just 1.2 ounces. The handle design gives you exceptional control and the leaf-shape blade is exceptionally versatile. The over-the-top, deep carry pocket clip is one of the best in the production world. In short, feature by feature, the Dragonfly II is amazing.
Beside the Dragonfly II there are a number of other very good knives in this price range. If you can find a Caly3, its quite good–a larger Dragonfly II with many of the same high performance steels. There are a few CF versions still floating around and there is a HAP40 sprint run that was released earlier in 2017. The Native 5 is another outstanding knife from Spyderco with excellent ergos and great steel. If you want something in XHP the Spyderco Chaparral and the Cold Steel Mini Recon are both in this price range and are excellent knives with distinctly different uses.
https://flic.kr/p/JhuXH8

SHOP NOW
The
Boker Mini Kwaiken
is quite sleek, but I would avoid the full-sized version as I have had no luck with its fit and finish. I also think the
Vanguard
dragonfly series from Kizer is good, but exclusively uses VG-10, which I distinctly dislike. At the very bottom of the price range here is the
LA Police Gear TBFK
, a shocking, market-disrupting knife. This is a $35 knife that runs S35VN and a bear pivot. The G10 handle, flipper, liner lock, and deep carry pocket clip all combine to make this knife an absolute spec beast.
Light: Surefire Titan Plus
As diverse as the field is for a $100 knife, the field for a similarly priced flashlight really comes down to two torches–the Titan Plus and the oLight S1R. There are other lights, the Mini series from 47s out there, but no light really compares favorably to these two on a feature-for-feature basis.
You know both of these lights. One is a 1xAAA light and the other is a 1xCR123a light that comes with a rechargeable cell. The Surefire has a max output of 300 lumens and the oLight hits 550. Either are a great choice.
For me, the difference maker is the Surefire durability. There is simply no way around this–over more than a decade of own and using Surefires I have had a single issue which they remedied instantly. They have been dropped, banged, soaked, and crushed and never had an issue. I also like the 1xAAA form factor and the classic Surefire beam pattern. The fact that most 1xAAA lights hit around 120-130 lumens and Surefire nearly triples that is not a small factor in liking it over its rivals. My one reservation is the clip. Its too thin and pokey. But Prometheus Lights produces an aftermarket clip that not only remedies this problem it makes it one of the best lights regardless of price.
https://flic.kr/p/zhHzKt
The oLight is part of a system of lights, but the junky clip, slightly off tint, and protruding clicky make it a less desirable option for me. It's good, but not quite as awesome as the Titan Plus.
I am still waiting for a really great 1xAA form factor light that runs with these two both in terms of output and design. The Klaurus Mi-7 looked light it could be it, but the dreadful UI makes it a light that is barely useable.
Conclusion
For $200 the Dragonfly II in ZDP-189 and the Surefire Titan Plus are an amazing EDC kit. This is the peak value point for gear, its a great place to buy in if you want good stuff but aren't obsessed. People that have not used anything nicer than kitchen knife steel are blown away by ZDP-189 and likewise people without a bevy of flashlights are stunned by the fact that a light the size of your index finger is brighter than the nightstick Maglight.
The only thing I would change about this pair, aside from the Titan's clip, is the Titan's name–Titan Plus sounds like a name given to an especially fat walrus at a local zoo. Ironic for a light that is so darn small, given its output levels.
SHOP NOW