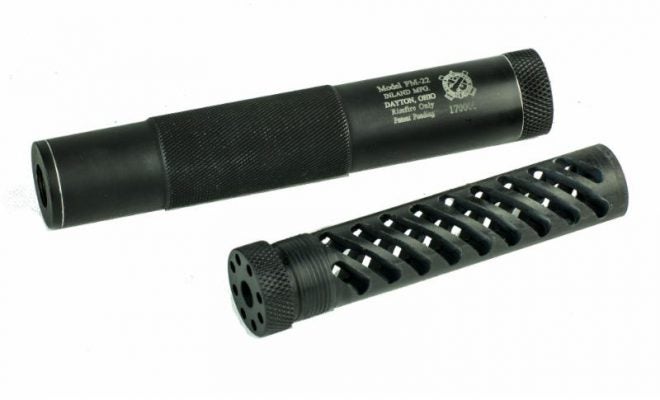 Finally, some proposed gun legislation that makes sense.
I've said it before and I'll say it again: Sound suppressors, a.k.a. silencers, need to be completely unregulated. They are nothing more than a firearm accessory, and they should be treated as such.
Some folks tout the "Hearing Protection Act," but as I have observed here and here, it really doesn't go far enough. Most ridiculously, it would mandate that silencers be treated as firearms! To purchase a suppressor, one would have to submit to and pay for a NICS check, just as we are forced to do when buying a firearm. Nonsense!
And it seems I'm not the only one who thinks that way, as new legislation has been reportedly introduced on both the Senate and the House. The Silencers Helping Us Save Hearing (SHUSH) Act would instead classify silencers as firearms accessories which could be would over the counter.
Gee, a little freedom. Imagine that!
Introduced on June 29, 2017, S.1505 is sponsored by Sen. Mike Lee (R-UT) and H.R.3139 lists Rep. Steve King (R-IA-4) as sponsor. A press release from Senator Lee states the following:
WASHINGTON – Sens. Mike Lee (R-UT) and Mike Crapo (R-ID) introduced the Silencers Helping Us Save Hearing Act of 2017, Thursday, a bill that would ensure the elimination of all federal regulations of suppressors.

'Suppressors can make shooting safer for the millions of hunters and sportsmen that exercise their constitutional right to use firearms every year,' Sen. Lee said. 'The current process for obtaining a suppressor is far too expensive and burdensome. Our bill would remove these unnecessary federal regulations and make it easier for firearms users to protect themselves.

'By properly classifying suppressors as a firearm accessory, our bill would allow sportsmen to have better access to hearing protection and preserve the hearing of sportsmen, gun owners and those who live near shooting ranges,' Sen. Crapo said.
The press release page also contains a copy of the proposed legislation.
Please, folks, contact your Senators and Representatives and ask them to support this legislation removing Federal regulation of suppressors. Maybe something sensible will finally happen in Washington, D.C.
Hey, I can dream.