5 Reasons the Remington Nylon 66 is the Ultimate 22 Plinker
Russ Chastain 07.12.17

When Remington and its then-parent company DuPont created the Remington Nylon 66 semi-automatic 22 LR rimfire rifle in the 1950s, they'd really done something special. It was a gamble to make a mostly-plastic firearm, but the rifle was innovative, reliable, and accurate–and a ton of fun to shoot. When it was introduced in 1959, it was welcomed by shooters who enjoyed its utility as well as the interesting appearance.
Is the Nylon the ultimate plinking rifle? I think so, and here are some of the reasons why.
The Sights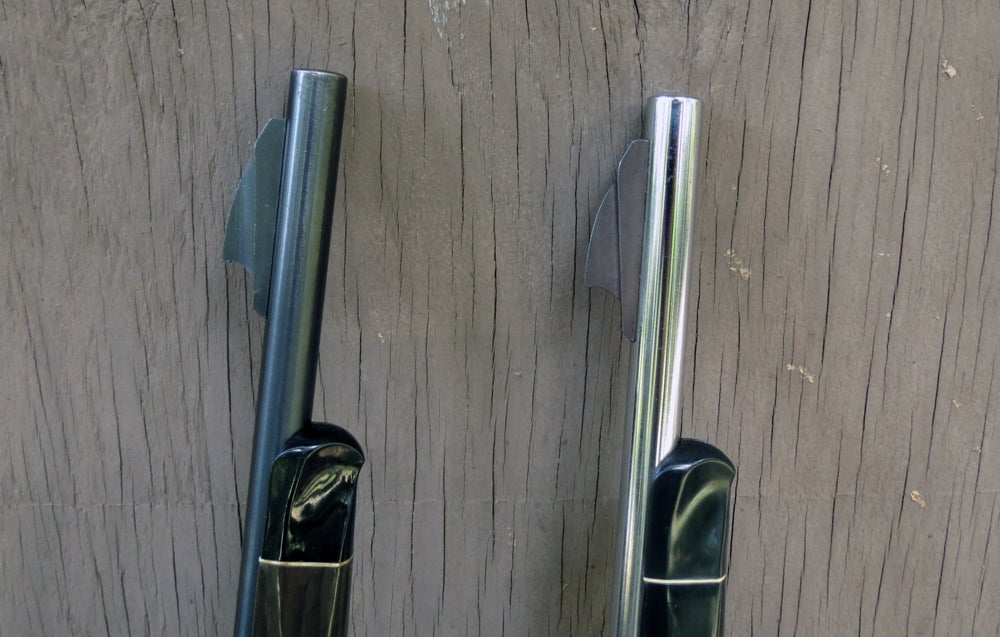 Hey, a rifle's only as good as its sights, especially for a plinking gun, which may be called on to shoot empty shotgun shells, soda cans, or any number of targets large or small. And while the Nylon 66's "shark fin" front sight is a bit on the blonky side, it's tough enough to take a hit and big enough to see easily. A square portion at the top which protrudes rearward can appear as a bead of sorts when you're viewing it from the rear, and a dab of white paint on that part can help it stand out.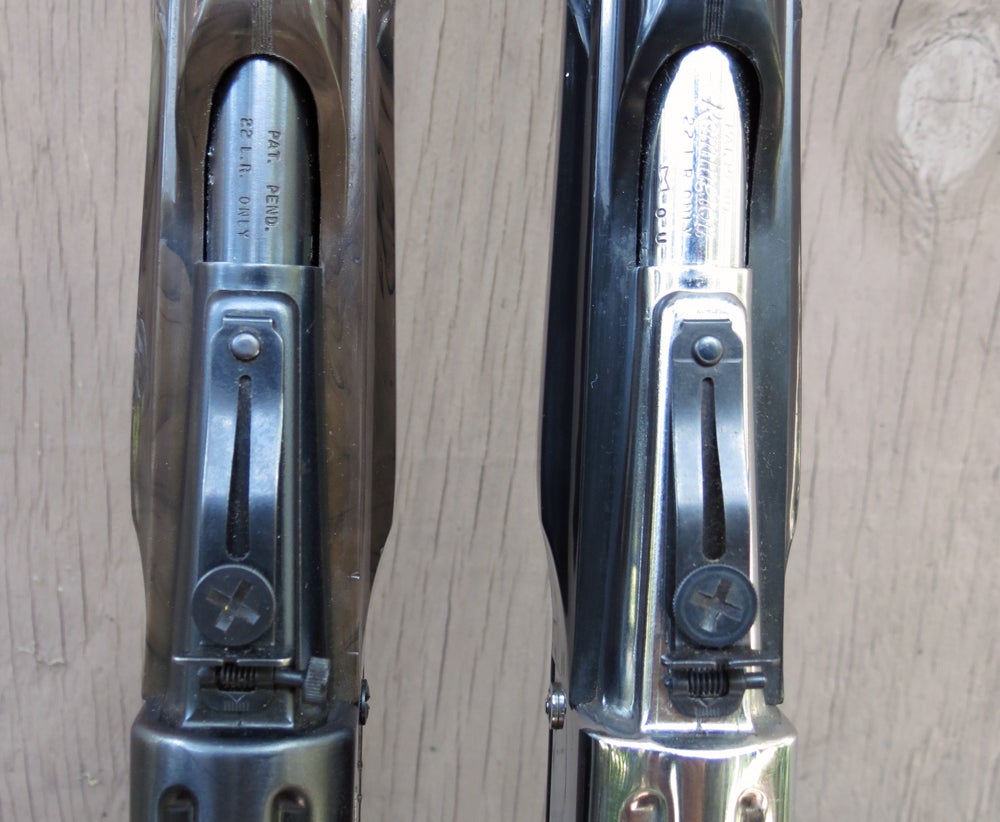 The 66's rear sight is riveted to the sheet metal shroud known as the receiver cover (these guns don't have a receiver per se), and when adjusted for windage it pivots on that rivet. Windage adjustments are made via a cross-screw; the one on the left (1959) had a large knurled head while the 1971 version requires a small slotted screwdriver. Elevation is adjusted easily via a large knurled and coin-slotted screw.
These sights work together well and allow for excellent plinkability.
The Stock
Naturally, the plastic stock is the heart of the Nylon 66. And while the Schnabel-type forend is stylish, that doesn't help you hit targets. Good thing the light weight makes the rifle so fast-handling, and the length of the stock is just right.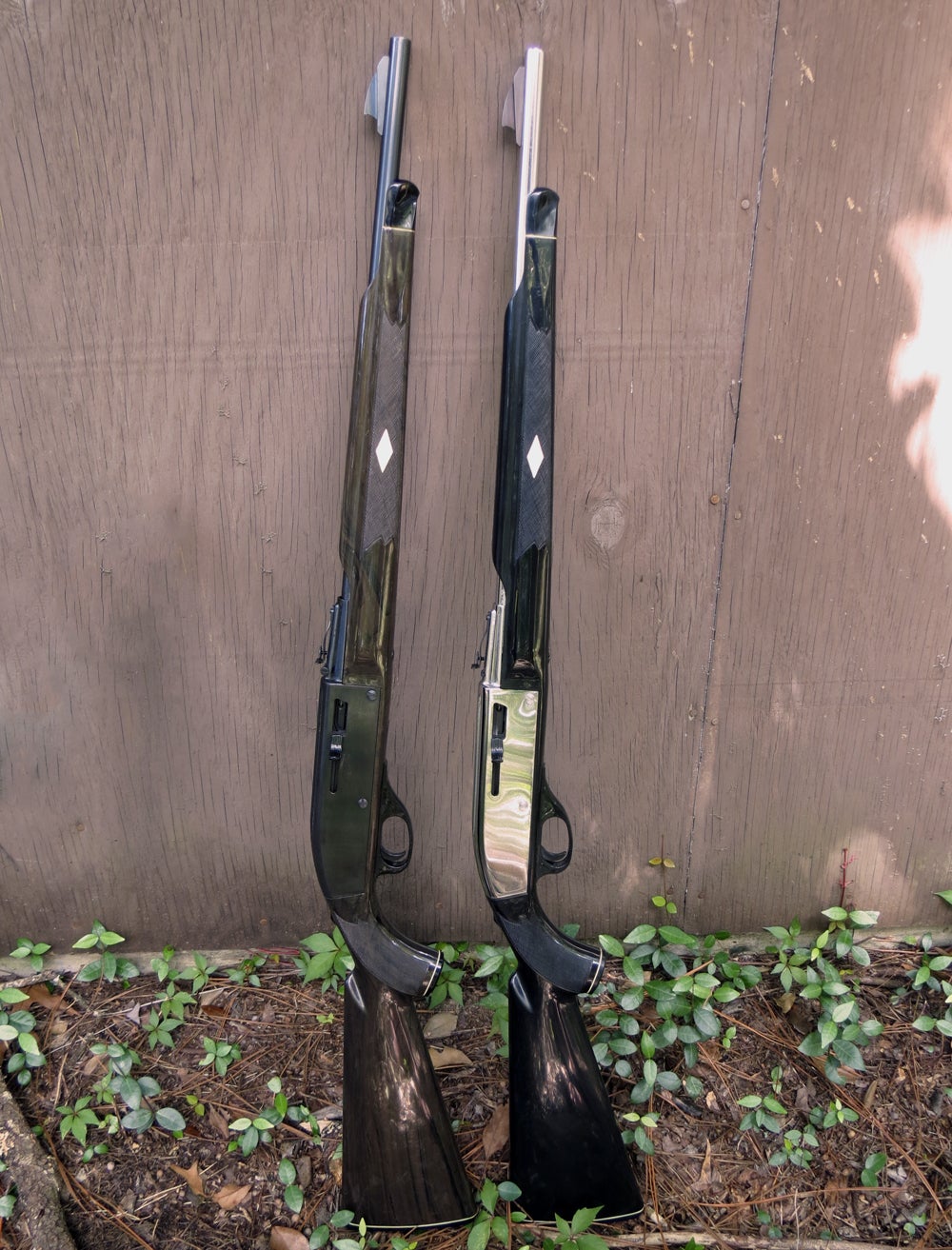 Best of all, when I shoulder this little rifle, I find my eye looking right down the sights in as natural a fit as you could imagine.
There's even checkering molded into the forearm and the pistol grip, which does a pretty good job of improving grip without going overboard.
And just to touch on another practical aspect, that white diamond in the side of the forearm isn't just there for looks; it also conceals a nut and bolt that's there to reinforce the stock.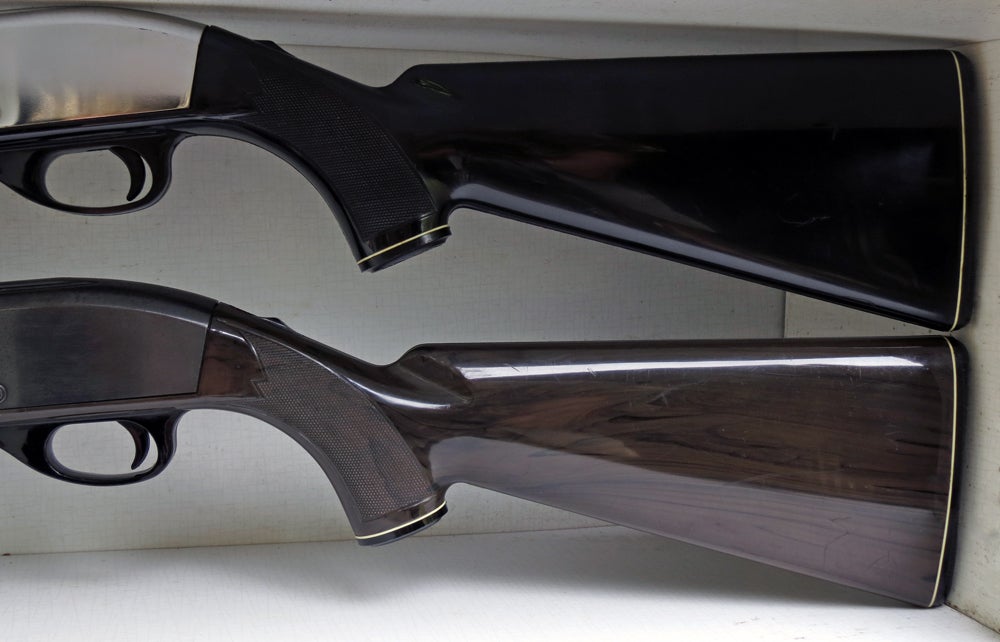 The angle of the pistol grip, trigger shape, and overall geometry just plain works. And if you like a genuine-imitation wood grain finish, find yourself a Mohawk Brown model (bottom). The black and chrome version is called Apache Black.
The Action
The Zytel Nylon holds up extremely well to harsh use, and it even forms much of this little rifle's action. While the steel sheet metal receiver covers are necessary to make the gun run, internal parts including the bolt ride on and in rails of Nylon, molded right into the stock.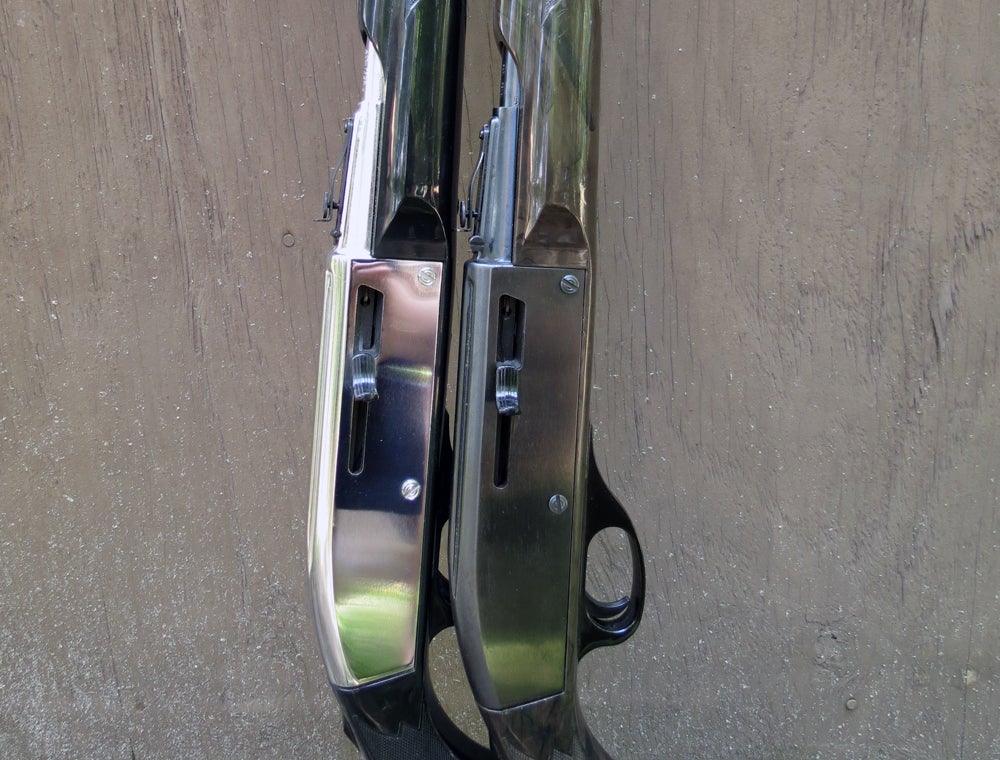 One of the best features of the Nylon 66 is that it doesn't need oil. Yep, this little gem will run trouble-free approximately forever; in fact, Remington went as far as telling customers NOT to lubricate the Nylon's action at all:
Nylon is self-lubricating and provides slip-smooth bearing surfaces for the free movement of the autoloading action. Therefore, cleaning and oiling is unnecessary for thousands of rounds of firing. (Emphasis in original).
The receiver cover has grooves for mounting a scope using a rimfire-style mount, but in my opinion the Nylon works best with its iron sights.
Best of all, I have never found any 22 LR ammo that didn't work smoothly in a Nylon 66. (I've never tried subsonic rounds, so I can't say how well they might do.)
The Magazine
Yeah, I'll concede that any magazine that works is just fine, therefore the 66's isn't any better than any other tubular rimfire mag–or is it?
One thing I like about this mag is that it's easy to feed (ammo is inherently bullet-heavy, so the rounds "want" to go in nose-first as they should), and there's no way the magazine follower tube can come loose while you're shooting. If it tries to, your shoulder will keep it in place.
If I had to complain about anything with this magazine, it would be that you have to remove the tube entirely in order to load it, and it is possible to fit too many rounds into the mag.
If you do fill it to capacity "plus one," you can insert the mag tube most of the way, and with the safety on and the muzzle pointed in a safe direction, chamber a round. This will give you enough room to fully close the follower tube, and you'll have 15 shots at the ready.
The Safety
I neglected to get a good photo of the Nylon 66's safety, but it's in the perfect place: On top of the stock just aft of the receiver cover. You can spot it in some of these photos if you look closely.
The location makes it easy to operate with your thumb, whether you're right- or left-handed. And a thumb safety is the fastest, easiest type I've ever used. So when it comes to plinking, I can have that soda can hopping around by the time the other guy finds his safety.
Conclusion
In all honesty, I can't tell you which rifle will be the best for you and your situation, and discussions about which gun is "the best" are really just great chances for us to talk about guns.
That said, I can say for certain the Nylon 66 is absolutely the best 22 plinking rifle–for me. It's easy to use, easy to handle, low-maintenance, accurate, reliable. And to me, plumb good-looking.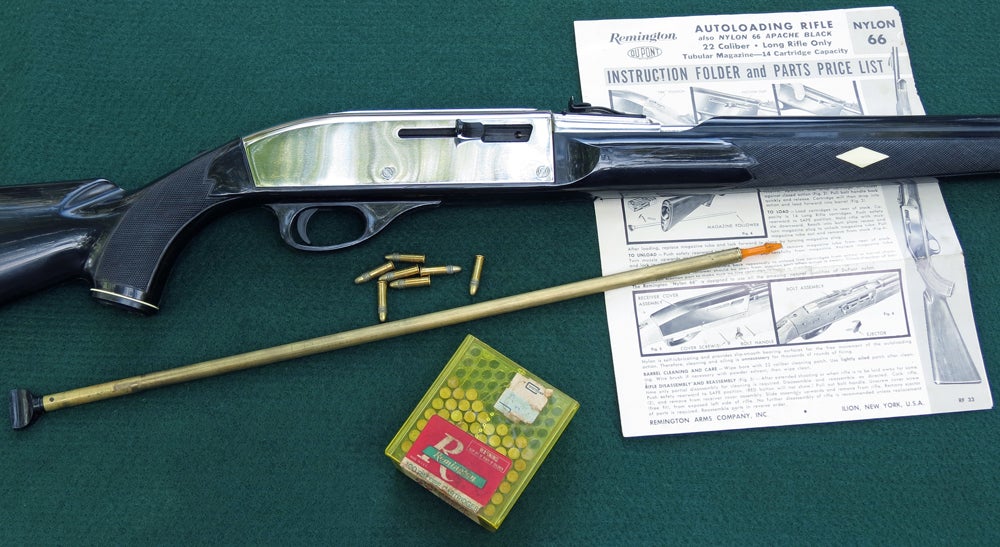 Some Specs
Model: Nylon 66
Action: Semi-automatic
Chambered for: 22 LR only*
Magazine: Tubular, 14-round
Overall length: 39 inches
Barrel length: 19.5 inches
Weight (unloaded): 4.2 pounds (67.2 ounces)
Introduced: 1959
Discontinued: 1989 or 1990 (depending on source)
Approximate production: 1,050,350 (per Remington)
Variations: Mohawk Brown, Seneca Green, Apache Black, Black Diamond, Gallery Special*
*Gallery Special takes 22 Short