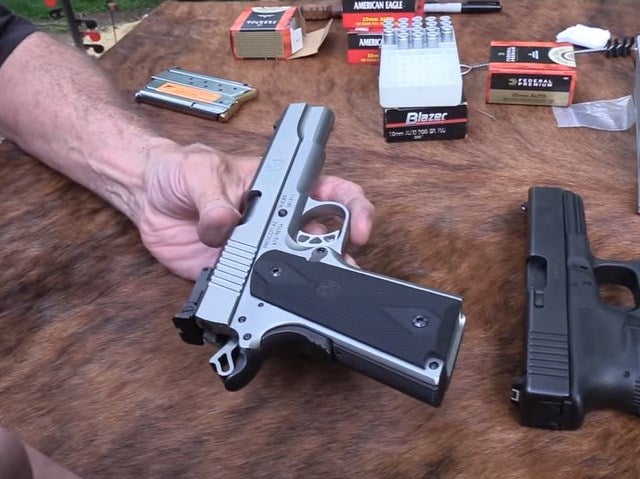 For those of us old enough to remember the 1980s, Sonny Crockett carrying a Bren 10 on the TV series Miami Vice helped the 10mm gain some of its fame. Then there was the Federal Bureau of Investigation (FBI) selecting the 100 after the 1986 FBI Miami shootout. The future of the 10mm was looking bright, then the problems started. The Bren 10 did not materialize and Dornaus & Dixon Inc. eventually filed for bankruptcy.
Regardless of the problems, there has always been a small but loyal 10mm fan club.
Hickok45 was able to get his hands on a Ruger SR1911 10mm and took it to the range.
Specifications
From the Ruger SR1911 web page.
Capacity: 8+1
Slide Material: Stainless Steel
Barrel Length: 5″
Slide Finish: Low-Glare Stainless
Width: 1.34″
Overall Length: 8.67″
Height: 5.45″
Grooves: 6
Twist: 1:16″ RH
Now for the video.
As cool as the Ruger SR1911 10mm seems to be, a price tag of close to $1,000 places it out of reach for a lot of people.  What niche is Ruger attempting to appeal to?
The Glock 20, which is chambered in 10mm, is priced around $550-600,
Let's be honest, price is a factor. A lot of us have a mortgage, car note, children, bills, and dropping a thousand dollars on a single handgun is not realistic for a lot of us. Yes, there are going to be people who want a 1911 chambered in 10mm.
On a personal note, I would not mind having one just for the novelty of it.
Hickok45 had some good things to say about the handgun. The seemed to like the trigger and said it was a good feeling pistol.