Power-Pole CHARGE Marine Power Station: ICAST 2017
Craig Ritchie 07.13.17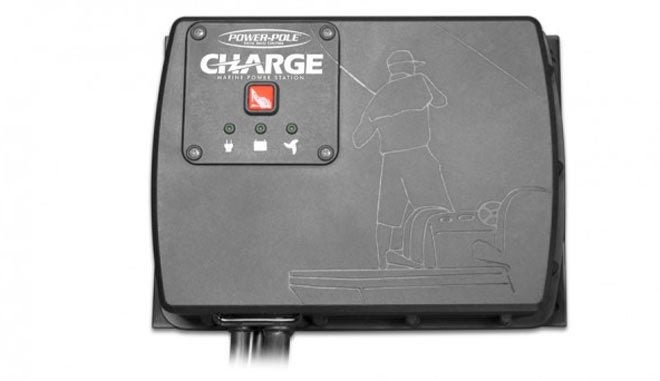 (Press Release) – JL Marine Systems, Inc., maker of Power-Pole shallow water anchors, announces a new addition to its product offering that will turn a full day on the water into a worry-free day on the water. No more trying to figure out if you have enough power in your batteries to run your trolling motor longer or your live well all day.
Introducing the Power-Pole CHARGE Marine Power Station. The Power-Pole CHARGE is the world's first AC/DC and bi-directional DC/DC, all-in-one marine battery manager and charger.  CHARGE is much more than just a battery charger, it's designed specifically for boats that have up to three trolling motor batteries and one 12V main cranking battery. This 500 watt power station delivers up to 40 amps of charging power to the cranking battery and 25 amps to the auxiliary batteries. CHARGE works with multiple battery types; Lead Acid, AGM, GEL, and Lithium. It's water resistant and has built-in safety and emergency start features.  Best of all, CHARGE gives you real time battery status and power movement on your smart phone or tablet using the C-Monster App.
CHARGE manages your power use.
CHARGE is the first bi-directional power management system that has the ability to move power from battery to battery. The CHARGE power management station receives power from a 120V shore power outlet or the boat's alternator.  When plugged into shore power it will charge up to three auxiliary batteries wired in series and balance the power to each while automatically charging the main cranking battery. When the motor is running CHARGE will automatically charge the cranking battery, then move and balance the power to the auxiliary batteries. When necessary it moves power to the cranking battery from AUX batteries to maintain preset minimum engine battery levels so you can always start your motor. CHARGE seamlessly manages your power so you can enjoy your time on the water.
CHARGE puts you in control.
CHARGE manages your power but you're still in complete control. With Charge you can use the C-Monster App to easily control settings, configuration, and battery types. Charge allows you to set the minimum battery levels, so you can still crank your motor after a long day on the water. For the ultimate in control, CHARGE serves up real time visualization of battery levels and power flow on your smart phone so you can make better decisions on the water. CHARGE also connects to the New Power-Pole VISION tablet for even more control and more options. CHARGE seamlessly and automatically manages your boat power so you can concentrate on doing what you love.
CHARGE is loaded with features.
PRODUCT FEATURES:
Charges 12V battery plus 24 or 36v auxiliary (up to 4 batteries)
Works with all battery types – Lead Acid, GEL, AGM, Lithium
Charges on the run
Automatically balances and equalizes batteries
Complete battery maintenance – leave plugged-in –monitors automatically
Built-in- Emergency start
Automatic bi-directional power distribution between (cranking and auxiliary) batteries
Minimum battery levels settings– always have enough juice to start your motor
Wirelessly communicates via C-Monster 2.0 or Bluetooth
Works with smart phones and VISION for instant real-time battery status visualization of charge rate, battery levels, power transfer thresholds and diagnostics
Safety Features:
UL1236 safety listing
Reverse polarity protection for each battery
Low voltage and overvoltage protection
Over current protection on all output channels
Temperature sensors based on battery chemistry
Short circuit protection
MSRP:  $1295