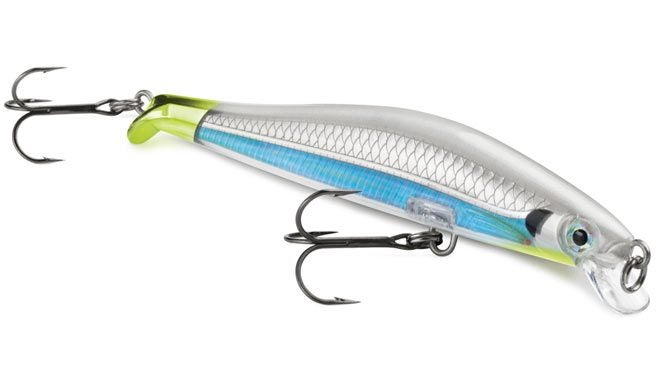 (Press Release) – Cast. Reel. Twitch. Reel. Rip! Reel. Stop! Wait for it, Set the hook! Boat your latest trophy catch courtesy of the groundbreaking RipStop, the exhilarating new fast-ripping, hard-stopping, hard-plastic boot-tail rip bait from Rapala.
"This is the kind of bait that gives you goose bumps," says Rapala Director of Field Promotions Mark Fisher, who helped dream up and design the RipStop. "It's a cross between a swimbait and a jerking, twitching bait that suspends."
"Those characteristics and the new bait's ability to "stop on a dime" make the RipStop unique," says Brandon Palaniuk, a seven-time Bassmaster Classic competitor. "If you watch a live baitfish swim around, it's often in a stop-and-go type of motion. This bait has that ability to stop right on the spot."
"The ability to stop and suspend is the missing link that swimbaits don't have," Fisher explains. "And Rapala has that. The lure comes to a fast stop, almost as if it's making a collision. And it doesn't go out of the strike zone. It stays right in front of the fish. That is the integral part of this whole philosophy."
Also integral is the RipStop's unique hard-plastic-boot tail, which creates what Fisher describes as a "hard-rolling, slashing action" that mimics the live-minnow moves of a soft-plastic swimbait. "But it's not a hybrid," he says. "It's not incorporating soft plastics into the element of the bait. It's a hard bait with a soft-bait action."
"That's something fish have never seen before," says 2013 Forrest Wood Cup Champion Randall Tharp.
"We've never had a hard bait with a boot tail molded into it like that," says Tharp, a four-time Bassmaster Classic qualifier. "That feature of the bait creates its unique action."