Watch: Walther P99 AS Pistol Review
Kevin Felts 07.17.17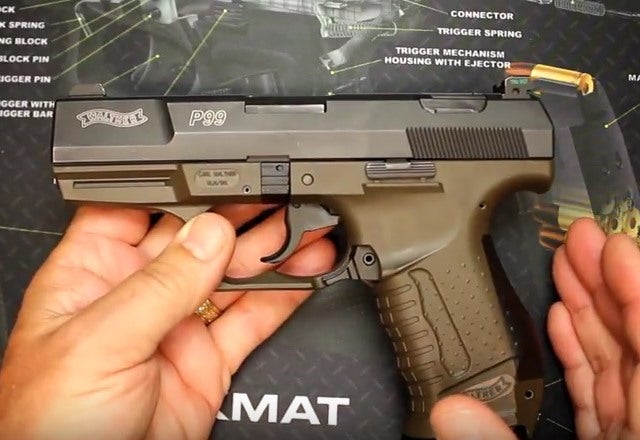 Several years ago sootch00 did a review of the Walther P99 AS. In the video, he says the first review video was not that great, so he wanted to do another video.
One the things that make the Walther P99 AS stand out from the rest of the crowd, it is a single action / double action striker fired handgun. If the round does not discharge with the first strike, pull the trigger, the striker will cock and strike the primer again.
On a personal note, I am glad to see striker-fired handguns offering double action triggers. It is not "if" you hit a hard primer, but "when" you do, the handgun is not dead until you rack the slide by hand.
Now for the video.
Specifications
From the Walther P99 web page.
Barrel length: 4 inches.
Trigger pull: DA: 9/SA: 4.5 lbs.
Overall length: 7.1 inches.
Height: 5.3 inches.
Width: 1.3 inches.
At 7:40 into the video, sootch00 mentions the rail is not a standard 1913 picatinny. I have to ask the question, why would a company like Walther exclude a standardized rail? Why not include a standard 1913 picatinny rail and use it as a selling point? My personal opinion, excluding the 1913 subtracts from the overall quality of the handgun.
At 10:08 into the video, sootch00 does a side-by-side comparison of the Walther PPQ and the P99 As. The PPQ has the standard 1913 rail and the American style push button magazine release, while the P99 has the European paddle magazine release.
If I were to buy a Walther handgun, I think I would skip the P99 AS and go with the PPQ.
Special thank you to sootch00 for making another great video. Keep up the great work.