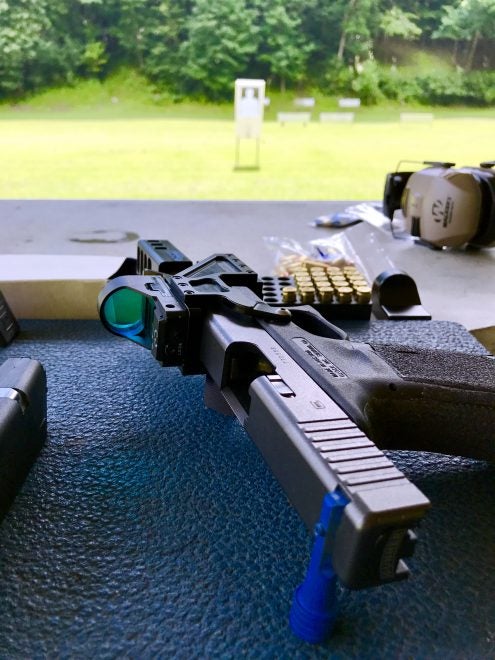 My Glock Race Gun, I have been asked to tell what was done to it, why and by whom. So I figured it would make a good article instead of answering a bunch of emails. It started off as a Gen 3 G17 which was a great shooter out of the box. After using it like the stock configuration for about a year I decided to make it into a race gun.
One step at a time is how I built this gun. I carried it as my concealed carry main gun for almost that entire first year. Then when I needed a new race gun the Glock seemed like the right choice. Now the first thing most people start with is a barrel. But the MOST important part to start with is trigger control.
If you can't use the trigger without moving the gun, let alone keeping it from moving off the target then nothing else you buy will matter. So the first thing I got and yes I bought my very first one, was a Johnny Glocks Custom trigger. It was a drop in trigger system. You still called Johnny and talked with him going over what you want and what can be done. See you don't get that with other trigger systems, you have a choice of maybe three "stages" of models and you get a production line built trigger. You only talk to Johnny and Johnny is the ONLY person that builds your trigger.
So once it came in the mail I had prepped the frame for it and I did some fine tuning which took all of about 5 minutes. I installed it and it was fabulous! The stock trigger was 6.8 pounds with a BUNCH of pre-travel (take up) and once you got the trigger going is was gritty and the break was never clear, nor was the reset. Now I have a trigger with ZERO pre-travel that was on the wall and broke at 3.6 pounds each and every time! Reset was twice as short and twice as fast as the stock trigger.
Just using this trigger alone improved the Glocks accuracy and my shooting of this gun. I was a 1911 guy most of my life. So the Glock was a BIG change. The second thing I changed was just the front sight; I put on a green fiber optic front sight. The human eye picks up the color green fast and better than it does red. So that combo made a difference also again better scores and faster times where happening every week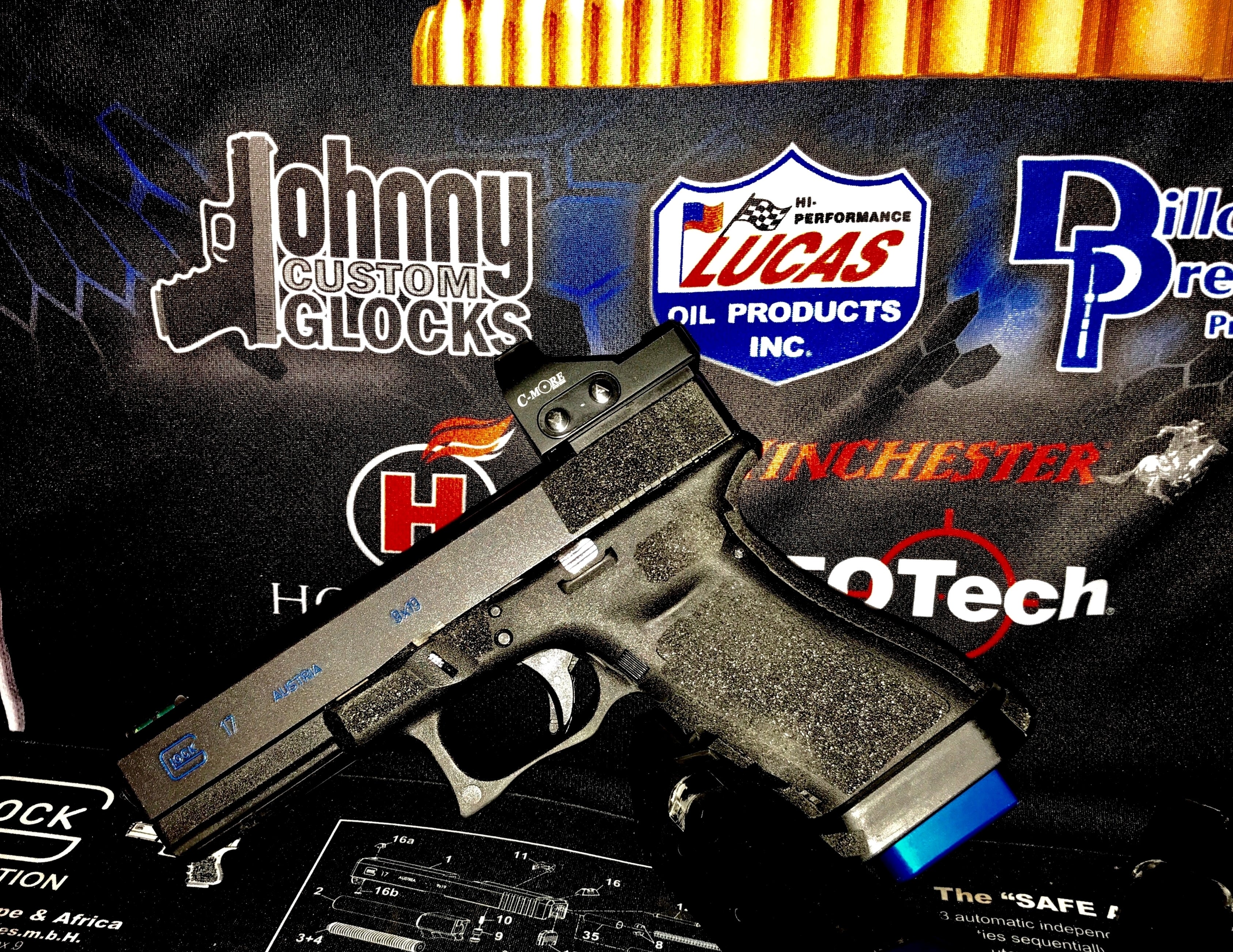 Then I added grip tape I cut to place where I wanted it on my frame. That got the rock solid no slip grip I wanted and again better times and scores. Then I added a polymer magwell to help with the grip. Since the grip is at a different angle from a 1911 when I grabbed it without thinking to my natural grip it was pointing up where the 1911 would be pointed straight. Adding the magwell forced my hand to grip it right and fixed the issue. I also did the frame cutting under the rear trigger guard and in the middle of the trigger guard to get my hand up higher on the frame.
I went with this set up for maybe 6 months and then got a great deal on a C-More red dot. So I bought the dovetail mount for it where is replaced the rear sight. I never pay that much attention to rear sights anyhow. This made a big difference; in fact with this set up I started setting club records on steel plate matches. Here's the kicker, I was STILL using the factory stock Glock barrel.
Now I thought I might as well go ahead and finish it out as a race gun, so I got a match grade stainless barrel, also a Carver Customs 4 port compensator and a few other things. Including a metal magwell and a 3 oz brass plug from the Glock Store.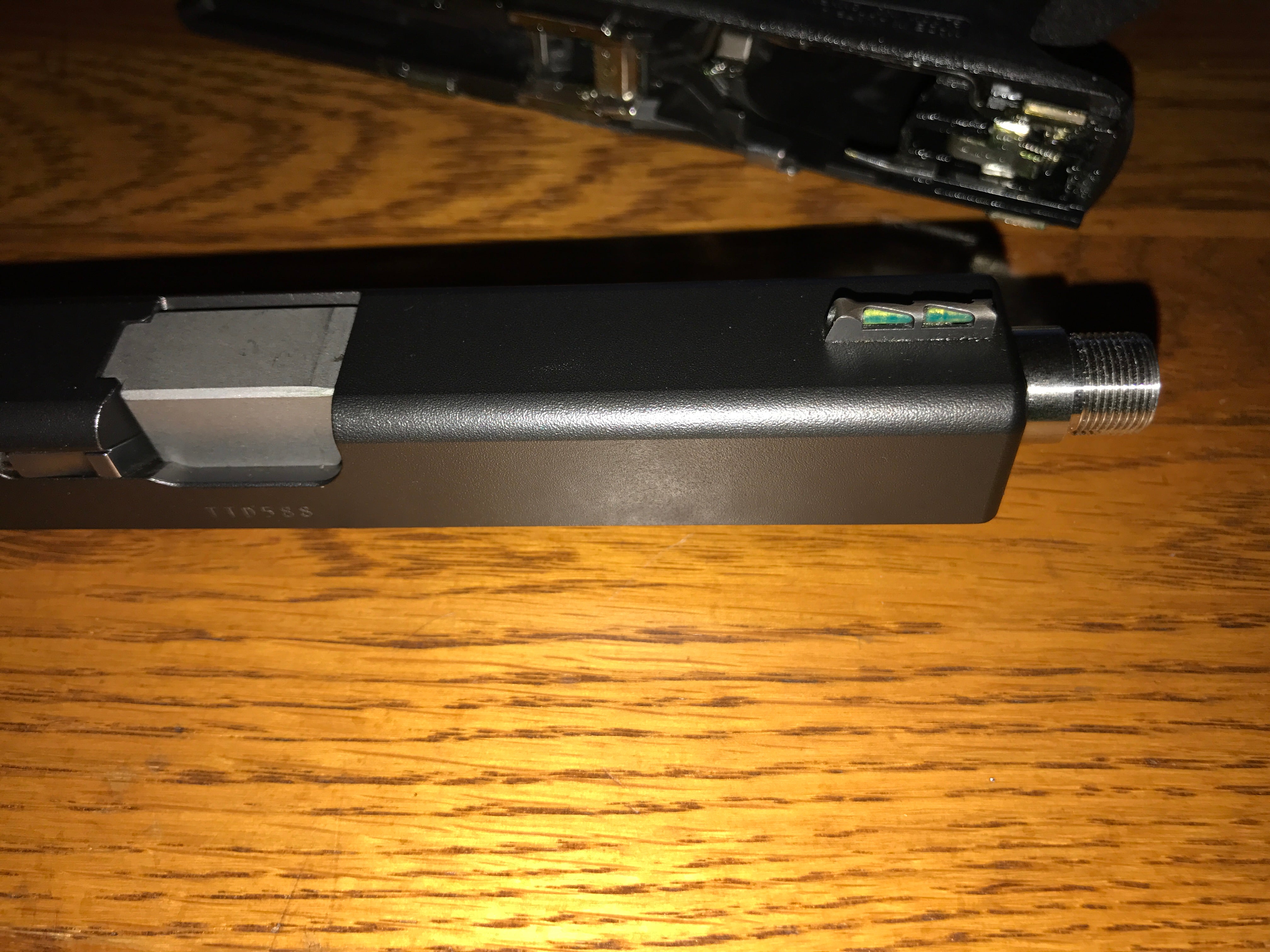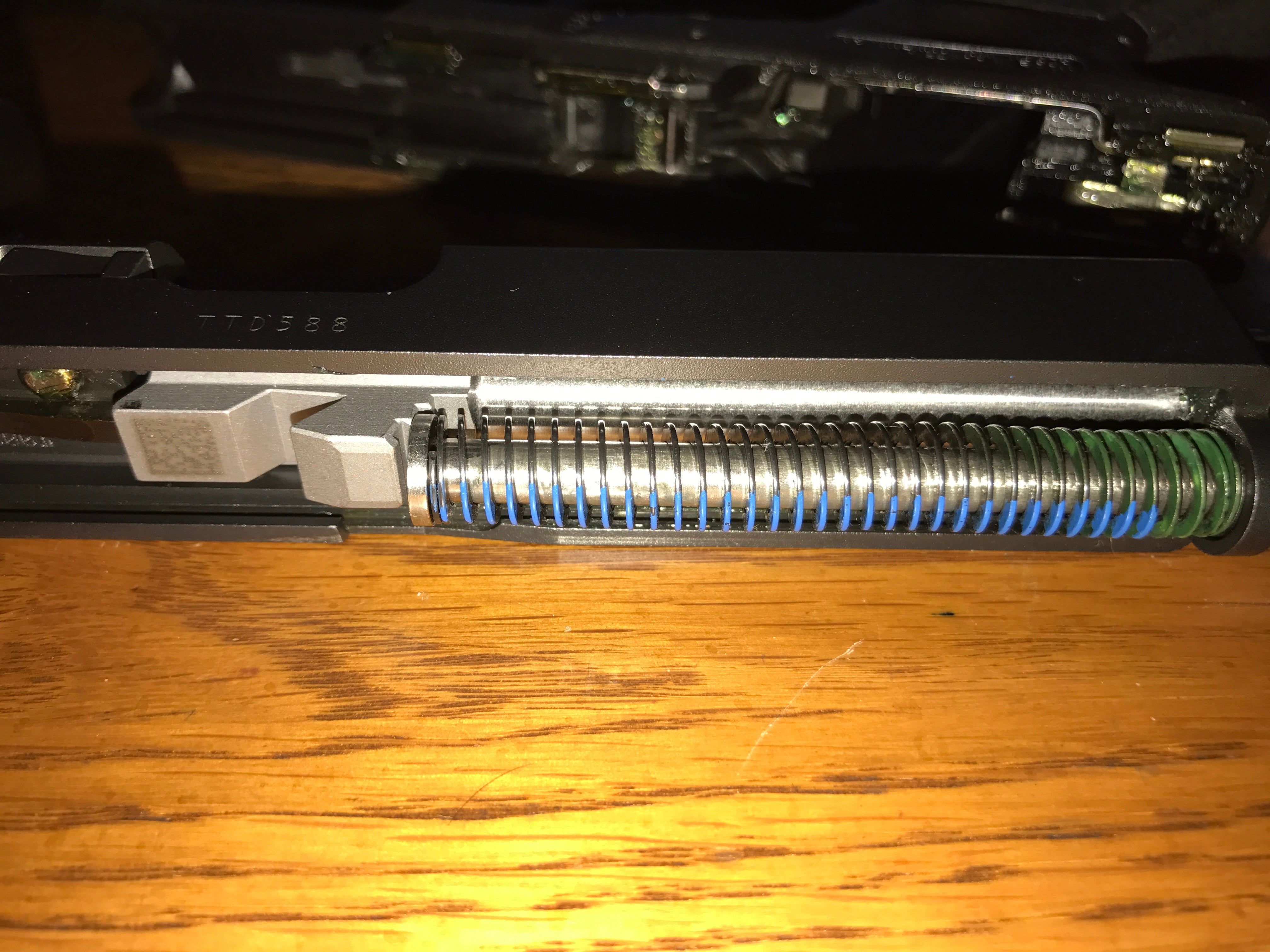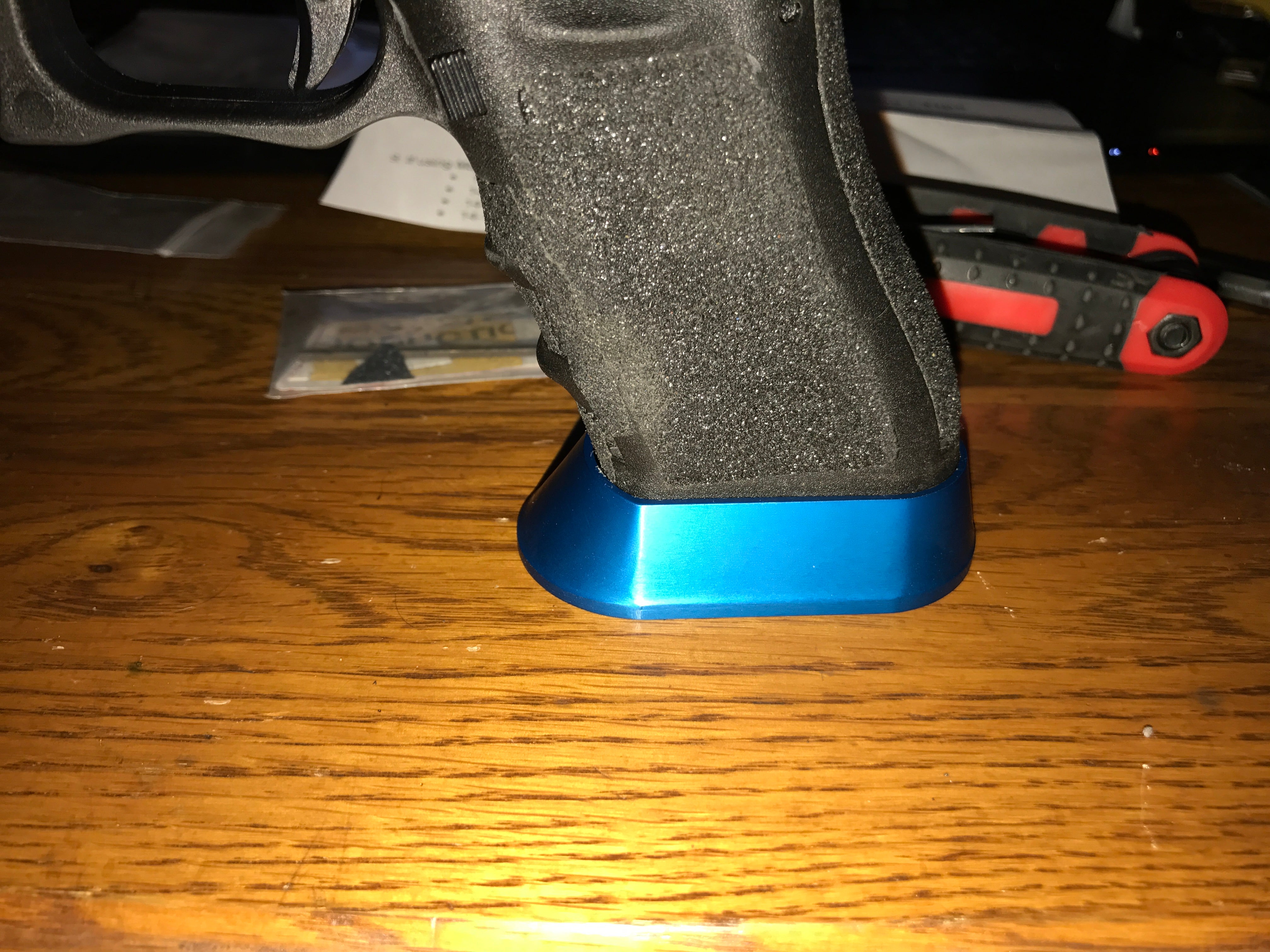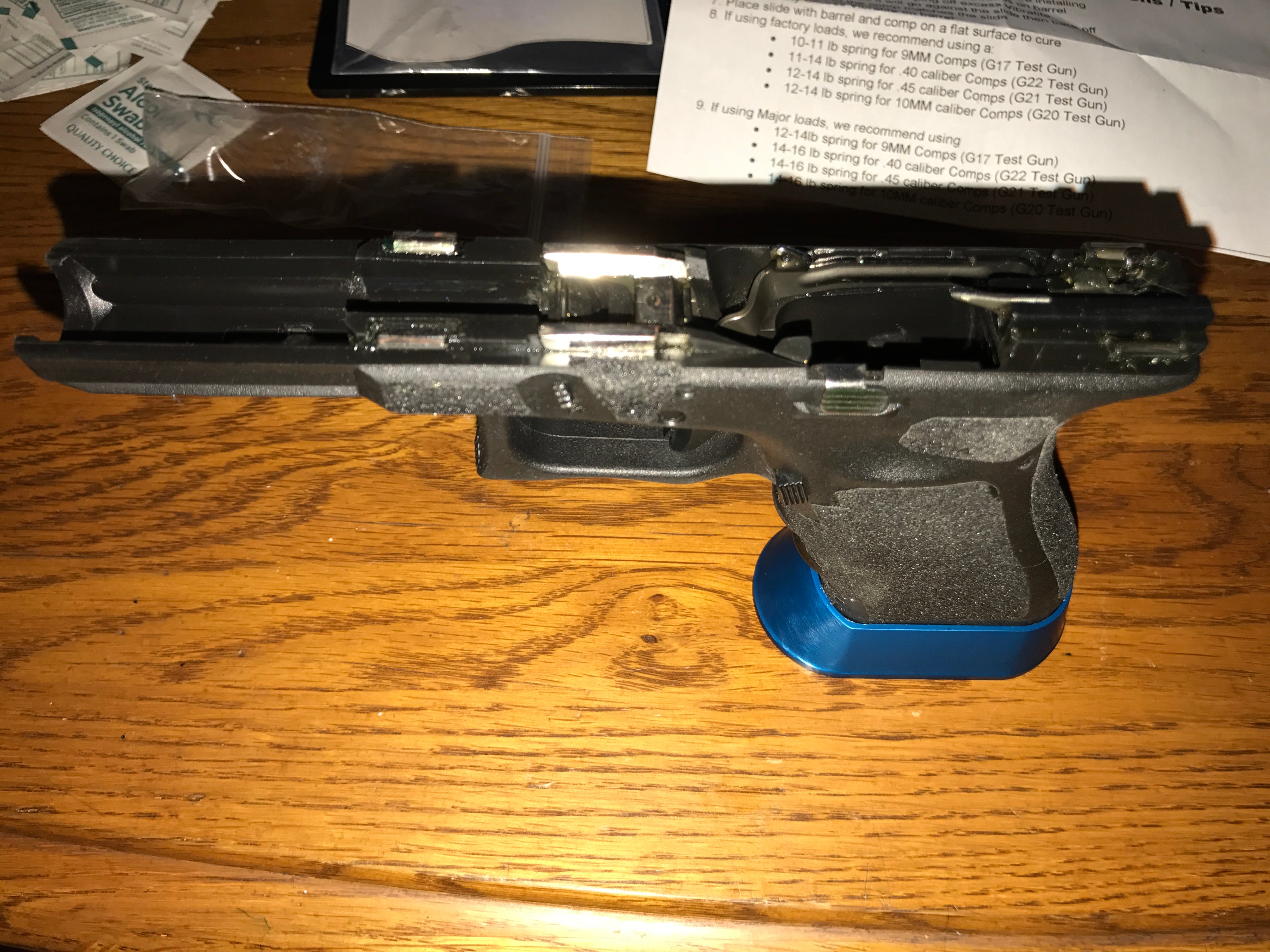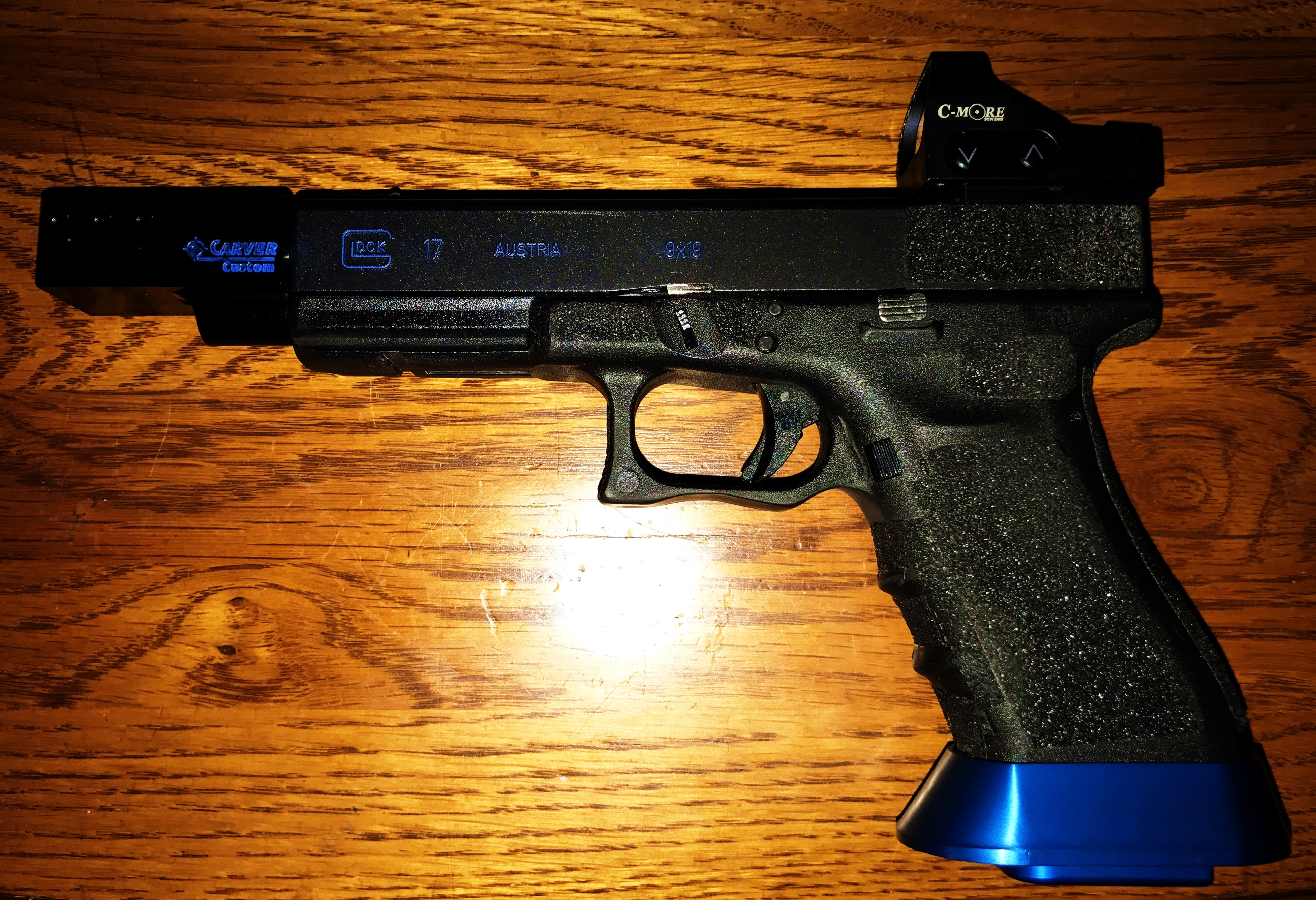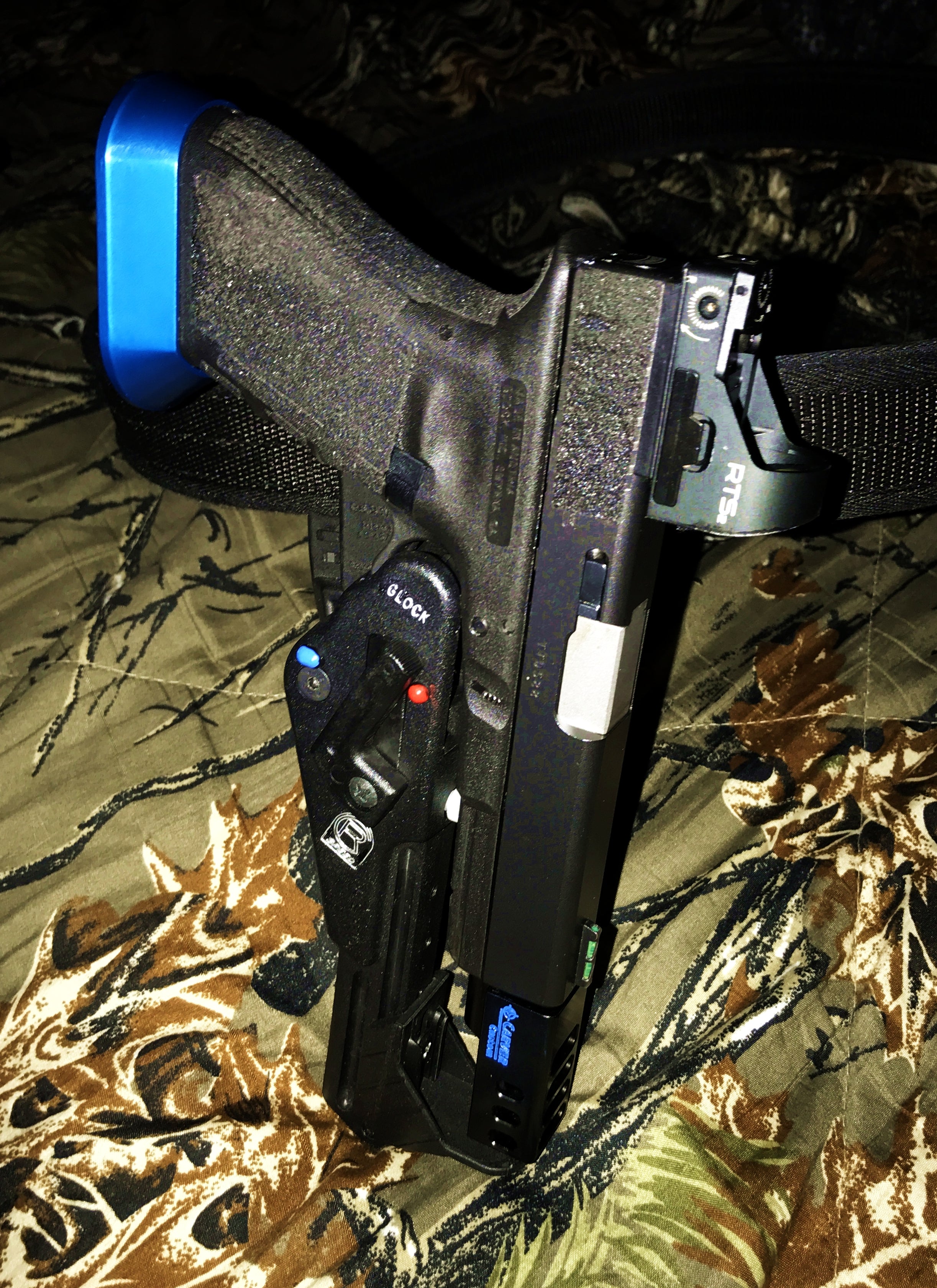 Just last month I finished off the gun at least for this build. Johnny Custom Glocks being on vacation was only an hour from me, since I am his only sponsored shooter we talk all the time. I had seen a video he posted of his newest trigger that blew me away! 2 pound break or less and for you Glock people ALL three safeties built into the Glock STILL work with all Johnny's triggers. The reset on this was sick, so I called him, he said well hell I'm only an hour away from you right now as opposed to me being in Ohio and him in Florida, he said I will make a house call for you!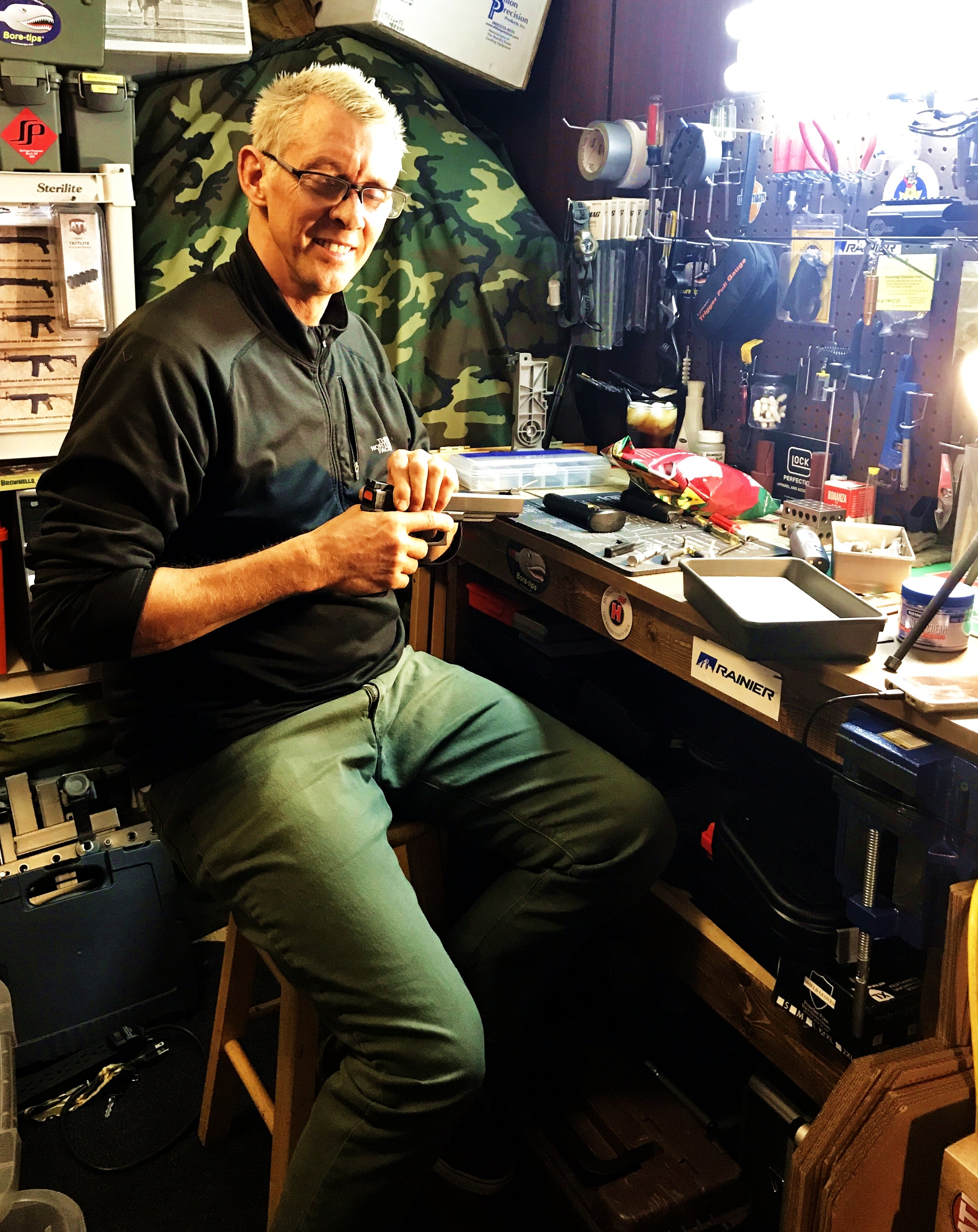 So he showed up was here from 10am to 6pm and we had a great day, a few people come over, we all went to lunch, Johnny put his newest trigger in and dang…! I asked for a SMALL amount of pre-travel put back in just on the first shot. The reset, believe me you just have to try it to even understand it! The trigger only moves forward maybe 3 to 5/64ths and its ready to fire, I shoot working the reset.
Then a couple days after he left, the rest of the parts from Carver Customs got here and now it is finished! I removed the red dot off the slide so I don't have to chase it with the slide and I now have the thumb rest on the side also. I will continue to use this Glock from now on but Johnny is building me a new race gun Glock from the ground up down there in Florida and will ship it to me when he is done. So next year I will be competing with two different Glock race guns, one I build 90% of all but the trigger and then one Johnny build 100%!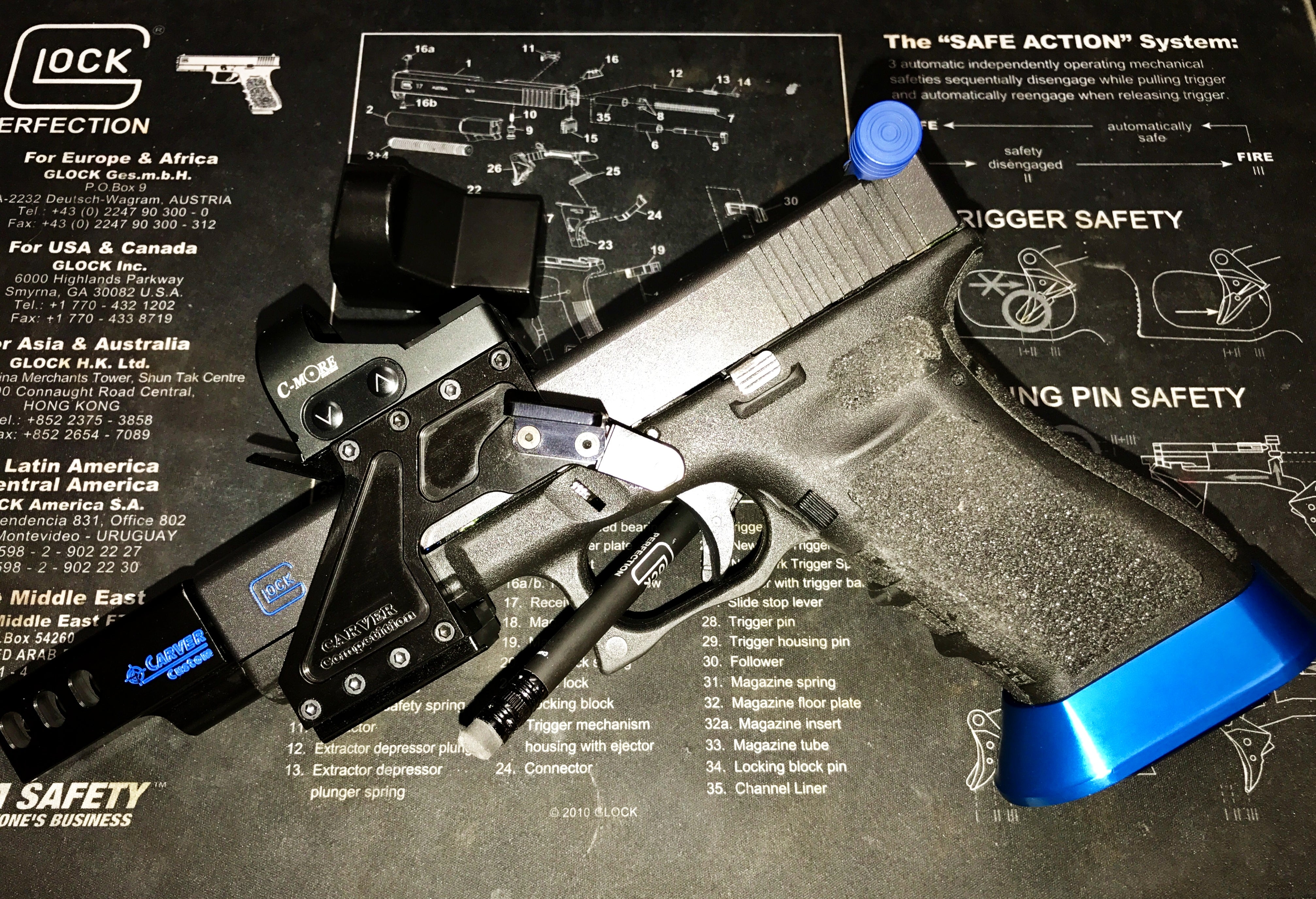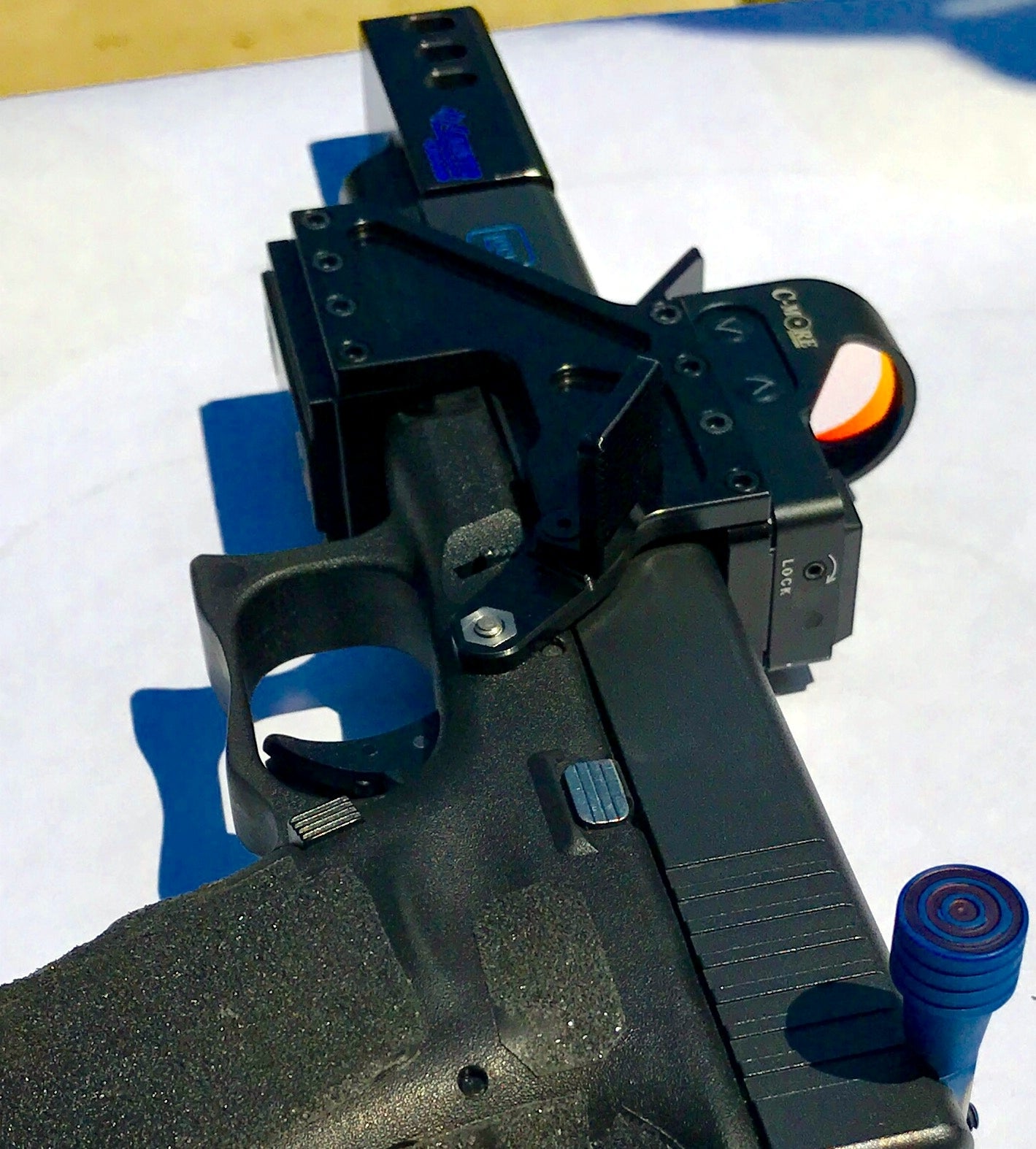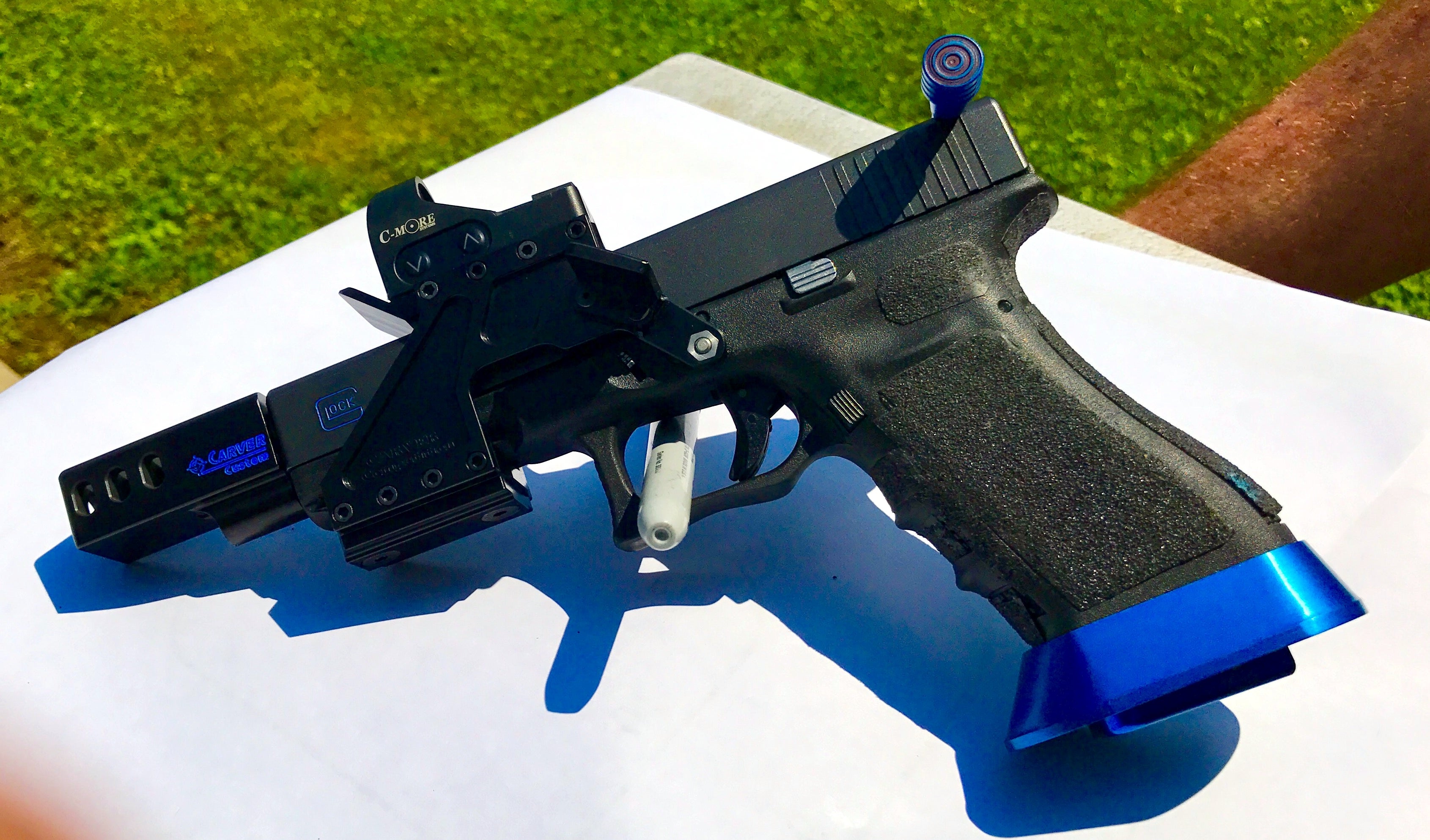 When you do this to any gun, the only limits is how much money you put into it, if you do it to a 1911 find a GREAT gunsmith, if you build a Glock, call Johnny Custom Glocks the man is the Einstein of Glocks and can do ANYTHING to a Glock, not just triggers. His slide to frame fitting is unmatched!
So I hope this answered your questions about what and why on this first Glock 17, the photos show what it was and now what it is. And when we set it up in the rest to sight it in 100% the entire time it was in the rest, it was bullet after bullet in the same damn hole, over and over! It is a tack driver now!
Hope to see you out there!
Gunner