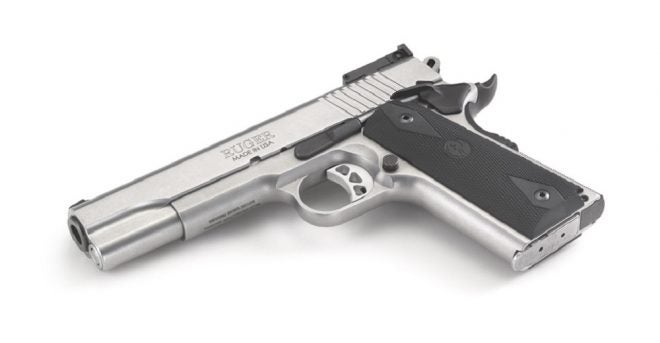 When it comes to this particular pistol, even Sonny Crockett would be jealous. Crockett, of course, was the main character in the series Miami Vice, played by Don Johnson. Sonny basically introduced the world to the 10mm pistol via a Bren Ten. A what? Google it.
The 10mm Auto has been creeping up on the pistol shooting market for a while, but it has been a slow climb. It has an interesting history in terms of cartridge development as well as short lived applications in law enforcement including some federal agencies. Alas, it was determined to be too powerful and tougher to learn to shoot than easier recoiling rounds like the 9mm.
Curiously though, the full house 10mm was shortened down to produce the .40 Smith and Wesson. It, too, has a waning history in some sectors, because it seems some law enforcement officers in training are having a difficult time handling this round as well.
None of this of course takes anything away from what the original 10mm round was created to do. Some want to compare the 10mm in a semi-auto pistol as equivalent to the .41 Magnum. Truthfully, though the 10mm is quite a thumper in its own right, it falls somewhat short of the .41. Still, it is a highly useful and effective round and tremendously fun to shoot.
Now, package that super round in a fine Ruger SR1911, and joy is to be found. This Ruger 1911 is stainless steel, 5-inch barrel, Bomar-style adjustable sights, a low-glare finish, black rubberized traditional type 1911 grip panels, 8+1 magazine capacity, and black accents with the slide stop lever, extended thumb safety, and the magazine release button. That's just a nice touch.
The stainless barrel on this pistol does not have the usual front bushing. This adds extra weight at the muzzle to aid recoil control. The guide rod is a full length version. The ramped rear of the barrel is nitrided to add durability. The backstrap is checkered with a black oversized beavertail grip safety for sure function and reliability.
The hammer is skeletonized for fast cycling. The SR's trigger is lightweight aluminum, skeletonized with an adjustable over-travel stop for a glass breaking, light pull and a positive reset.
Everything about this SR1911 was done right. That includes chambering it in the 10mm Auto. If you know Ruger's, then you know this new pistol will shoot like a hot episode of Miami Vice.