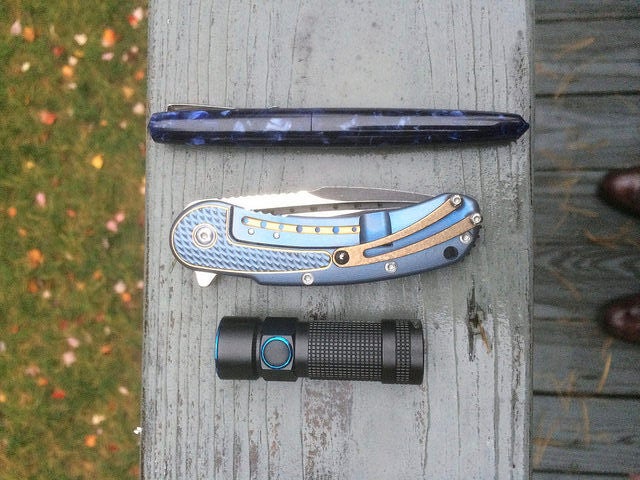 Again because of the number of choices, I am splitting these two recommendations up into two articles–one for knives and one for lights.
At $1000 to spend on both a knife and a light you can get some truly amazing stuff. Ultra high performance is a given. You can bank on cutting edge steels and retina searing emitters. But you got that at the last price point. Here you are getting the niceties, the luxe items and touches that have emerged in the past three years that, before, were limited exclusively to custom knives. You want Moku Ti? You got it. You want exotic wood inlays? No problem. You want insane machining on the blade, on the handle and in the handle (yes, in the handle)? Of course.
One thing that is really interesting about this price point is that it is basically driven by high end Chinese manufacturers. Companies like Reate have really pushed the envelope and made knives that were simply not possible a few years ago. After the Chinese broke through the "Sebenza barrier" (the price point of around $300-$330), American companies followed. The result is an entirely new kind of knife available to consumers.
Its not just nice touches that these knives offer. At this price point you are getting some functional and design features that are simply not possible at lower price points. One trend that has made this price point interesting is the increased push towards integral handles. These knives are exceptionally time and material intensive. Cutting a slab of titanium into a knife handle without screws or fasteners is just hard and there is no real way to do this on a knife for much cheaper than $400. Similarly, the advanced bearing pivots, like those seen on some Reate knives and Shirogorv productions, simply cannot be done cheaply. Finally, some knives with very complex grinds are too time and labor intensive to do at lower price points.
Steelcraft Mini Bodega
SHOP NOW
First, everything I say here could be said for the
Kwaiken
or Bodega of the Steelcraft line. Both were produced for Todd Begg by Reate. The new
Glimpse
looks very good, but is produced by We Knives and since I haven't handled it I can't speak to how good it is.
For me, the Steelcraft series (and the Mini Bodega in particular) reset the bar for machining on a production knife. Ten years ago it would have been an impressive achievement and extreme rarity in the custom world. Five years ago I am fairly certain this complex of a design would have been either impossible in the production world or extremely financially infeasable.
Honestly, if you handle one of these, I can't see how you won't fall in love with it. It is pretty incredible. The flipping action is very good. The blade grind is immaculate. The design captures the beguiling Todd Begg original. But it is the complex machining in and out of the handle that are a siren's song for me. The cracked ice finish is wonderful and just because they can, you'll find it even on parts of the knife you can't readily see. The checked or sunburst patterns are entrancing. The steel, S35VN, is good, but probably a bit under par for a $450 or so knife. Beyond that one drawback there is literally nothing to complain about. Most won't be lucky enough to score a custom Todd Begg, but these Steelcraft knives aren't far off in terms of quality. Its weird to say that a $445 knife is a bargain, but this one really is.
Benchmade Anthem
The last few years have been a bit dry for Benchmade, designwise. Basically since their really eye catching collabs with the great Shane Seibert, things went a bit dark in terms of new and exciting products. But Benchmade has always made compelling stuff. Their evergreen line up is among the best in the business. This year they released two really striking knives–the Benchmade Proper, a clever blend of modern and traditional, and the Benchmade Anthem.
The Anthem is the most expensive non-Gold Class Benchmade ever released. Coming in at around $485 street, the Anthem is an integral design. But because it is a Benchmade it also runs an Axis lock. How they achieved this Tardis-level spatial trick is beyond me, but the reception has been incredible. Folks that haven't been interested in a Benchmade in years flocked to the Anthem. Whale collectors of the custom world were interested. The thin solid handle is excellent and the action is stunning. If Benchmade wanted to grab our attention, the Anthem certainly did it. Knife knuts everywhere are interested in what's next from the Butterfly.


Chris Reeve Mnandi
The
Mnandi
is one of the most intriguing and beautiful designs, custom or production, anywhere in the knife world. Its slender shape, unique nail nick, awesome sculpted pocket clip, and that big beautiful inlay are all stunning. The Mnandi is transfixing. It is beautiful. It feels like a finely tuned watch. Even non-knife folks ooh and aah over it. And it cuts like a demon thanks to a finely ground hollow grind on an S35VN blade (which maker Chris Reeve had a hand in making). There is no better knife to carry on a daily basis if you are in dressy clothes or a suit. There is no better knife to slip into a pocket for a dinner on the town. The Mnandi is the very epitome of a gentleman's knife. And it is substantially less than the $500 limit imposed here, though you can get special editions with Damascus blades that hit the upper limit.
Leatherman Charge TTi
I wrote about this in the Under $600 category, but really, if you have a blank check and want a multitool this is the one to get.


Conclusion
The Steelcraft series, in my mind, is a high watermark achievement in production knife making. Its got it all. Its got the performance, the design chops and heritage, and the bling. If I had $500 to spend on a knife and no specific use in mind, the Mini Bodega would be it. Its a damn fine knife and still a value at $445.
SHOP NOW