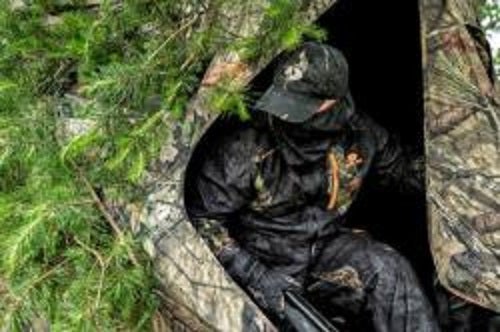 Mossy Oak headquartered out of West Point, Mississippi has jumped the bow string on camo competition with this one. They have announced a brand new very unique camouflage hunting pattern by bringing out their new Eclipse innovation. This camo pattern is specifically designed for use inside ground blinds to hide hunter movement for traditional archery, crossbow shooting, and firearm hunting as well. This stuff is really cutting edge.
Ah, busted. I know the routine. I went to deer hunting in particular out of commercial fabricated ground blinds years ago. I love to be on the ground level looking head on at deer that might only be standing scant yards away. However, any movement inside the blind can be spotted by visually acute deer, especially by a crowd of does standing around.
Though a ground blind made today will almost assuredly have black colored interior walls and ceiling, a hunter wearing traditional fall color camouflage clothing can be eyeballed almost immediately upon movement. Aside from getting busted by a deer from a scent issue, movement is the other primary factor that can reveal the hunter to wildlife.
Mossy Oak Eclipse camo features a black overlay of their popular Break-Up Country pattern. Portions or patches of the Eclipse pattern shows the Break-Up pattern which serves to evaporate the human outline form that could be seen inside a ground blind. This makes the hunter fade away in the black background of the blind's interior.
Recent hunter surveys have revealed that nearly 64 per cent of hunters are now using ground blinds. Just the manufacture of ground blinds alone signals their popularity in the field for all types of big game hunting including western big game, elk, antelope and mule deer as well as the most popular white-tailed deer and even turkey hunting. Outdoor photo/videographers and wildlife game researchers are also using ground blinds in their work.
It is also known from hunter surveys that hunters learned from practical experience that dark colored clothing is needed to hunt from inside a ground blind. Some hunters even went to wearing all black long sleeve shirts, pants and facemasks to "blacken" themselves out inside a blind.
Now hunters can have the best of both worlds by wearing the new Mossy Oak Eclipse pattern. I hope to get some soon. It is supposed to be available at Walmart in August.