Review: Gungenics Quick Change Cleaning Rod/Brush/Jag System
Russ Chastain 07.24.17

Last year, I told readers about the Gungenics handgun cleaning system that I'd found at the SHOT Show. In short, they've come up with an interesting quick-change system of bore brushes and jags, along with a matching lightweight rod that rotates freely. Oh, and they are made in the USA.
What I like least about cleaning gun barrels is changing from brushes to jags. I like to brush a bore with solvent, then patch it out, and repeat until the bore is clean. Changing from brush to jag every time can be aggravating, not to mention the sharp brush wires have the tendency to stab the hands of folks with thinner skin (especially ladies).
Even when I use two rods (one with brush and another with jag) with ball-bearing handles, the brushes and jags tend to come loose in the threads while I work. With Gungenics, that simply will not happen–because the attachments are not threaded.
To insert a jag or brush, simply slide it into the hole in the end of the rod. When it's all the way in, a retainer will "grab" it and hold it securely. To remove it, just push on the rear end of the retainer to unhook it, and pull the attachment out of the rod. Simple, fast, and easy.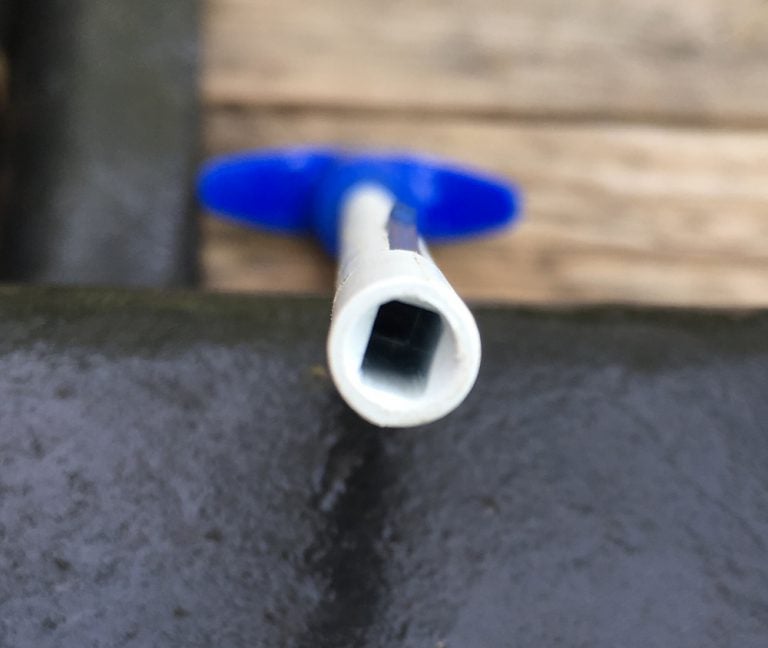 Glass-reinforced nylon means there's no metal to potentially damage your barrel's throat or crown.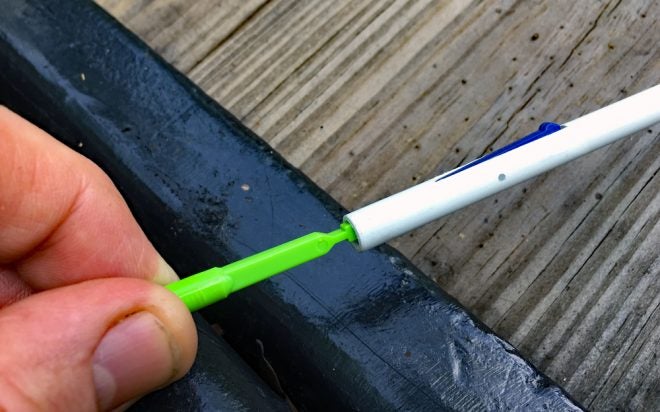 The only model of Gungenics cleaning rod currently available is for most handguns; you get six inches of rod to work with. The handle is 2.5 inches long, which helps keep fingers away from the end of the barrel, where they can get painfully pinched. If you have ever raised a blood blister in this way, you will appreciate the long handle.
The system works well, and each of the brushes and jags I've used are easy to insert and remove, and none have come loose during cleaning. I never have to check them for tightness because they cannot come unscrewed while passing through rifled barrels, and the rod rotates freely in the handle.
I received a four-piece set containing a rod, a green eyelet/patch loop (I think these are useless for cleaning guns, but some people must like them), and 9mm/.38/.357/380 brush and jag. These sets are also available with .40/.41 and .44/.45 attachments.
Each caliber is color-coded AND has the size molded into the plastic.
To add calibers, buy a caliber-specific brush and jag set in either of those three sizes; when a brush wears out, you can buy just a brush instead of the combination pack.
We all know that brushes wear out and will need to be replaced, but if any other parts fail due to manufacture defects, they may be replaced for free. Here's what they say about their lifetime warranty:
Gungenics has a limited lifetime warranty on all parts except brushes. If you have any problems with parts other than brushes please email [email protected] telling us what product you wish to return and the problem you experienced. We will send you instructions on how to process your return. Replacement parts will be shipped out as soon as the defective part is received. Products ship via USPS First Class mail.
The Down and Dirty
My first use of the Gungenics system was with a little 9mm carry pistol, which usually gets way too nasty in between cleanings. I really enjoyed the quick-change aspect, which allows for fast swapping of attachments without having to grab a dirty/sharp bore brush.
Most cleaning jags do a poor job of retaining a patch, but Gungenics jags work well. The spear tip pierces patches with little effort, and holds onto them better than my other jags. Naturally, oily patches have more tendency to come off than solvent patches.
I do wish the jags were a touch larger diameter, though; they just don't fit my gun's bores as snugly as I would like. If this becomes my go-to gun cleaning system, I may need to get some thicker patches or try doubling them up.
Some Specs
Rod length: 6″
Handle length: 2.5″
Three sizes: 9mm/.38/.357/380, .40/.41, .44/.45
Kit MSRP: $24.95
Brush/Jag MSRP: $8.49
Brush MSRP: $4.29
This video shows a demo that was recorded at the 2017 SHOT Show: