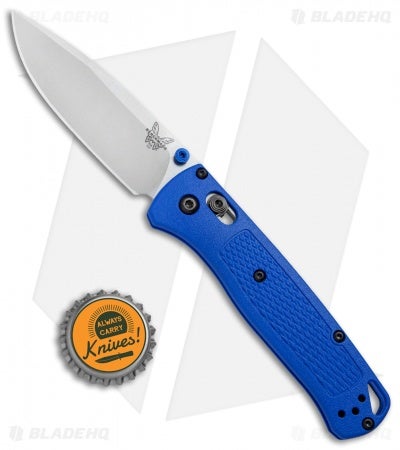 Ask me a year ago about the most moribund of the big knife brands and I would instantly told you that it was Benchmade. After the release of whole slew of knives with a weird unrequested update to the Axis lock, a few bland framelocks, and some fit and finish issues that seemed to plague the entire line, Benchmade was unexciting to most knife knuts. Their evergreen stuff, the Griptillians and Infidels of the world were (and are) compelling, but the Butterfly seemed to gone years without a big hit. It was basically Shane Seibert injecting some new blood and then a half decade of design snoozing. This year's showing a SHOT was not all that impressive either. In short, things looked pretty stale for Benchmade.
Then something happened. Benchmade released some damn cool designs.
First was the Anthem, Benchmade's first integral. People, even custom knife folks, raved over the blade's thin profile and liquid action. Then, zigging from the Benchmade norm, they dropped a traditional (or is that modern) knife in the form of the Proper. This blade hits a lot of buttons. It is a nail nick opener with micarta handles and lacks a lock making it more like a traditional knife, but it runs a powder steel, something foreign to the world of butterscotches and bone covers. Two knives, each totally unique in the Benchmade line up and quite exciting for the knife world.
The Bugout 535 looks to extend the streak of exciting cutlery. This is a knife that Benchmade specifically designed for backpacking (perhaps even the ultra crazy ultralight backpackers). It runs S30V steel, a grivory handle, an Axis lock (of course), and a clean drop point blade. The pocket clip is a modified version of the clip from the Valet, a deep carry clip, but this one is significantly shorter, which, in theory sheds some weight (ounces equals pounds, after all) and might actually function better in the hand. The grivory is a bright and unnatural blue making the knife hard to lose on a forest floor.  I use the same color blue as lanyard for my knives for the same reason–who the hell thinks camo is a good color for tools? See any gray handled tools in the Snap On line up? Me neither. Finally, there are the specs. This is a 3.25 inch blade crammed into a 4.22 inch handle. Not quite as space efficient as an AG Russell blade or an Al Mar, but very impressive. And all of this can be pocketed at less than 2 ounces. In fact, the Bugout trips the scales at 1.85 ounces.
So is this 3 for 3? It certainly seems like it. This is a knife that is basically the same size as the Spyderco Manix 2, an already light knife, that itself comes in at 2.85 ounces, but the Bugout is a full ounce lighter. Quite impressive. I am not thrilled with the exposed rear tang or S30V, but if you ignore those two things (which are really a preference as opposed to objective design errors), nothing really stands out as bad and there is a lot of good. The Bugout will be out soon and will street for around $114.75, a very competitive price compared to knives like the Manix 2 and the ZT0450, other svelte knives with 3.25 inch blades.
After going 3 for 3, like a slugger breaking out of a slump, I think it is safe to say that the Butterfly is back.

SHOP NOW