Try Bass Style Plastic Worms for Northern Pike
Bob McNally 07.26.17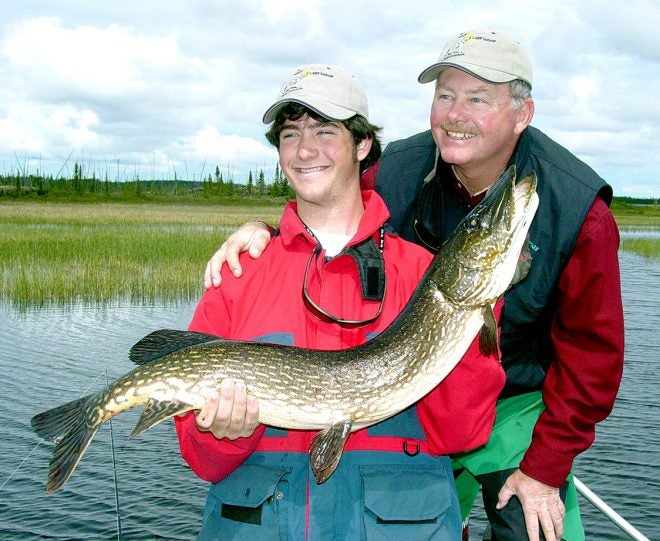 Big 8-inch long plastic worms rigged weedless, Texas-style, just like you'd use for largemouth bass, may be the best lures ever designed for weed-living northern pike.
One of the biggest and best is the Mann's "Jellyhoo," originally designed for saltwater fishing. They're long and soft, and feel like an oversize bass plastic worm. But Jellyhoos are different. They're blocky, bulky, elongated and minnow shaped, originally designed for marine trollers who rig them when real ballyhoo baits are unavailable.
I've used them in saltwater for cobia, king mackerel and striped bass, but in freshwater they really fill a big need for targeting oversize, weed-living northerns.
Rigged on large 5/0 plastic worm hooks fitted to 12-inch wire leaders, they are deadly on oversize pike on countless waters throughout the northern U.S. and Canada.
While plenty of pike are still caught on spinner-baits, spoons and other lures, there is no doubt oversize soft plastics can score when other lures fail miserably.
Rigging Jellyhoos and other similar soft plastic lures for pike is a bit different than setting up plastic worms for largemouth bass fishing.
Wire leaders are needed to prevent pike cut-offs. Nylon-coated braided wire (20 to 30 pound test) makes rigging easy because knots can be tied with it unlike single-strand wire. A 12-inch length of wire is adequate for even big pike, and a "clinch knot" is used to secure it to a worm style hook, preferably a wide-gap model.
Rig some pike leaders with slip-sinker weights, some without. Sinkers weighing 1/8 to 1/2 ounce sink Jellyhoos fast in deep weedy water or timber-strewn pike hangouts. For shallow, thick-cover pike areas, no-weight wire rigs work well with soft plastics.
The wire end opposite a pike plastic hook can be tied to a quality barrel swivel, which prevents line twist.
Jellyhoos are rigged weedless, Texas style, just like a plastic worm for bass–but with slight modifications. Because a Jellyhoo is fish-shaped and flat, a hook is positioned so it penetrates a lure through its narrow sides–not through the deep dorsal plastic area. This is done to facilitate quick, sure hook sets, which is easier to do than if a deep-profile Jellyhoo were barbed from top to bottom.
SHOP NOW