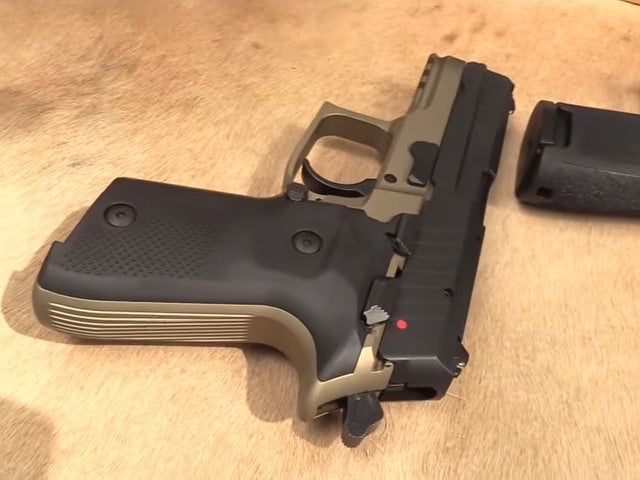 Hickok45 is always enjoyable to watch. In this video he takes a Rex Zero 1 CP chambered in 9mm to the range.  This is the second video we have posted of the Rex Zero. The first review was by our buddies at The Firearm Blog.
The Rex Zero looks like it was based on the Sig Sauer line of handguns. However, the Rex has some added features, such as:
Manual safety.
Slide release that is also a de-cocker.
In the age of striker fired handguns, it is nice to see a company producing a hammer fired handgun with a safety. It is reminiscent of the types of handguns produced in the 1980s and 1990s.
Specifications
These specifications are also listed in the other article.
From Buds Gun Shop.
17 Round Capacity
Stainless Steel Slide
Front and Rear Serrations
Loaded Chamber Indicator
Ambidextrous Slide Stop
Ambidextrous Magazine Release and Safety
MIL-STD 1913 Accessory Rail
Fixed 3-Dot Sights
Overall Length 7.7″
Height 5.7″
Width 0.98″(Top) 1.1″(Bottom)
Weight 29 oz
Now for the video.
In the video Hickok45 talks about how large the grip is. He looks like he has large hands and can not reach the magazine release without moving his hand. Instead of 17 rounds, maybe the Rex Zero should have been 15 rounds and been designed with a smaller grip?
Buds Gun shop has a retail price of $636.54 listed for the Rex Zero. At that price, it is going to be difficult to compete against the more established brand names.
Let's face the facts, for the vast majority of time, price is an issue. Someone walks into a gun store, looks at an unknown brand name for over $600 + tax.  Then sees something like a Glock, Ruger, Beretta.. for less money.  Which handgun is the price conscience consumer going to take home?
Sure, the Rex Zero has some cool features.  I personally feel they are pricing themselves out of the handgun market.  Put a price of $25 or $50 less than a Glock 17 on the Rex Zero.
However, if I were in the market for a Sig style handgun, I would skip the P226 and go with the Rex Zero.  My personal preference, I prefer firearms that have a safety.  Between the P226 and the Rex Zero, I would buy the Rex.  There are going to be a lot of people who disagree with that statement, but it boils down to personal preference.
Hickok45, thank you for the excellent video. Keep up the great work.