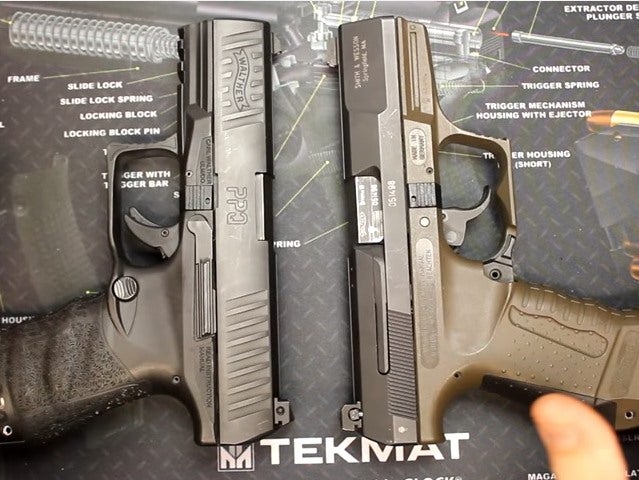 Sootch00 has made another excellent video. In this video he does a side by side comparison of the Walther P99 and the Walther PPQ.
Walther was founded in 1886. During World War II the factory was destroyed. In 1953 production started again.
P99 was introduced in 1996.
PPQ was introduced in 2011.
P99 Specifications
From the P99 web page.
Available in 9mm and 40 S&W.
Barrel length: 3.5 – 4.2 inches.
Trigger pull: DA: 9 / SA: 4.5 lbs
Capacity: 10 – 15 rounds, depending on model.
Overall Length: 9mm / 6.6 inches, 40 S&W / 7.2 inches.
Paddle design magazine release.
PPQ Specifications
Sootch00 talks about the M2 in the video, but the specifications for the Classic are listed in the article.  The Classic is available in 9mm, while the M2 is available in the 9mm and 40S&W.
From the PPQ web page.
Classic available in 9mm, M2 available in 40 S&W and 9mm.
Barrel length: 4 inches.
Capacity: Classic 15 rounds 9mm, M2 11 rounds 40 S&W.
Overall length: 7.1 inches.
Push button magazine release.
Now for the video.
If a company is selling a product in the United States, why have a priority rail? Why not make it with a 1913 picatinny rail so here are more options? Customers want options. Limited yourself to one certain type of rail subtracts from the overall selling point of the handgun.
I like how Walther offers the paddle style magazine release and the push button. This provides customers with choices, and we love choices.
From the video, it appears the P99 has a long-winded trigger. It reminds me of a Taurus handgun I used to have. It seemed like I had to pull that trigger forever before it would fire.
If I had to pick one, it would have to be the PPQ.
Special thank you to Sootch00 for another great video, keep up the good work.