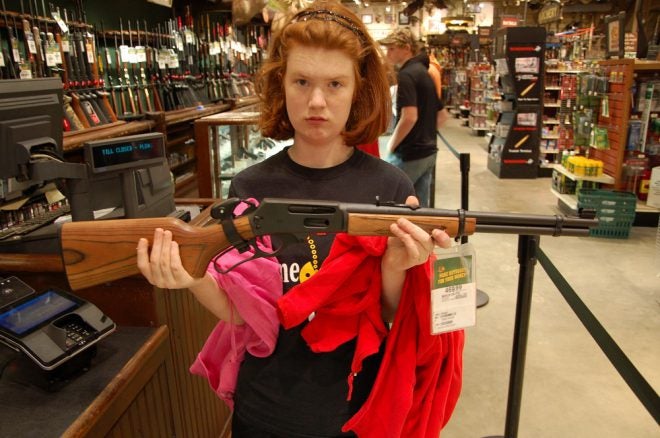 Being fascinated by guns is a great hobby. The study never ends and there are all sorts of avenues of intrigue around every corner. To many this is a highly boring subject, but for true firearms enthusiasts these investigations can provide endless enjoyment of knowledge enhancement. You never know when a new mystery might pop up.
Case in point. Recently I have been working on putting together a prepper-survivalist-hunter rifle package of a different sort. As an alternative to traditional thinking along the lines of an AR semi-auto, self-defense, tactical type rifle, I have opted for a new approach based on the Marlin lever action.
The concept originated by wanting a short barreled, quick handling rifle for use inside of a pop up hunting blind. I find the regular 22-26 inch barreled deer rifle too cumbersome to handle inside a blind. I wanted a 20-inch or shorter barrel in a caliber capable to take a deer. The classic lever action 30-30 was my target choice. I started researching the options.
In another installment I will profile several classic models of Marlin rifles, but the one I focused on for this project was the Marlin 336 Compact. Well, I thought it was the compact model, but in some cases this version is also listed as the "youth" model. So, which is it?
If you do a traditional internet search for this rifle model, all kinds of conflicting information turns up. If you visit several gun shops, which I did, then the confusion gets even more convoluted. First, it seems the compact or youth models of the 336 can be rather difficult to find. Neither model is currently listed on the Marlin web site.
One would think this rifle was created for the young hunter with a shortened stock length of pull with a shorter barrel. Apparently other shooters have the same idea I had. It is or would be a quick handling, jump shooting lever gun, ideal for woods hunting, stalking, prepper use, property patrol, and such in a fully capable 30-30 cartridge. Ammo is easy to find and affordable.
What I found at dealers is two versions or four. Some "youth" or "compact" models have plain hardwood stocks, others laminated wood. Some have a gritty matte finish, other a smooth black finish. Otherwise specifications are the same. Retail prices varied from $379 to $469. What I finally got was a 336Y, box also marked "compact" with the laminated stock. More on this mystery model later after full trials.