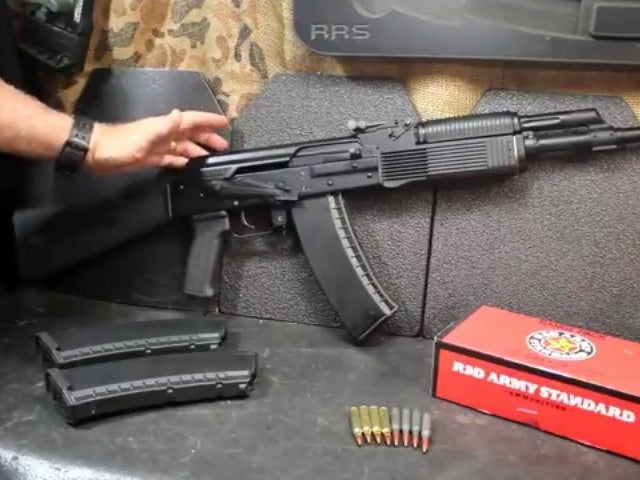 As a prepper, I always on the lookout for military style firearms. In this case, it the is Molot Vepr AK-74.
The good news, Sootch00 made an excellent video where he reviews the Molot Vepr AK-74. The bad news, the rifle is no longer imported because of sanctions against Russia. Hopefully, one day this wonderful rifle will be imported once again.
The AK-74 is a redesign of the AK-47. Rather than shooting 7.62×39 like the 47, the 74 shoots the 5.45×39.
Specifications
From the Molot Vepr AK74 web page:
Heavy RPK-style hammer forged chrome lined barrel
1.5mm stamped receiver
RPK-style trunnion block
Ribbed polymer handguards with stainless steel heat shield
Polymer original Warsaw length buttstock with cleaning kit trap door
Windage adjustable 1000m rear sight leaf
Scope mount side rail
Accepts all mil-spec double-stack AK-74 5.45x39mm magazines
14x1mm left-hand muzzle thread
922r compliant with foreign made magazines
Now for the video.
As Sootch00 mentions in the video, one of the appealing factors of the AK-74 was the low cost of the ammunition. Unfortunately, prices for 5.45×39 are slowly inching upwards.
In the late 1980s and 1990s, one of the appealing factors of the SKS was the low cost of the rifle and 7.62X39. In the early 1990s, you could walk into a gun show with $200, and walk out with an SKS and a 1,400 round wooden case of 7.62×39 hollow point ammunition. If I remember right, the case cost around $89 or $90.  The SKS cost around the same price.
As with 7.62×39, cheap 5.45×39 seems to be drying up. There is a thread on the forum from 2016 that asks, "5.45×39 still worth getting into?"
Even though the Molot Vepr AK-74 is no longer being imported, there are a number of AK-74 rifles still being imported from Poland and Romania.
Special thank you to Sootch00 for making another excellent video.