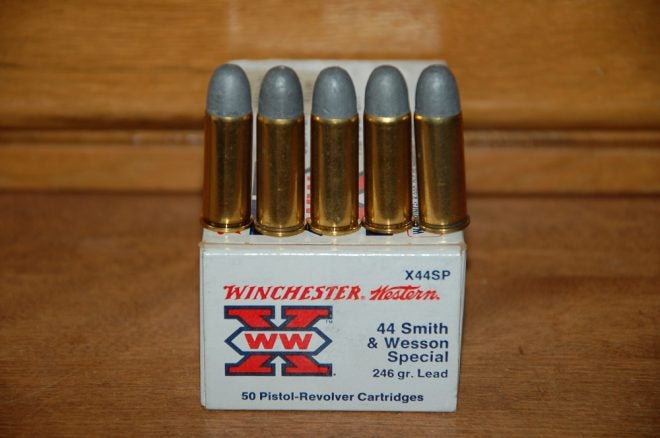 What is so special about the .44 Special to make it have a comeback after it had virtually disappeared? It has had on again and off again relationships with handgun revolver shooters since it was originally introduced in 1907 as the .44 Smith and Wesson Special cartridge. Its complete history and study would make an interesting research project.
The .44 Special was created as a lengthened version of the .44 Russian. More power was needed thus more powder had to be accommodated, so the .44 Special was born. It has had a long and illustrious life as a reloaded, and factory ammunition load.
Long before the veritable .44 Magnum officially came along in 1955, the .44 Special had carved out quite a following among handgun shooters. It oddly enough was and is a mild shooting cartridge, but with that .44 caliber bullet diameter, it proved very functional and effective for law enforcement, personal defense, and even hunting.
Though the .44 Special was chambered in a wide offering of handgun models mainly from Smith and Wesson in double action revolvers, in Colt Single Action Army SAAs, other manufacturers offered it as well. A lifetime study could be made of the models, variations, and features offered in .44 Specials by either Smith and Wesson or Colt. These guns are also quite collectable.
The .44 Special handles a variety of bullets from 180 to 240 grains, lead, semi-wadcutters, jacketed solid bullets and hollow points. Velocities run from around 900 to 1035 feet per second though milder loads have velocities in the 750 fps range. The .44 Special is very comfortable to shoot, plus it has a great reputation for accuracy. If you handload your own medicine, then the .44 Special is particularly easy to work with.
Remember also that the .44 Special is to the .44 Magnum what the .38 Special is to the .357 Magnum. The .44 Mag chambers can also handle the .44 Specials, as well, giving some extra utility to the big magnum.
As mentioned many .44 Specials are in the collector's category, but careful shopping can still find Smiths and Colts. Ruger has announced it is chambering their GP-100 in .44 Special, stainless, 3-inch barrel, and Hogue grips. Ought to be a beauty. Keep checking Gallery of Guns for their stock. If you'd like a mild shooting .44, then the Special is what you want.