Fighting Sheepdog Rifles: "Custom" is all About what Customers Want
Oleg Volk 08.07.17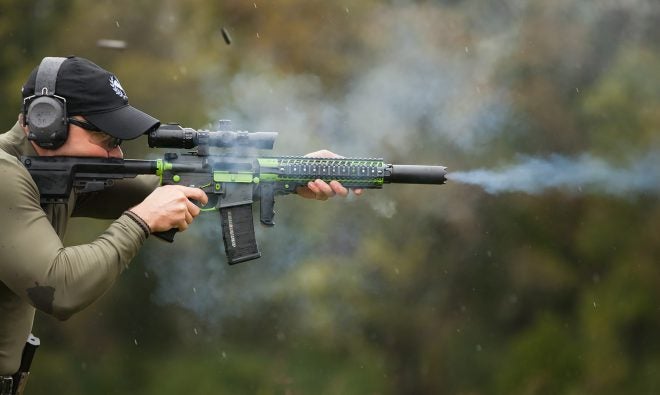 "One size fits all" approach to guns is understandable in wartime. Make identical STENs or PPS buzzguns for every slightly trained infantryman and send them off to grease the tracks of enemy tanks.
In peacetime, we can usually afford guns that are customized to individual physiques and preferences. You want a left-handed green AR15 in 5.7×28? No problem! An over and under with the stock skewed to compensate for an old shoulder injury? Step right up and get fitted. Guns can be fun beyond the basic defensive utility. One maker that does a great job of tending to the innermost wishes of its customers and also delivers very high performing guns is Fighting Sheepdog of Oak Ridge, TN.


Some of their guns are relatively mainstream, other than the cerakote scheme. Others stand out due to the unorthodox technical solution. They all have the same features in common: reliability, accuracy, good ergonomics. And what's good ergonomics or looks for one person might look odd or awkward to others. That's the whole point of customizing to individual preferences.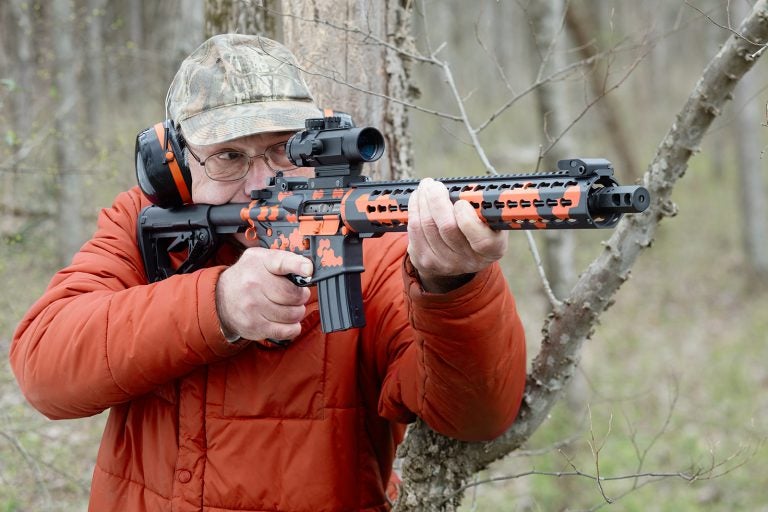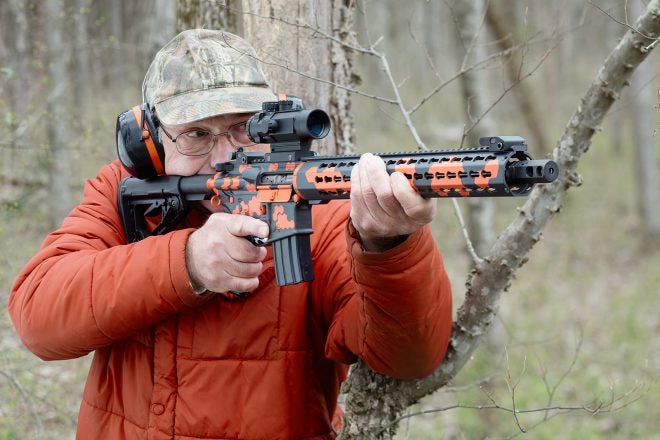 Their customers are as diverse, but two categories predominate: military veterans and competitive shooters.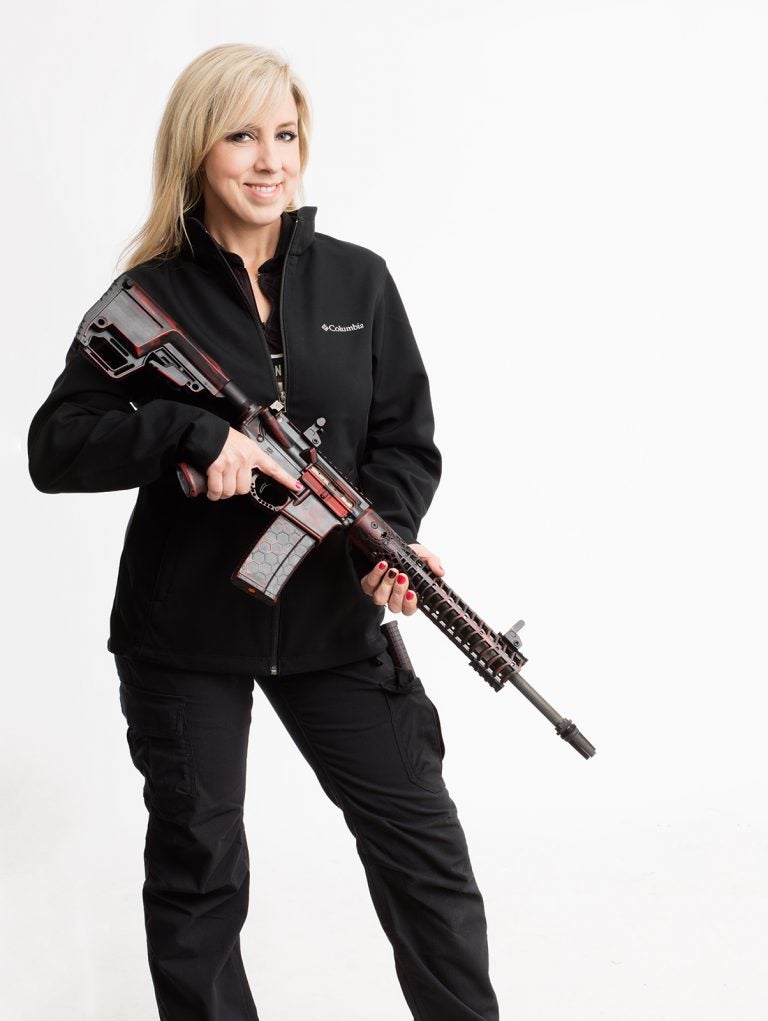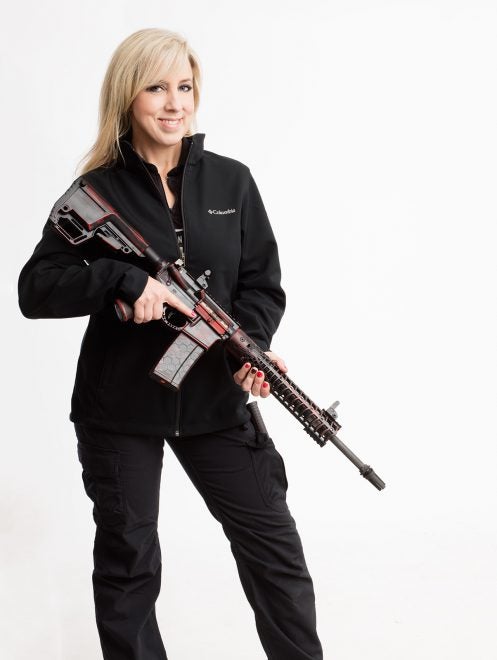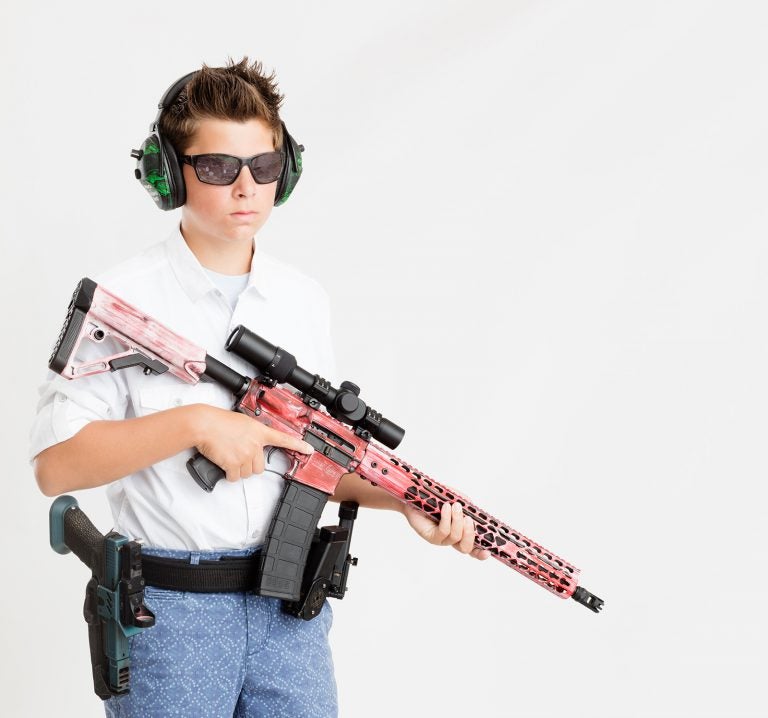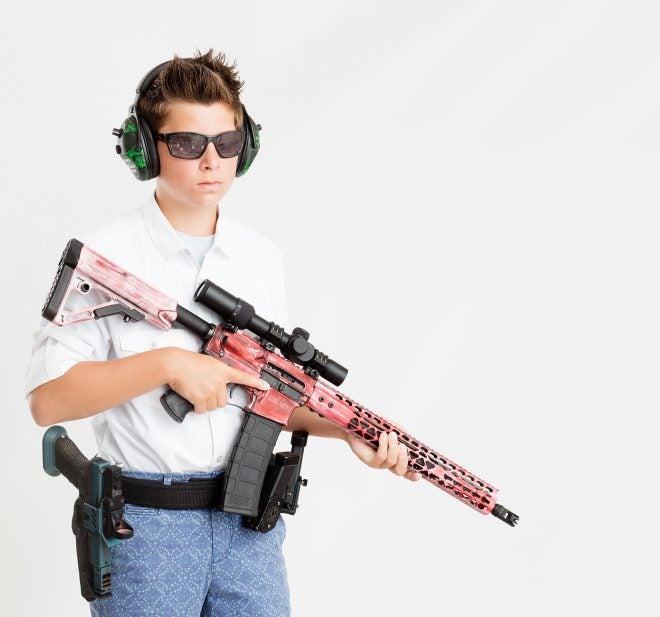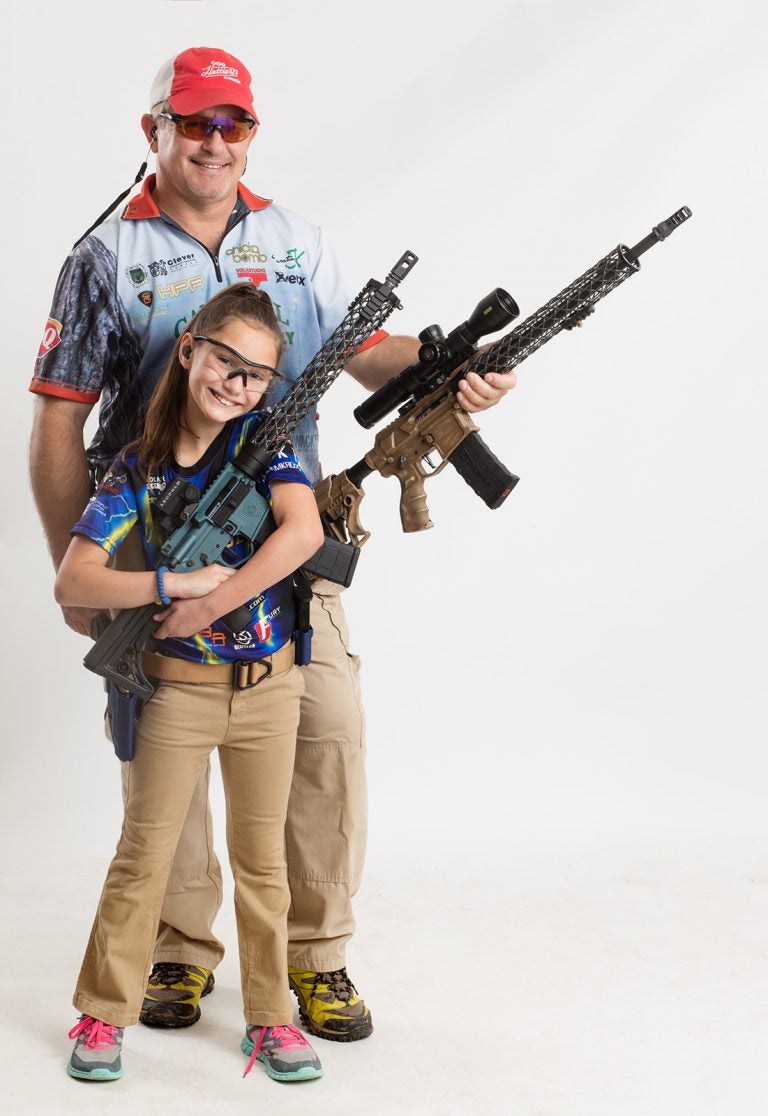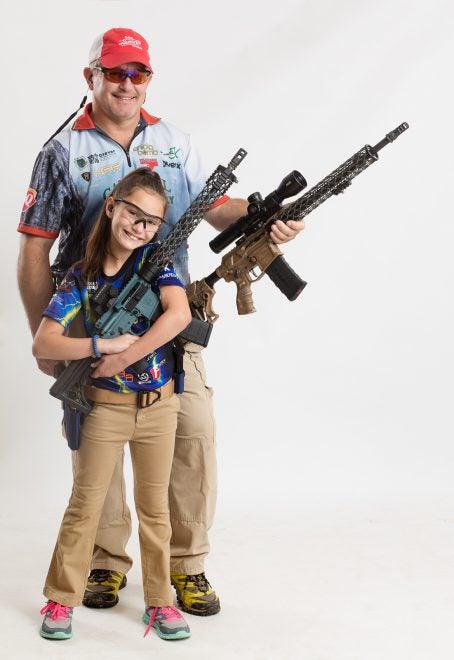 Besides being useful tools, such guns are objects of pride. It's no surprise that the author Amie Gibbons incorporates her real-world rifle into the plot of the book Psychic for Sale. Built specifically for the diminutive writer, this rifle is a showcase of advanced materials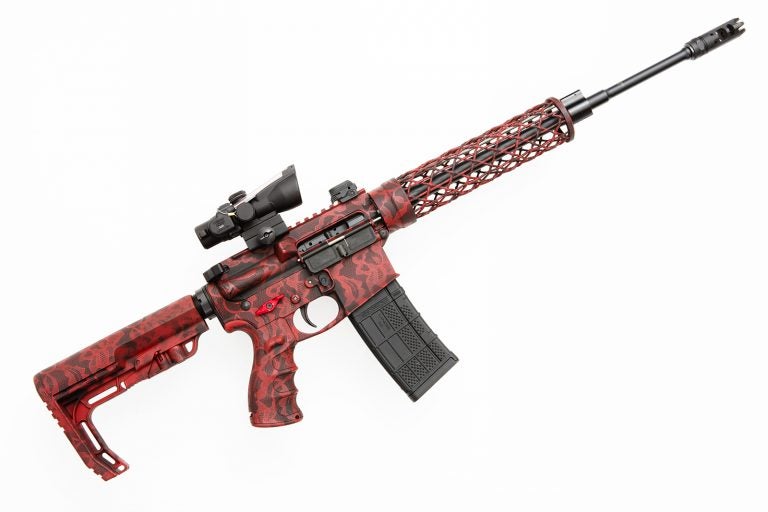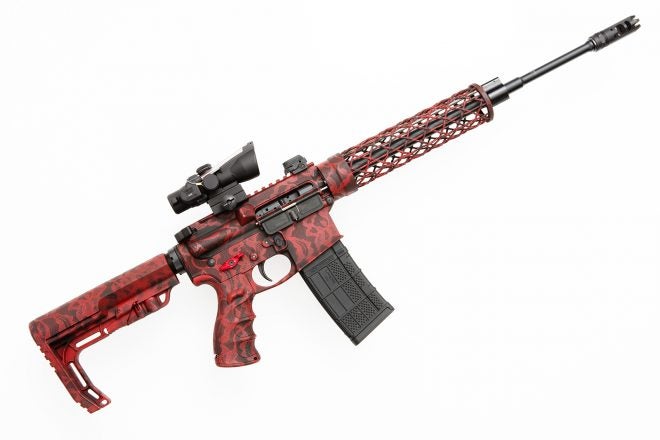 The AR appeared in my hands, lighter than it was even in real life. It was made specifically to be lightweight, but still have little kick, a minor miracle of modern engineering accordin' to Daddy.
The barrel was a fancy, lacy looking weave, to cut down on weight, and the whole thing was painted red with gold swirls on it.
Carvi burst out laughing.
"What?" I asked.
"It's so pretty," he said. "Who makes pretty guns?"
"Ummm, the company is called Fighting Sheep Dog," I said. "Why? I wanted a pretty gun."
DJ Petrou, an avid shooter, organizer and promoter of mid-South 3-gun events, explains why his FSD-made custom rifle is so impressive. It's a 0.3MOA rifle (with 77-grain match ammunition) that is also highly portable. How many other rifles can claim both the extreme accuracy and the easy handling at the same time?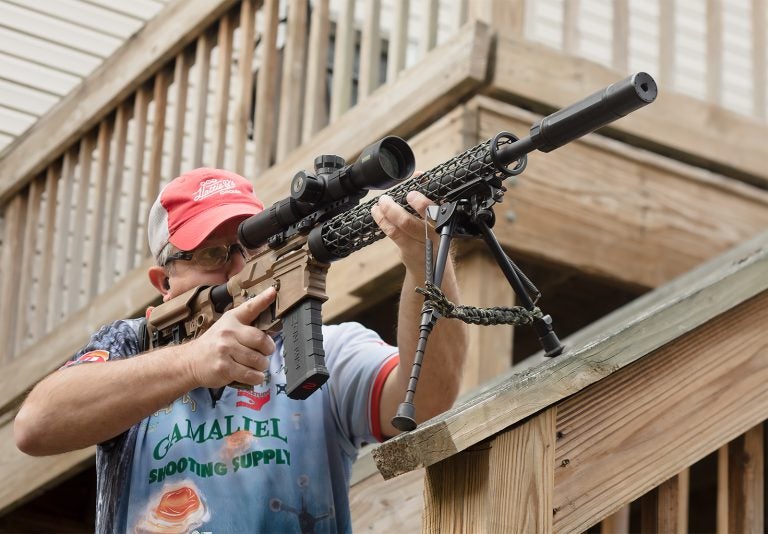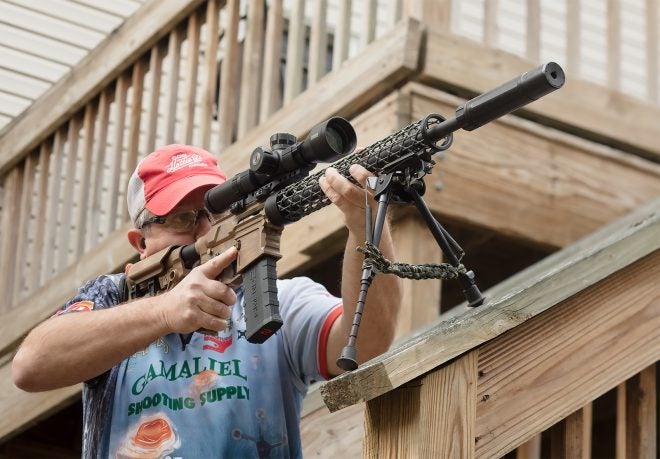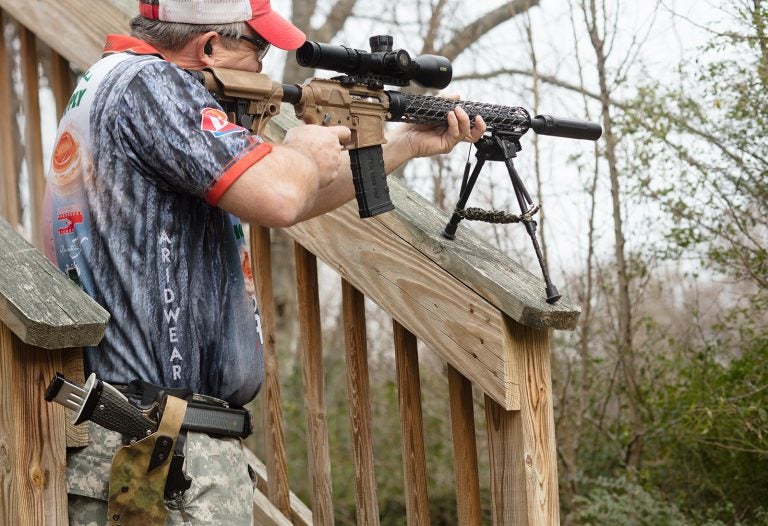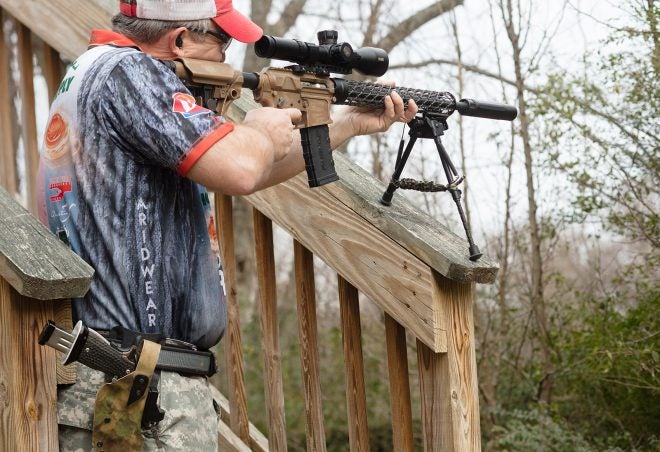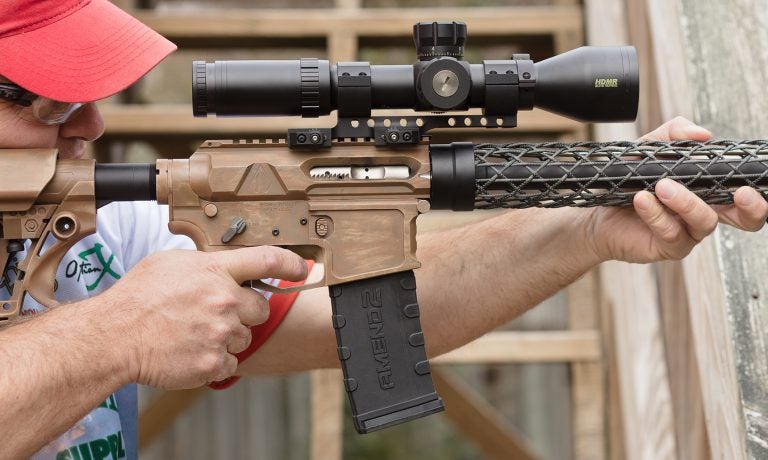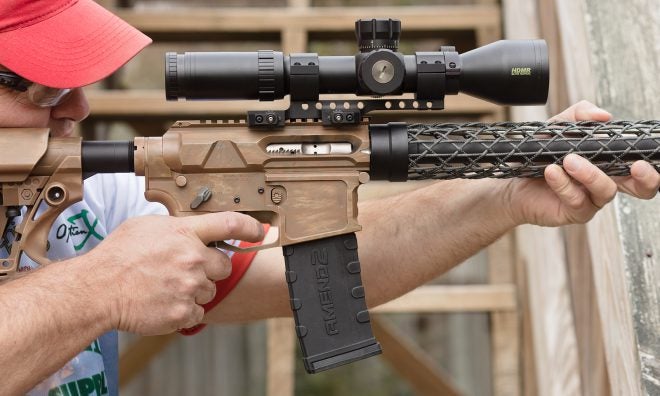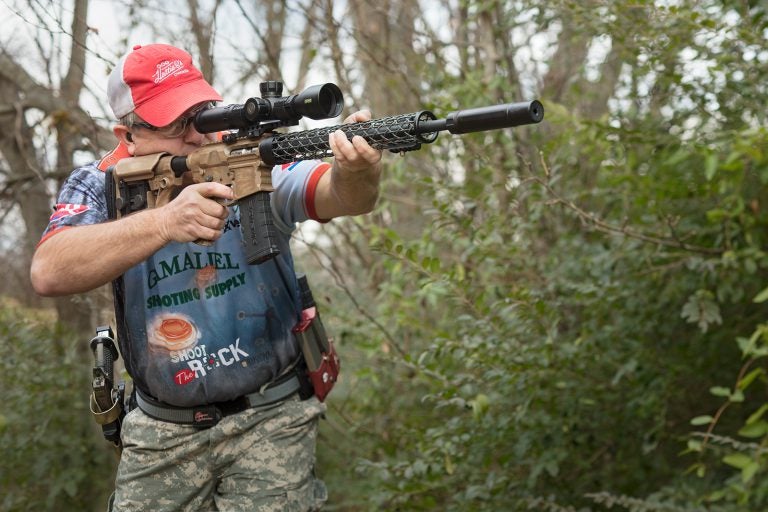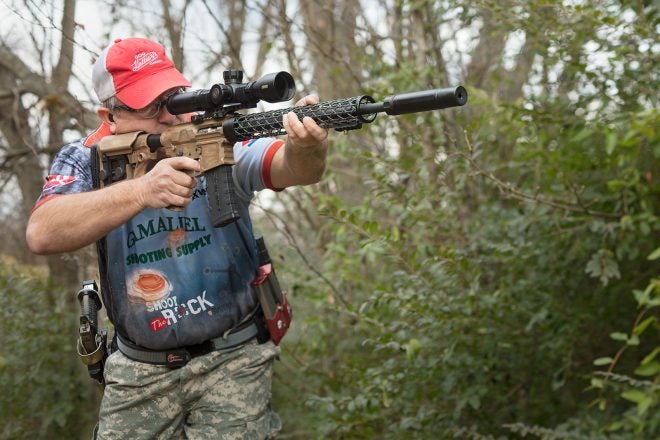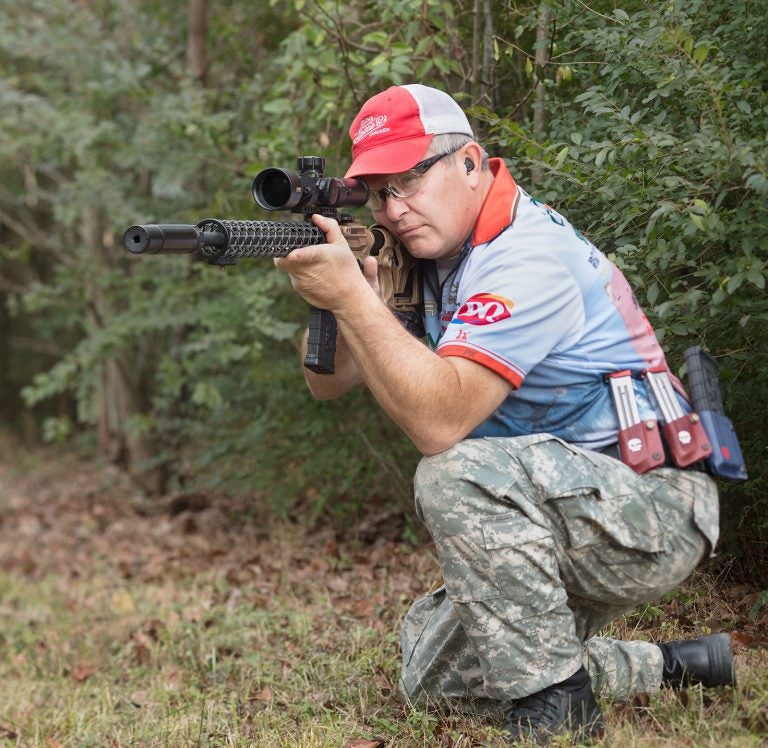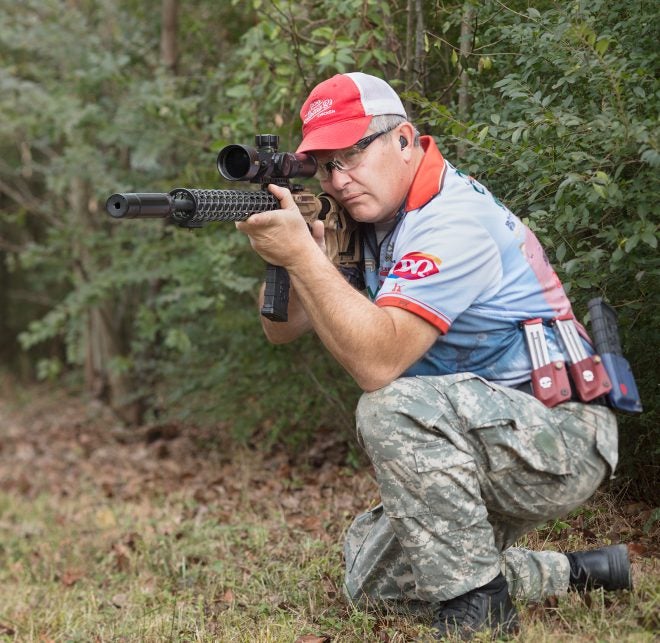 I fired DJ's rifle and it had no suppressor blowback at all. Hitting steel with it at 200 yards was too easy to be interesting for long.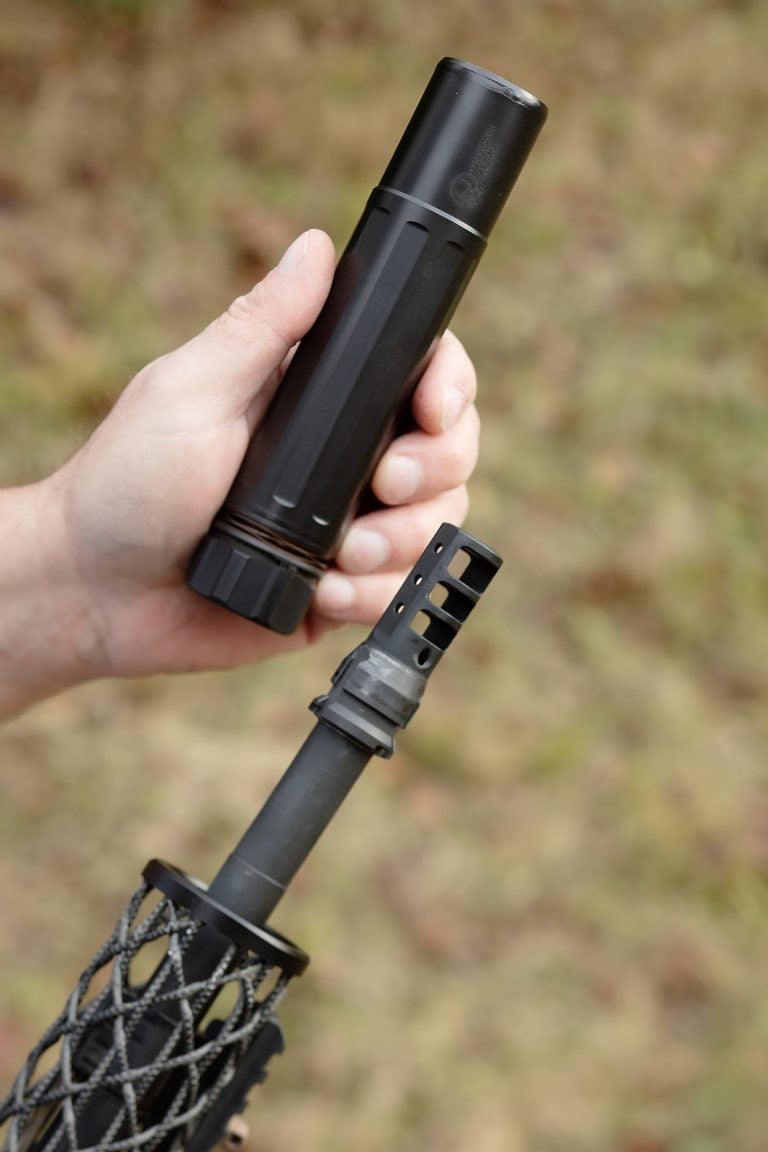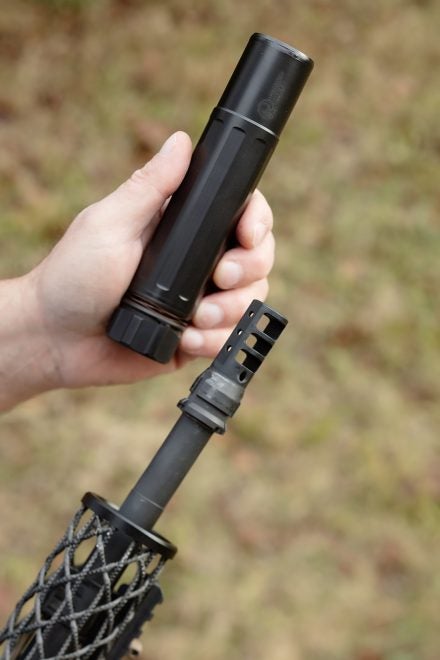 DJ prefers to keep his guns practical and not game-specific. More in his own words:
Designated marksman shooting and what's it all about.
The "Designated Marksman" is normally considered the one person in an infantry squad who has a rifle and training to engage targets past the normal infantry soldier's range of 3-400 yards out to say, 6-800 yards. This individual will position themselves in areas like rooftops to get a big picture of the area and provide cover for their squadmates. Their back up weapon is their sidearm which could come into play when moving from position to position close self defense setting.
So for the civilian It can be fun to break out your Bull barrel coyote gun and see what you can hit or build a DMR specific rifle and try one of the competitions that are popping up all around. Let's figure this all out and see what works for this new shooting discipline. Keep in mind we are looking for Rifle, Optic and Pistol for a whole package.
Since we are aiming to try and compete in some DMR matches we went to a professional for our DMR rifle build, John Young at Fighting Sheepdog of Powell, TN. John is a retired Marine Corps. Long Range specialist with a penchant for guns that hit small targets.
John built us a .223 DMR Rifle based on my personal favorite upper from Gibbz Arms. The side-charging upper allows the shooter to manipulate the bolt without have to raise off the gun like the traditional charging handle. It's just great and I love it.
Normally you would see 20"+ barrels but John's choice was a Black Hole Weaponry 18" SPR profile. I was concerned about accuracy but it was all unfounded.  A light, strong Brigand Arms handguard was employed to cover the barrel. This piece is undoubtedly the coolest handguard on the market. It is a tube of braided carbon fiber strands that weigh all of 3 oz and are strong as an ox. Heat instantly escapes the barrel and a cool barrel is an accurate barrel.
Fire control is handled by a CMC flat 2 stage trigger with a 2 lb first stage and 2 lb second. It has a very nice crisp break and is heavy enough to control when your huffing and puffing at the shooting position after a 100 yard run uphill, into the wind.
Finally, the stock which can make or break your build. Why? If your head is not in the proper position you can't efficiently see and hit your target. Luth-AR makes a wonderful piece. The MBA-3 is possibly the most adjustable buttstock you can find at $160. The cheek piece adjusts up and down, forward and back while the butt plate move in and out, up and down, plus it will cant laterally to match the crook of your shoulder joint. It is amazing and it this unit fits a carbine buffer tube for even more adjustability.
Since choosing a .223 rifle for our endeavor that meant heavier .223 bullets. I tested 2 loads. The bulk of our shooting was done with the HPR ammo 75gr match loads which gave us ½ moa accuracy. That means 1 ½" Groups at 300 yds and 3" groups at 600. IT was great, accurate enough and plentiful. Then I ran into the Sierra 77gr TMK handload. That bad boy is perfect accurate, 1/3 moa, under 1 " groups at 300 yds. Its great but I have to load them and they are limited for me. Truthfully, either load is plenty accurate to shoot DMR size targets at distance.
The last part of my personals set up is a suppressor from Dead Air Silencers. The Sandman S is a titanium quick release system that is off and on with a few twists.
Fighting Sheepdog makes handguns and rifles other than ARs as well. Before buying an off-the-shelf rifle, talk to them to see if something much better could be made just for you.