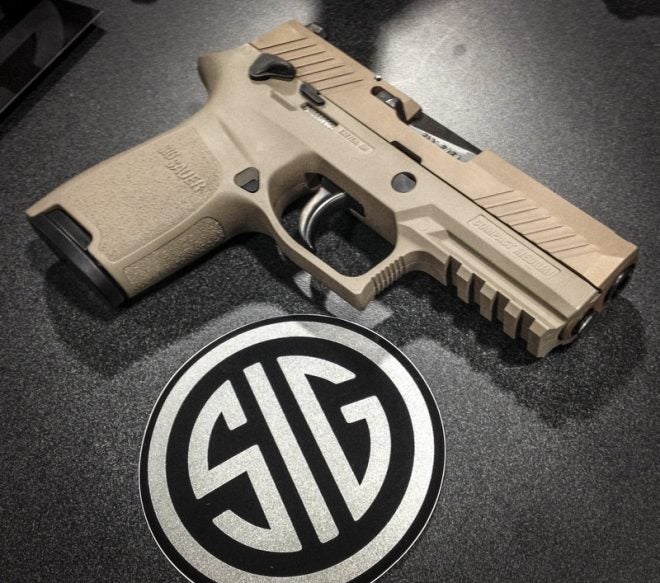 In a previous article we talked about how the Sig P320 could discharge when dropped at a certain angle. The last sentence of that article asked, "Will Sig wait to be sued?" The question was implying that Sig may wait to be sued before they offer a fix.
Well, it seems that the first lawsuit has arrived.
From Guns.com – Sig Sauer hit with $7M personal injury lawsuit over P320 pistol.
Vicent Sheperis, a 34-year-old police officer in Stamford, Connecticut, filed the case against the New Hampshire gun maker in a New Haven federal court last week. The lawsuit alleges his injuries were the result of a defective safety mechanism in the P320 design, which has also been a growing topic among firearm enthusiasts.

According to the complaint, Sheperis, a member of Stamford police Special Response Team, was injured in January when his department-issued P320 pistol fell as he loaded equipment into a vehicle. The pistol discharged when it hit the ground and the bullet struck him in the leg and knee.
Let's be honest, Mr. Sheperis is lucky to be alive as the bullet could have easily caused a fatal wound. If there had been a death caused by the Sig P320, it would have been a public relations nightmare for the company.
There are numerous pictures and videos showing the instruction manual of the Sig P320 saying the handgun may fire if it was dropped. Was that in the manual for legal reasons, or did the company know about the issues before the handgun hit the market?
If it can be proven that Sig knew about the issues before the P320 was released, what does that say about the company?