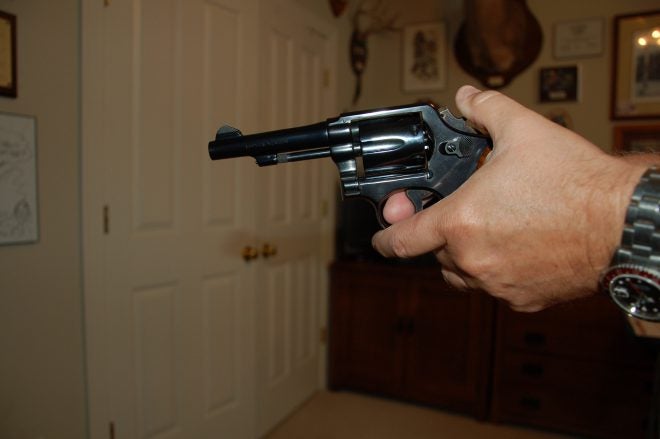 There are a couple of alternative ways to cock the hammer on a handgun. This may sound trite unless you have an injured thumb, hand, or may be restricted or handicapped in some way. If your handgun has a hammer and is not just a double-action model only, then practice other ways to get your gun into action ready condition.
Maybe I am the only one, but since I have started using the new type of I-Phone about six months ago, the thumb on my right shooting hand as gone virtually numb. It is not from using it to text or manipulate the keys, but I am told it was from holding the phone in the "Y" yoke of my hand between thumb and forefinger with too much pressure.
Over squeezing these two to hold a phone can cause nerve damage. The inside of my thumb up to the tip just tingles now whenever I stress it. Now grip and grasp simply does not have the same power as before. I discovered this was the same when I tried to cock a handgun. So what now?
If you have this problem or other shooting hand manipulation issues, then try this. First of all, though slow and a bit awkward to use at first, the offhand thumb can be called in to action to cock a hammer. Try this by holding your handgun in a suitable safe condition, then before putting on a double handed hold, just reach up with the off thumb and cock the gun.
Another approach which I have seen used, but I urge you to do so with caution is to use the heel of the offhand to do the cocking. This works but the hand heel does not really get a grip on the hammer, and it can slip off. Make certain your firearm is in the safe condition before using this technique.
The off thumb can also be used to lower a hammer into a safe position, but the shooting hand forefinger and middle finger can also accomplish this movement with some practice. The same approach can be used to manipulate a slide safety and or the slide release levers on the left side of most pistols. The other thumb can also be used to open a cylinder release latch on a revolver. With some practice, other modes of handgun hammer cocking can be found.