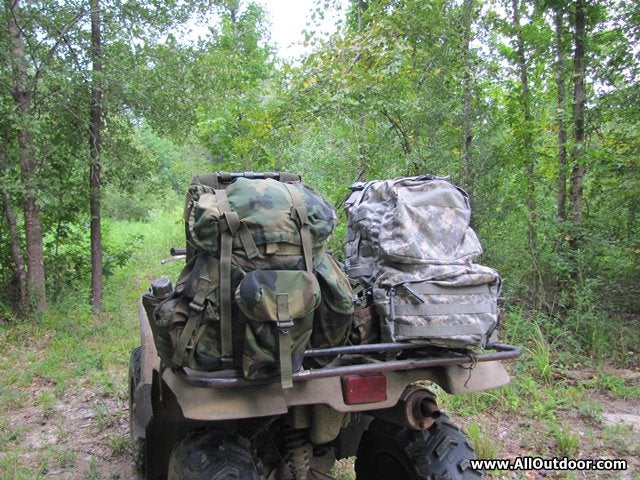 Let's take a look at the medium ALICE and medium MOLLE pack.
For decades, the medium ALICE was the go to pack for everyone from soldiers to cub scouts. The pack was cheap, could be used with or without a frame and was durable. However, in the late 1990s, the United States military decided to phase out ALICE gear and adopt the MOLLE platform.
One of the possible downfalls of the ALICE pack, both large and medium, they were designed with little thought to comfort. The frame was made out of aluminum flat and round bar and was rioted together.
In contrast, the medium and large MOLLE packs were  designed with ergonomics in mind. The frame is made out of a polymer instead of aluminum.
Capacity
The medium ALICE has three large outside pockets that are all the same size, and an internal radio pouch at the top of the main compartments. One of the things I like about the outside pockets, a one pound bottle of propane fits perfectly inside. When my medium ALICE pack was being used, the propane bottle went in the outside pocket, and the stove went in the internal radio pouch.
The medium MOLLE has two large outside pockets. These are large enough for TOPO maps, water filter, first aid kit, and more. There are three pockets inside the main compartment.
SHOP NOW
Webbing
The medium ALICE has the old style ALICE webbing. There is a band that wraps around the complete outside of the pack, and webbing at the bottom on each side. I never really found a use for the webbing that wraps around the top. On each side at the bottom is where the canteens go.
Medium MOLLE has the ladder system on each side and on the bottom rear pocket.
My personal opinion, the PALS ladder system is vastly superior to ALICE webbing. With ALICE, the pouches hang from the pack. With the ladder system, the pouch is held much firmer to the pack.
Price
This is where things get interesting. Ebay is an example of supply and demand.
There was once a time when ALICE packs were selling for $25, now they are more like $45. There are some still in the $20-$30 price range, but they are few and far between.
On the flip side of the coin, medium MOLLE packs are selling all day long for $35-$45 + shipping. My personal MOLLE pack, I paid $35.00 + $15.45 shipping for one in very good condition.
Overall
Both packs are quality products and should provide years of service. A lot of it depends on what you are looking for. Are you going with the classic ALICE gear, or the newer MOLLE? Do you want a pack that can be used with or without a frame? Do you need the extra capacity of the medium MOLLE?
Even though I have used my medium ALICE since 1992, I look forward to using the medium MOLLE.
SHOP NOW