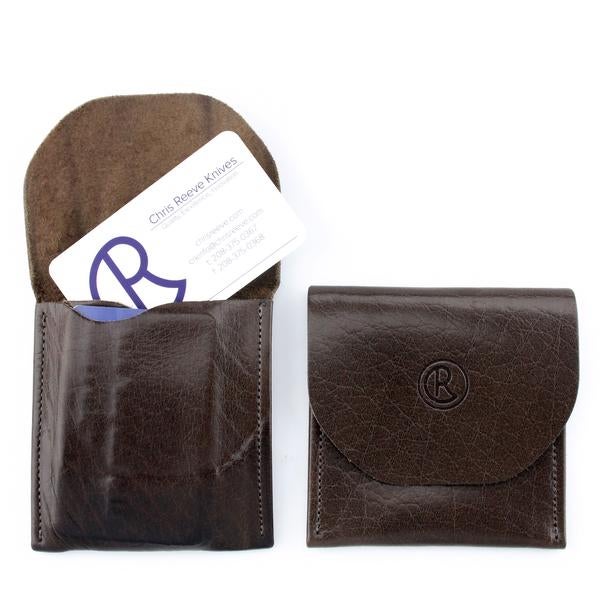 Chris Reeve releases a new product like once every three years (once every 10 if you exclude Sebenza variants). But the Chris Reeve brand is one of the strongest in the knife business. It has been the go-to high end knife of choice for many consumers and many of the high end "curated" gear sites also include the Sebenza among their offering of "authentic" and "handcrafted" knives. So the idea that Chris Reeve would expand into other kinds of EDC gear is not only surprising, but exciting. If they can bring their incredible fit and finish and solid, approachable designs to other kinds of gear, us gear geeks are in for a good time.
But if you would have asked me where that expansion was going to start I would never, in a million years, guessed that they would have released a wallet. But that is what they are doing. Chris Reeve, in collaboration with Gfeller, is releasing a pair of wallets. The designs are elegant and simple. There are two different designs–one with a simple flap that is a true wallet and the other which has a snap and is billed as a card sleeve. Both look great and match the leather you find on many of Chris Reeve's pocket slips.
There is a good reason for that–Chris Reeve used Gfeller to make all of their slips, both the small version that fit the Mnandi, Inkosi, and the Small Sebenza and the large version that fit the Large Sebenza and the Umnumzaan. Gfeller is a company, like Chris Reeve, that has an outstanding reputation for quality and solid designs. I thought about using the phrase "rock solid" but that might be a bit on the nose, given that Gfeller got its start making cases and satchels for geologists.
If the slips are any indication, these two wallets are going to be exceptionally nice. My Mnandi slip was an incredible piece of leatherwork, with a great look and feel. Over time the case started to assume the shape of the knife it held and wore in in a way that was very beautiful. It was also substantially thinner than other more twee leather products that seem to be choking the gear part of the internet. Instead of leather that makes your wallet look like a hamburger, the Gfeller leather on the slip case, was tough, but slim. If that is the same leather used on the wallets, folks will be very, very happy.
The design isn't the most complex in the world, but it is functionally looking. And unlike the vast majority (read: all) of Chris Reeve's products, the two wallets are actually quite inexpensive. The wallet will run $55 and the card case will be $60. Not exactly cheap, but compared to their knives, these wallets are a virtual bargain. For me, I'd prefer the card case, not only because it runs a bit smaller, but also because the snap seems more secure than a flap. Either way, it is exciting to see Chris Reeve expand into other kinds of products. I'd love to see a Chris Reeve flashlight.