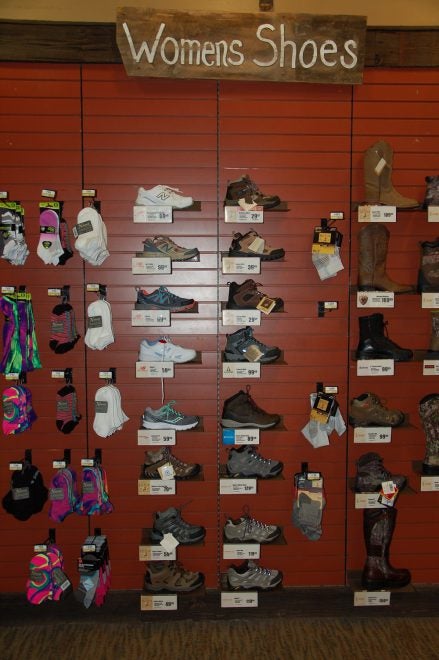 It's worrisome to see a national headline like this in the outdoors goods industry, "Foot Locker stock plunges 28% on earnings miss." One wonders if this is not just another prescriptive example of what is happening or beginning to happen across the board in the broader outdoors industry, including guns and hunting. It seems so at the local level anyway.
Foot Locker's quarterly income was still $81 million, but that huge impressive figure was down from $127 million during the same period last year. A $46 million dollar downturn is nothing to laugh at. The company's CEO's interesting assessment comment "We are seeing our consumers move faster than ever from one source of inspiration or influence to another," says Richard Johnson, means what? Inspiration or influence indeed. How about the outrageous retail costs of trendy shoes?
Is this cause and effect then impacting other sectors of the outdoor industry? Big names in the athletic shoe world including Nike, Adidas, and even the stalwart Under Armour were all ranging down, too. This is also starting to trickle across other outdoor lines including camping gear, tactical gear, shooting support equipment, firearms, and hunting related goods.
We already know the firearms industry has been particularly hard hit. In my area, two major full line gun shops have closed their doors this summer. The largest stocking gun dealer retailer in the state lost nearly $1.5 million in the first quarter of this year. With hunting seasons approaching now, business has not picked up, yet. Quality hunting rifles and scopes are expensive and average consumers are not buying.
Gun shows are down, too, both in terms of displaying dealers and ticket buyers coming in the front door. The last show held here in the capitol city saw dealer tables down by at least a third. "The space down the main aisle of the show was big enough to put in a bowling alley," said one of the dealers. Prices have moderated, too. For the first time in years, I saw AR-15s selling at or just under $500 new in the box.
Other big box outdoor retailers are on softer ground as well. It has been reported that the mega outdoor chain Dick's is also experiencing slower sales with fewer customers. Gander Mountain has sold out and closing stores. Bass Pro has bought out Cabela's. Gun distributors and wholesalers are pushing big sales to reduce inventories. Only time will tell exactly how all this is going to shake out. What we need most is a strong economic turnaround in all sectors.