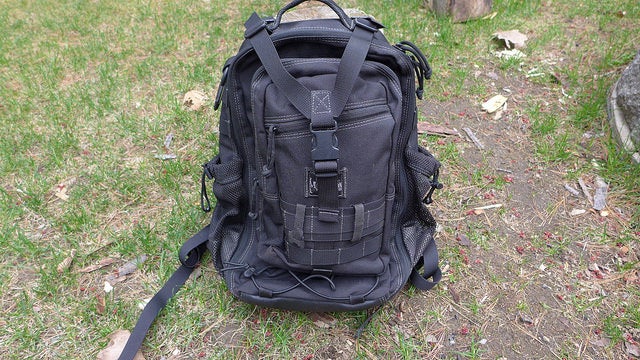 With two little guys, one seven and one two, the long camp trips of my young adult years are a thing of the past. Its probably not the most fun you can have to deal with a two year old that both still takes naps and wears a diaper at night while out on the trail. Instead, my wife and I have changed our outdoor time to day or half-day trips. The kit that I have devised over the past seven years has been refined to the point of where it seems like second nature. I do all of my hiking in the Northeast, in Massachusetts, Maine, and New Hampshire primarily, and so the kit is built with that environment in mind. I am sure that a more experienced woodsman would need less stuff. I am also sure that someone in a different environment would need different stuff.
The core of my kit is my backpack. There are two that I carry most often–a kid carrier from Deuter, which is great, but probably not all that interesting, and a Maxpedition Pygmy Falcon II.
This particular pack has been my go to despite testing some of the best stuff out there. If I were to lose the pack I'd probably either buy it again or opt for the smaller Tom Bihn Synapse, which is a completely different kind of pack, but equally good.
The PFII is fitted with a part of polycarbonate S-biners from Nite Eze.
These let me carry four water bottles (one each for my wife and I in the sinch holders on the side, and one each on the S-biners). The S-biners also let me tether the top of long items, such as big fixed blades, into the bottle holder at the bottom and the S-biner at top. The MOLLE on the side also serves the same purpose.
On the MOLLE on the rear of the PFII I carry two velcro strips.
These let me carry things horizontally, like my son's hiking stick. I have also found it helpful for carrying knives on the pack scout-style. I use the compression straps to hold bulking items like my jacket or a blanket. Generally, I take my Triple Aught Design Stealth Hoodie with me as it is effectively both a windbreaker and a rain coat. If I am really overloaded, the coat goes in the shock cord section and the blanket goes in the compression strap.
On the front of the back I carry a Jesse Jarosz JFS in a custom make kydex sheath with a Tek-Lok attachment point. It fits on the front of the pack's shoulder straps, riding the MOLLE that is there.
The sheath, which is truly excellent, was made for the knife by Bayou Custom Sheathes. This little fixed blade handles like 90% of cutting tasks when I am out and about. In the back of the pack I carry two items–a Leatherman Charge TTi and the oLight S2R.
Both are probably a little more than I need for a day hike, but the increased durability and performance is easily worth the tiny bit of weight. One last strange item I carry is a Japanese cat's paw. This combination pry tool and hammer is one of my favorite, odd outdoor items.
I always have at least one water bottle on my, usually a Hydroflask with a Human Gear CapCap.
It rides on the PFII's awesome sinch sack bottle holders. I like this bottle considerably more than the more widely available Kleen Kanteen, as the Hydroflasks are far more durable and just as heavy and insulated. The CapCap is awesome as it allows for the addition of ice cubes without the need to remove the lid. The strap is also pretty hearty and allows for another attachment point if need.
I also have a basic first aid kit and diaper change kit (with tiny clothes).
Not only is the diaper change kit good for the kids, the wipes have a ton of uses for adults. The first aid kit is nothing out of the ordinary–band-aids, antiseptic, pain relievers…nothing capable of heavy lifting but more than enough for our trips. With the addition of two boys, I also dropped in a large Ziploc baggie for…well…whatever they pick up: rocks, bones, lobster claws…When we go to places that have a lot of water good for wading, a local freshwater stream or a tide pool, I have a pair of water shoes, trail-capable Vibrams.
Finally there is the stuff out of the bag. I usually have a light and a pocket knife making because I always carry a knife and a light, but also as a complement to the stuff on and in the bag. Most often the knife is a light folder, something like the Dragonfly II. I also always have with me a walking stick.
The stick I carry now has seen lots of action. I stopped keeping track of the miles it has on it once it passed 2,000 miles (to be fair 1,000 miles came from the paternity leave I had for both boys…we hiked every single day with the little sacks of potatos). The stick I have is one I made–nice hard rock maple with five coats of marine grade varnish polished to a high shine. I also dropped a blue lanyard on the stick to make sure I can find it if I put it on the ground (the same paracord lanyard lives on the JFS as well–this stuff practically glows in the leaf litter). I also always have my iPhone on me. On occasion when we go to less well-trod places, I have used it to get from A to B. I also make sure I pin my start location when we are going off trail. Full disclosure requires me to tell you that also usually have a slingshot on my person, most often Simple Shot Torque, which is a perfect plunker and a lot of fun. Top all this off with my nearly 20 year old Boston Red Sox hat and you have my complete kit. In the fall and winter I wear different clothes and I usually have a fire source (a flint/steel and pocket lint package I keep in a mint tin), but that is basically everything.
This kit has served me well for many years and I can't wait to update and expand it for multi day backwoods trips once the boys get a little older.